Apple Stores face protests over iPhone labor ethics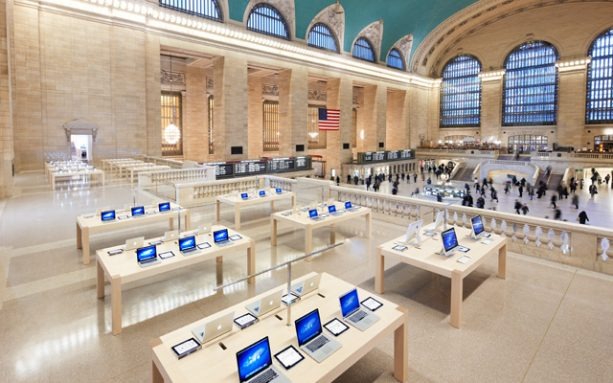 Apple stores across the world will face demonstrations over worker mistreatment among suppliers today, though research by SlashGear suggests public opinion is strongly divided over whether Cupertino company should shoulder the ethics blame. Two concurrent petitions demanding Apple force change among its manufacturing partners have prompted the protests, with Change.org telling CNN that the signatures will be presented at six Apple stores at 10am local time today. However, in a SlashGear survey, votes were split between holding Apple responsible or whether the electronics industry as a whole is flawed.
Asked whether they believed Apple should be singled-out over workforce mistreatment allegations, 31-percent of the 5,444 responses said they felt responsibility should be shared across the electronics industry. 30-percent, however, said that Apple's heft in the consumer technology market meant that it should bear the brunt of the blame.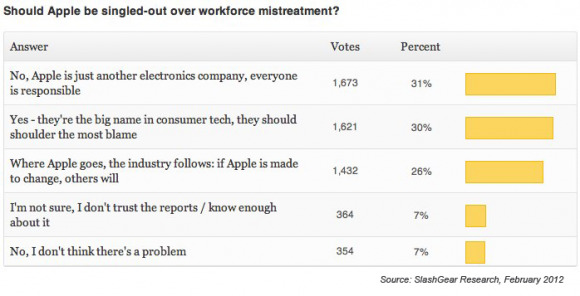 Interestingly, 26-percent agreed that if Apple led the way in changing workplace ethics, the rest of the electronics industry would follow. The survey is non-scientific, but does illustrate how divided opinion is toward what expectations we should have of the companies that produce our geek toys.
The protests are set to take place in Washington, DC; New York City, San Francisco, London, Sydney and Bangalore. Around 250,000 signatures have been collected by the two petitions, which arose in the aftermath of a newspaper report that singled out Apple in worker mistreatment. Senior executives at the company faced "an unresolved tension" it was alleged, trying to balance their desire for responsible labor conditions against the commercial need for rapid product production and competitive pricing.
Apple responded strongly, pointing out its comprehensive annual responsibility report, and a leaked internal email from Tim Cook revealing the CEO as "outraged" at what were described as "offensive" allegations. The company declined to comment on the petition presentation action planned today.