Apple Store down, huge catalog refresh coming?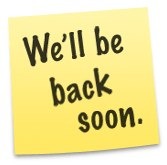 Entirely unsurprisingly, the Apple Store has been taken down for the usual hurried "updates".  While the same thing happened late last month with no noticeable changes, today we're expecting quite a few modifications what with the very recent speculation that Apple are planning to push out a new MacBook, iMac, Mac mini and even peripheral range.
Update: The store is back, and here's what you can buy.
Those new peripherals are tipped to include a refreshed Mighty Mouse – that might see the "Mighty Mouse" name retired, in fact – with multitouch support, together with a new multitouch tablet that would bring the finger-friendly gestures to desktop Mac users.  Of course, it's all speculation right now, so we'll be hitting refresh over at the Apple Store for the next couple of hours.