Apple: Punish Samsung's evidence leak by validating our patents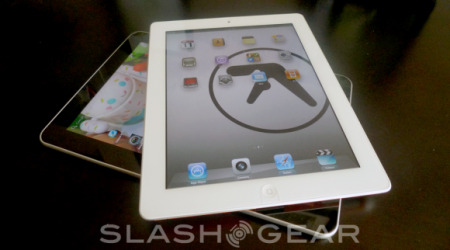 Apple has demanded that its design patents be upheld and considered infringed as a suitably harsh punishment for Samsung's evidence leak yesterday, telling the court that ruling in the Cupertino firm's favor is the only message Samsung will understand. "Apple requests that the Court issue sanctions granting judgment that Apple's asserted phone design patent claims are valid and infringed by Samsung" the company wrote in its response, effectively asking that the outcome of the Apple vs. Samsung trial be decided, for the most part, based on what it describes as the South Korean company's "strategy of delay."
Samsung had released a presentation of evidence that the court refused – after several petitions – to have admitted officially, including concept diagrams showing touchscreen-centric smartphone designs created prior to the original iPhone, and sections of an interview with a former Apple designer. That was met with fury from Apple's legal time and no small amount of displeasure from Judge Lucy Koh, who demanded that Samsung lawyer John Quinn explain exactly who approved the publication.
Quinn's response was to blast Apple for smearing his reputation and insist that the documents had been released in reaction to press requests for details, not as an attempt to sway the jury unofficially. Apple now says that, while it would be within its rights to demand a mistrial, it will not do so as that would help Samsung delay any decision.
"Apple will not request a mistrial. Apple – like the Court – has invested enormous time and resources in expeditiously preparing the case for trial, a jury has been seated, and the evidence has begun. That case should proceed on the current schedule, to bring closure to Apple's claims and Samsung's counterclaims. A mistrial would play directly into Samsung's strategy of delay, and only reward Samsung's misconduct" Apple
Instead, its requested sanctions are all the more comprehensive. The company argues that Samsung did, indeed, hope to sway the jury, even if through family or friends reading the published documents, and does not believe that their release was reactive but instead a deliberate "initiative" to manipulate the media.
"The proper remedy for Samsung's misconduct is judgement that Apple's asserted phone design patents are valid and infringed. Through its extraordinary actions yesterday, Samsung sought to sway the jury on the design patent issues, and the proper remedy is to enter judgment against Samsung on those same patents. It would be, to be sure, a significant sanction. But serious misconduct can only be cured through a serious sanction—and here, Samsung's continuing and escalating misconduct merits a severe penalty that will establish that Samsung is not above the law" Apple
Although Apple concedes that terminating sanctions are "extraordinary" it points out that they're not unprecedented, especially with what the company argues was "a bad faith effort to manipulate the jury." If it cannot immediately call Apple the victor in the case, it requests that the court "at a minimum" should inform the jury that Samsung "engaged in serious misconduct," tell the jury that the court believes Samsung copied Apple's patented designs, and prevent Samsung from ever again mentioning evidence about the "Sony design exercise."
Samsung is yet to issue a statement regarding Apple's demands. The court will sit in session again on Friday.