Apple Mighty Mouse set for aluminum multitouch refresh?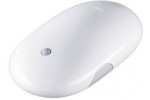 Apple's Mighty Mouse replacement could accompany the rumored imminent iMac desktop computers, according to AppleInsider's sources, with the current model's mechanical trackball being replaced by touch-sensitive patches.  The new mouse is also predicted to drop the white plastic stylings of recent models, and instead adopt a new, perhaps anodized aluminum finish to match the refreshed iMacs.
A matching aluminum remote control to go with the updated desktops is also tipped.  The refreshed mouse is expected to blend hardware and software to replicate the dynamic "inertial scrolling" as seen on the finger-flick menus of the iPod touch and iPhone, for improved navigation of lists.
Late last year, an Apple patent application describing a multitouch mouse prompted speculation that the company would be transferring their notebook trackpads to the desktop peripheral.  Not only would this keep the desktop Macs in parity with the portable range, but it would allow Apple to dispose of the mechanical trackball in the current Mighty Mouse that is a common point of failure.