Apple Maps hack adds Google public transport directions option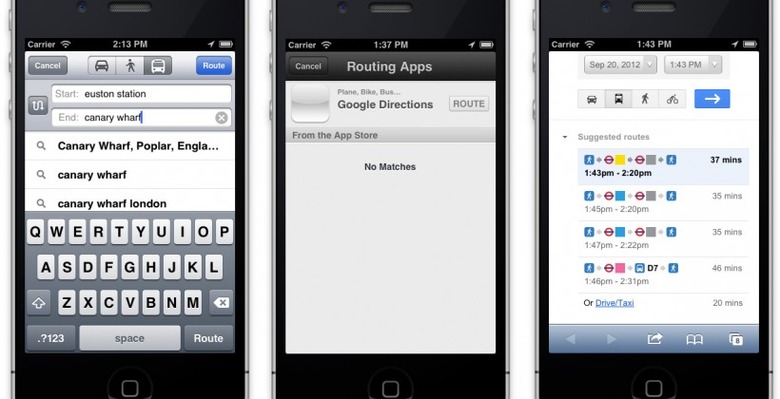 Devious developers have already cooked up a way to bake Google Maps mass transit directions into Apple's iOS 6 Maps app, though the workaround isn't quite ready for primetime yet. Google Transit for iOS 6 is the handiwork of Simon Maddox, adding a Google Directions option to the list of third-party plugins Apple offers for alternative routing, and pulling up results in Safari.
Apple does not offer mass transit guidance in this first generation version of Maps, and instead leaves the field open for third-party developers to do so instead. Those options – such as Garmin's newly updated Navigon and StreetPilot Onboard - show up in a Routing Apps menu after you search for directions.
However, for Maddox's Google Directions plugin to be broadly available, it would need to be approved by Apple itself for distribution in the App Store. Right now, it's only useful for registered iOS developers, who can deploy it to their devices using Xcode.
Maddox isn't confident that Apple would ever approve his code, and so the likelihood of an official release seems low. Google is yet to confirm any plans for a Google Maps for iOS app distributed via the App Store, and it's possible the company will decide to keep it as an Android perk altogether.
Update: Looks like Simon wasn't the only person working on something along these lines. Fellow iOS developer Jesse Vincent also cooked up a Google mass transit directions plugin for Apple Maps, and has submitted it to Apple for approval.
[polldaddy poll=6548281]