Apple iPhone OS 3.0 LiveBlog Today: Mac Tablet As "One Last Thing"?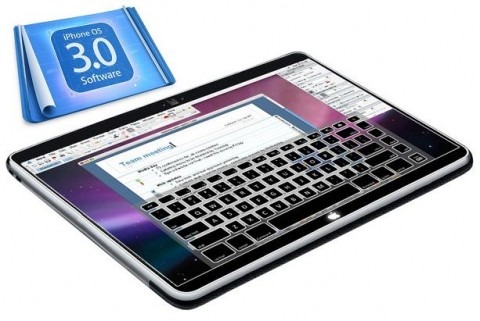 The countdown is on and it's just a handful of hours until Apple's iPhone OS 3.0 preview event, which we'll be liveblogging at http://live.slashgear.com  We know Apple will be demonstrating some of the upcoming features we can expect from iPhone OS 3.0 – hopefully including MMS and copy-&-paste support – but there's also talk of a "one last thing" that could blow the recent Mac and iPod shuffle updates out of the water: a Mac Tablet.
According to Computer World's Seth Weintraub, Apple will possibly use today's event to launch the 10-inch capacitive touchscreen device we've been reading rumors about over the past few weeks.  Contrary to what some believe, though, Weintraub expects not a netbook – with a hardware keyboard and traditional clamshell design – but a slate-format device similar to a larger iPod touch.
Of course, there's no knowing until Apple take to the stage in under six hours time.  SlashGear will be liveblogging (http://live.slashgear.com) the whole iPhone OS 3.0 event, so make sure to tune in on March 17 at 10AM Pacific time (1PM Eastern; 5PM London).
Mac Tablet concept via