iPhone OS 3.0: Special Apple Event in Cupertino!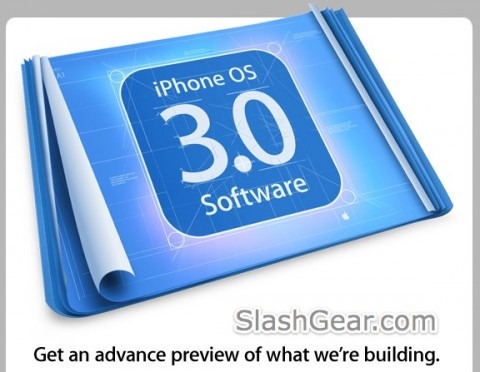 Apple just sent out invitations for a special event taking place on March 17 at 10AM to learn more about the new SDK and get a sneak peek at the iPhone OS 3.0 software.  This does not look very good for Palm, as I've suspected all along that Apple will manage to find a way to rain on the Pre launch parade!
I believe that a lot of the features we've seen on webOS and "people-centric" capabilities offered by HTC in the new Touch Diamond2 and Touch Pro2 will be included in iPhone OS 3.0.  For existing iPhone owners, this is great news, especially if we don't have to run out and buy new hardware.  Then again, Apple might surprise us with a new 10-inch touch device of some sort that we've been hearing so much about since there's a reference of a new SDK.
Of course, given their track record it's not outlandish to imagine that Apple are planning the iPhone 3.0 hardware for a June/July unveil, hardware that will be running firmware 3.0.  SlashGear will liveblog (http://live.slashgear.com) at the iPhone OS 3.0 event, so make sure to tune in on March 17 at 10AM!