Apple iPhone OS 3.0 liveblog starts in an hour!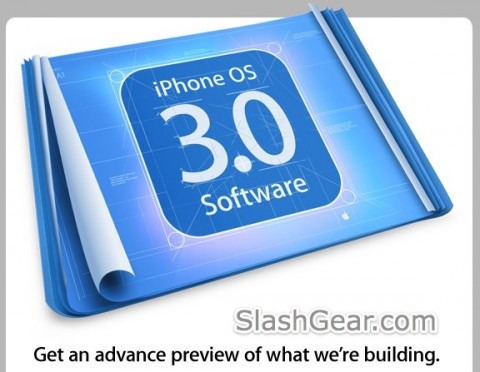 There's around an hour to go until the Apple iPhone OS 3.0 Event kicks off, and the SlashGear team are warming up the liveblogging system ready to bring you all the details.  Join us at http://live.slashgear.com/ for the full coverage, which will kick off at 10AM PST (1PM EST).
We already went through the latest rumors this morning, but it's worth a recap.  We're expecting a few long-overdue feature introductions to the iPhone platform that it's almost embarrassing it's taken so long for them to arrive: copy & paste is one obvious one, and MMS support is another.  There should also be more detail about the iPhone SDK, which will be of interest not only to developers but to users wondering what apps they can expect over the next six months. 
Less certain are background processes, currently verboten for all but Apple's own software, but coming under pressure with the advance of the Palm Pre and the webOS platform.  Perhaps even more tenuous is the rumored Apple Mac Tablet, a 10-inch capacitive-touchscreen handheld that ties in with all the netbook rumors we've been hearing over the past few months.
We'll have all the announcements, plus photos and opinion, in the SlashGear liveblog, so head over to http://live.slashgear.com/ and settle back: the liveblog automatically updates, so you don't even have to hit refresh!