Apple iOS4 released for iPhone 3GS and 3G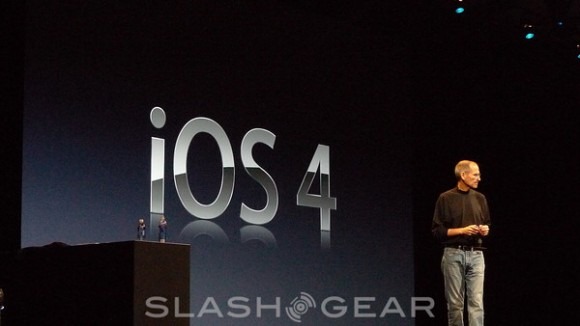 We're hearing that Apple iOS4 has been released for the iPhone 3GS, iPhone 3G and certain iPod touch models.  Available as a free download via iTunes – though you'll need the latest iTunes 9.2 in order to use it – the update brings multitasking support, the ability to organize apps into homescreen folders, a unified email inbox, the iBooks app and Bluetooth wireless keyboard support, among many other things.
iOS4 – formerly known as iPhone OS 4 – was officially announced at Apple's WWDC 2010 keynote earlier this month, and apparently has 1,500 new features.  It's worth remembering that not all of them will be functional on every device in Apple's back catalog, however; multitasking, a long-awaited feature, will only work on the iPhone 4 and iPhone 3GS, though there is a hack for iPhone 3G users to unofficially enable it.
Of course, the iPhone 4 – which is set to arrive with preorder customers and go on sale in retail stores on Thursday this week – will have iOS4 pre-loaded.  Meanwhile the iPad version of iOS4 won't see a release until later in 2010; Apple are yet to publicly confirm the timescale for the tablet's update.
iPhone 4 hands-on:
[vms 1bc419542ce9fa43902d]