Apple: iOS 6 Maps is "just getting started" (so forgive the bad data)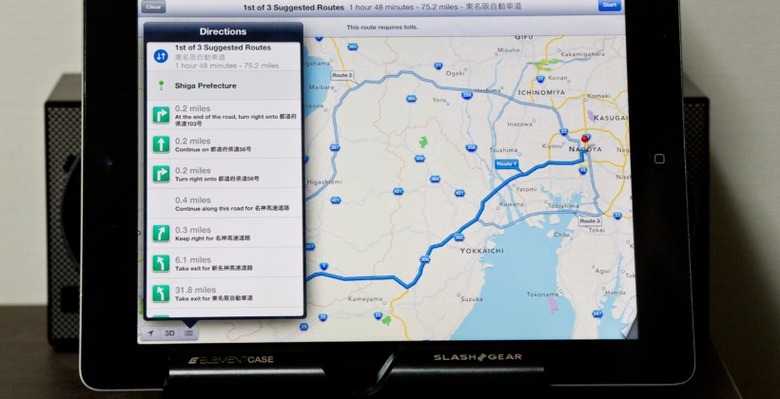 Apple has defended its contentious Maps app, arguing that it is "just getting started" with the iOS 6 replacement to Google Maps, and highlighting the fact that it can push out updates incredibly quickly. Excitement around iOS 6 quickly got hung up on how the new Maps app fell short, with users reporting missing locations, along with incorrectly labeled roads, points-of-interest, and even cities. "We launched this new map service knowing that it is a major initiative and we are just getting started with it" Apple spokesperson Trudy Muller told the NYTimes. "We are continuously improving it."
Apple's argument is that it can keep tweaking Maps on its servers, with users invisibly getting an improved experience as the service develops. "As Maps is a cloud-based solution, the more people use it, the better it will get" Muller explains. "We're also working with developers to integrate some of the amazing transit apps in the App Store into iOS Maps. We appreciate all of the customer feedback and are working hard to make the customer experience even better."
Although iOS 6 Maps has met with praise for its bundled turn-by-turn navigation, something Google never enabled for Google Maps on iOS before, as well as the visually pleasing "flyover" 3D view option, it's more fundamental issues that are causing headaches. Some of Apple's data appears to be out-of-date, meaning businesses now closed or moved are incorrectly included, while satellite data lacks the close-up detail of Google's service.
[polldaddy poll=6548281]
Potentially more dangerous are incorrect driving directions, which could lead drivers to attempt the wrong turns or even try to travel the wrong way down a one-way street. It's possible to report an error in a point-of-interest on the map to Apple from within the Maps app itself.
Apple has not said when users can next expect a significant improvement to the service, though with the iPhone 5 freshly on sale in stores today, we'd guess the company is working fast to polish off the most obvious rough edges.