Apple files for Samsung Tab ban in USA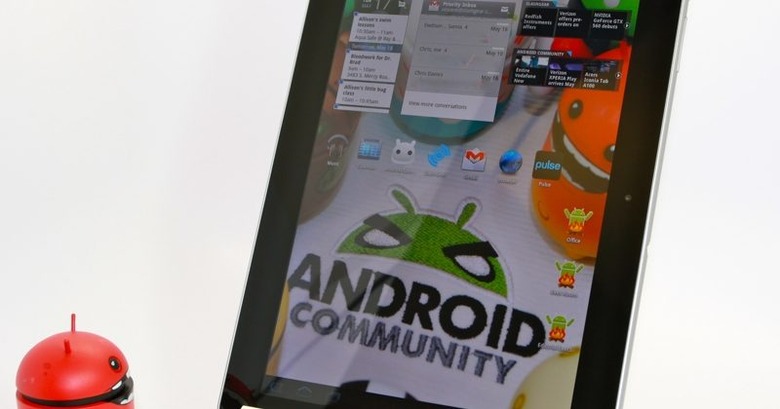 The Samsung legal team is defending itself this week against a potential Apple-led ban of their Galaxy Tab 10.1 tablet, this just three days before court-moderated settlement talks between the two manufacturers. This motion is being filed by Apple after a partially successful appeal was won by Apple on U.S. Patent No. D504,889 which has the Galaxy Tab 10.1 infringing on the iPad enough that the court may ban (temporarily or indefinitely) the Samsung tablet from sale here in the United States. At the moment Apple has won its preliminary injunction motion so it is quite likely that Judge Lucy Koh will move forward without another hearing and will ban the tablet temporarily.
A case between Apple and Samsung on what we're talking about now first happened back in October and the CAFC also held a hearing in April. In addition to the findings then being that the Galaxy Tab 10.1 does indeed infringe on Apple's patents (at least one, maybe more,) Apple is now pushing for the temporary ban of the tablet from sale, and because the first ruling has already been made clear, you probably won't be able to buy a Galaxy Tab 10.1 in the near future once this new ruling is made.
At the CAFC ruling, one of the judges went so far as to note that their ruling didn't go far enough to stop Samsung's infringement:
"Circuit Judge Kathleen O'Malley argued that the CAFC should have reversed the decision in order to provided Apple with immediate injunctive relief in light of the irreparable harm it is suffering. But the majority of the judges saw "no reason to believe that there will necessarily be delay, or if there is delay that it will be unjustifiable"." – FOSS Patents
If and when Apple does win this ban, they'll have bans on the three top Android manufacturers in the United States. They'll have Samsung, Motorola, and HTC (with the HTC One X and EVO 4G LTE) with devices on the banning block. Stay tuned as IP is avenged and manufacturers dig their feet into the sand once more!
Also, I told you so.