Apple caught resizing Samsung kit again in patent suit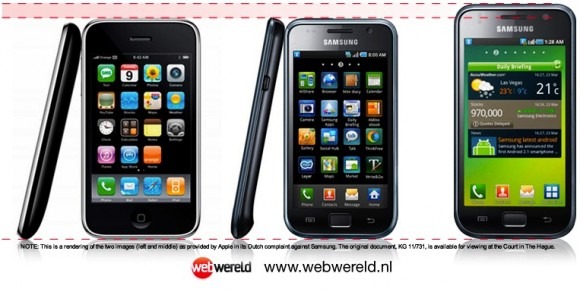 Apple has been accused for the second time of manipulating images presented as part of its patent infringement suit against Samsung, this time for resizing shots of the Galaxy S so that they more closely resemble the iPhone 3G. Whereas Apple's evidence shows two identically-scaled devices, ComputerWorld points out that in fact the Galaxy S is longer and wider than the iPhone 3G.
Samsung's legal team made reference to their legal counterpart's photo fiddling in court last week, with Simmons and Simmons lawyer Bas Berghuis claiming that the Cupertino company was "manipulating visual evidence, making Samsung's devices appear more similar to Apple's." However, he did not illustrate his claims with any evidence, either of the Galaxy Tab 10.1 or the Galaxy S.
Discrepancies in the images Apple had used of Samsung's Galaxy Tab 10.1 in comparison to the iPad were identified earlier this month, with the proportions of the Android tablet modified so that it would look more akin to the iOS slate. In its text describing the Galaxy S, Apple does acknowledge that the phone possesses "some non-identical elements, such as the slightly larger dimensions," but the images it uses to illustrate do not reflect such differences.
Legal experts differ in their interpretation of how serious Apple's manipulations are to the ongoing case, with some playing down the tweaks and others arguing that it casts doubts over the company's behavior in and out of the courtroom. Apple is now seeking an EU-wide injunction on all Samsung's smartphones and tablets, after its preliminary injunction against the Galaxy Tab 10.1 was downgraded to cover only Germany. Neither company has commented on the image issue.