Apple May Have Submitted Flawed Evidence Against Samsung In Europe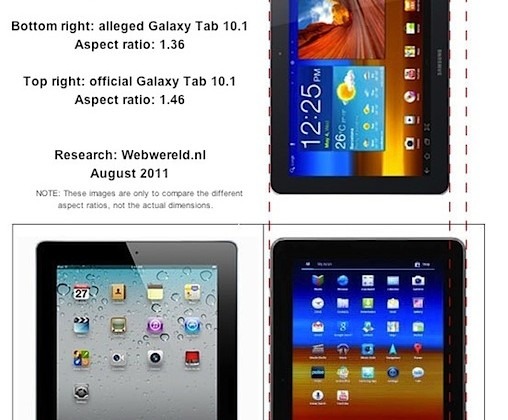 According to an investigation by Webwereld.nl, a Dutch IDG publication, Apple may have submitted false evidence to the German courts as part of their case against Samsung. Last week, Apple won a preliminary injunction on Samsung's Galaxy Tab 10.1, blocking the sale of the tablet throughout Europe. But, a photograph submitted as evidence suggesting that the Galaxy Tab 10.1 is practically identical to the iPad 2 appears to be doctored.
On page 28 of the complaint filed with the Düsseldorf court that has since granted the injunction, there's an image of the iPad 2 and the Galaxy Tab 10.1 side by side to show the uncanny resemblance. However, the image provided by Apple of the Samsung tablet has had its aspect ratio distorted.
The Galaxy Tab 10.1 measures 256.7mm x 175.3mm with an aspect ratio of 1.46. But, the tablet that's pictured has an aspect ratio of 1.36, making it 8% wider than the actual slate. In this way, it appears more similar to the iPad 2's 1.30 aspect ratio.
This flaw, whether intentional or by mistake could have a significant consequence on the case. Lawyer with Dutch firm Kos Morel Vos & Schaap, Arnout Groen, is baffled by the flub. Groen says that the obligation of submitting complete and truthful evidence to the judge is especially crucial when it comes to a situation like this where evidence is being presented by only one side of the litigating parties.
[via ComputerWorld]