Apple Campus 2 represents the best and worst of Apple's obsession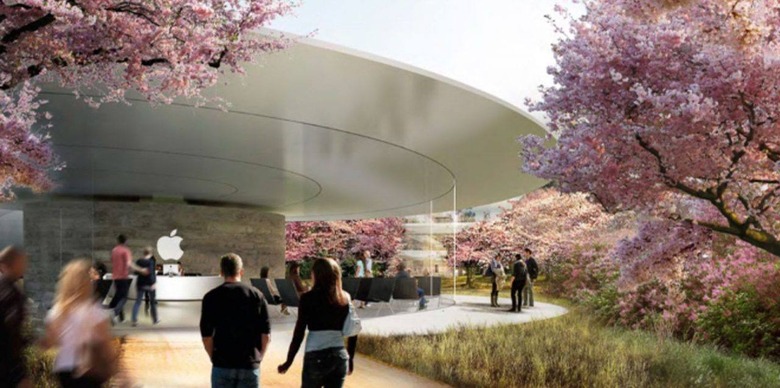 Apple's obsessive attention to detail has delayed its spaceship-like Campus 2 almost as much as it has frustrated those working on it, a new report suggests. The donut-shaped facility which, eventually, will house more than fourteen thousand of Apple's staff after they move from their current sprawling facilities is being treated with the same fastidious care as the iPhone 8 is. However, in typical Apple fashion, actually delivering that isn't quite such an elegant experience as using it.
Apple has built its reputation on sweating the small stuff. Problem is, sources involved in Campus 2's construction tell Reuters, it's a big stretch from making a smartphone, smartwatch, or laptop to making a building. Never mind one with a footprint that measures in at 2.8 million square feet.
Expectations for Campus 2 were high from the start. As it wooed with its initial renderings, it promised features like the world's largest single piece of curved glass, entirely hidden parking under the ground, and a veritable fruit grove of trees. Staff would, at various times of the year, find themselves walking among plum, cherry, persimmon, olive, apricot and – of course – apple trees.
That was back in 2013, though the project itself was one of the last announced by Apple founder Steve Jobs. The original 2015 completion date has come and gone, and Apple is still yet to move in. However that's not to say things haven't been busy in the meantime.
Negotiations – and design revisions – of simple items like door handles have taken in excess of a year, sources say. Apple has demanded perfectly flat thresholds for the doors, justifying the need for such precision with the argument that engineers could otherwise be shaken from their train of thought by a change in gait otherwise. Basics like emergency signage, that typically would be a box-ticking exercise, have spiraled out into dozens of meetings as Apple's desire for minimalism butts up against legal requirements from the fire department.
On the one hand, you could see all this focus on detail as being admirable. After all, part of Apple's allure among consumers is that holistic embrace of minutiae, whether that be trademarking the distinctive aesthetic of its stores, or the way it packages cables and accessories in its boxes. Giving the same attention to its new HQ would be the perfect example of just how much more effort the Cupertino firm puts into things than rivals.
However, were you an Apple investor, the news that the company is insisting that concrete that will never be seen after construction be finished to superlative standards, and that no pipework or ventilation fixtures ever be reflected in the building's glass, might give you pause. It's no unusual thing for building projects to go over budget, and that's with typical tolerances. Apple's budget for Campus 2 isn't known, but north of $5bn is widely believed to be the figure.
When it's complete, it'll be a halo in both shape and function for Apple. It'll also be a place where the company can hold its launches and house its increasing workforce, particularly as divisions like the much-rumored Project Titan "Apple Car" continue to operate in secrecy. How many building contractors experience migraines along the way will remain to be seen.