Apple buys augmented reality specialist Metaio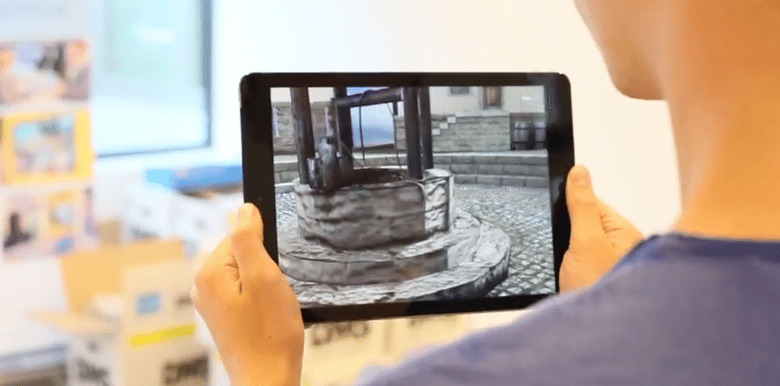 Apple has apparently acquired augmented reality firm Metaio, a surprise purchase of a specialist in computer vision, tracking, and even "virtual Holodeck" tools for developers. The news suggests Apple is adding to its portfolio of computational vision technology, potentially following in the footsteps of companies like Facebook – which acquired Oculus – and trying to catch up on new interface paradigms. With Microsoft looking to push augmented reality more into the mainstream with HoloLens, it's possible that Apple is looking to do something similar with iOS or OS X, though the Cupertino firm was not the prime suspect in an acquisition bid.
Metaio's software consisted of a number of SDKs and toolkits to streamline the creation of augmented reality apps. While the implementations have been broad, the company itself cooked up a Holodeck-style game using an iPad, among other things, to illustrate its potential.
Another product, Metaio Thermal Touch, could use heat tracking to follow finger movement and in effect create a vast virtual touchscreen.
Suspicions that something was afoot with Metaio began in recent weeks, after the company unexpectedly cancelled an AR conference it was to hold. Licensees of its SDKs were then surprised to hear that products and subscriptions were no longer available to purchase, and that any active cloud subscriptions would cease once they reached their currently-contracted end date.
That progressive shut-down – including the option to download purchased software up until the end of the year – prompted suggestions that Metaio had been sold rather than gone bankrupt; indeed, as one executive from a company told me of his firm, which already has a high-profile in the augmented reality business, he had no doubt that his company would have jumped to invest in Metaio had money been the issue.
Rather than Apple, however, Google was the presumed suitor, particularly as the company is known to be working on projects like Cardboard and the second-generation of the oft-maligned Glass.
Instead, it's the Cupertino behemoth which has waded in and picked up the firm, as documents from the Common Register Portal in Germany confirm.
It's official now: #Apple has bought #Metaio. pic.twitter.com/FGrvm8jbY6

— Magdalena Rogl (@LenaRogl) May 28, 2015
Exactly what this means for the long-term of existing developers already relying on Metaio's products remains to be seen.
"Apple buys smaller technology companies from time to time," a company spokesperson told us, "and we generally do not discuss our purpose or plans."
VIA VentureBeat
MORE Magdalena Rogl; Metaio