Android squeezes out rivals, takes 84% of smartphone shipments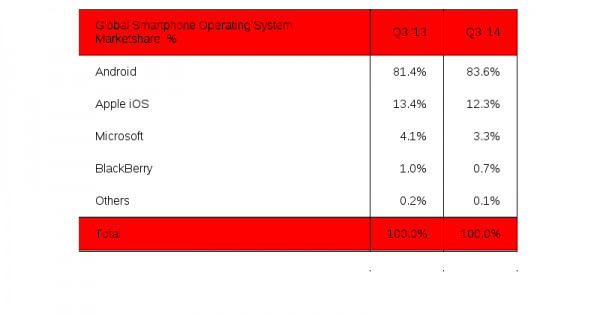 As we settle into the middle of the fourth quarter, figures from the previous quarter are starting to pour in. Last week, we got a peek at the IDC's smartphone shipment numbers, showing Xiaomi's surprising rise to the top 5 of the world's smartphone makers. This time, we're taking another look at the market but drilling down our focus on shipments by platforms. Unsurprisingly, Android takes the lead, with shipments in the three digits. Naturally, this means that other mobile platforms have taken a hit last quarter because of it.
The combined might of Android smartphone makers managed to ship out 268 million units this quarter, which is a small but still impressive step up from 205.9 million in the same quarter last year. That made Android's share in the market jump from 81.4 percent to 83.6. All others in the market were taken down a few notches. Apple went from 13.4 percent to 12.3 even though it shipped 5.5 million more smartphones since last year's third quarter. Microsoft also dropped from 4.1 to 3.3 percent as its 0.2 million increase in shipments was not enough to save it. As if it couldn't get any lower, BlackBerry sunk from 1.0 to 0.7 percent and, unlike the rest of the gang, its shipments also went down.
Android's low cost devices and software are credited to be the winning factors for the platform, especially considering that smartphones are experiencing exponential growth in emerging markets while, as IDC pointed out, developed markets are only growing minimally. That said, that same popularity could lead to a bit of trouble for the operating system, as an oversaturated market filled with extremely cheap choices could translate to fewer vendors making profits.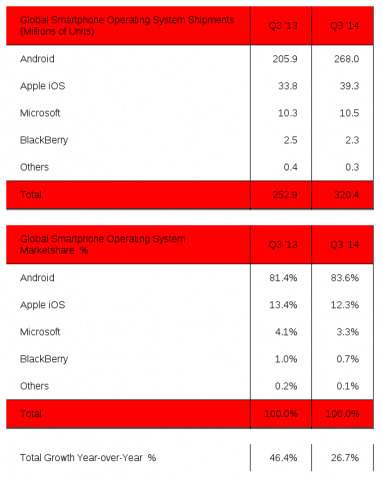 This year's story is far from over as well. This recent tally doesn't include yet shipments of the iPhone 6 and iPhone 6 Plus, which only entered the scene in the fourth quarter, so the next chart might show a more positive outlook for Apple. BlackBerry also has one last smartphone to unveil before the year ends, the BlackBerry Classic, though it remains to be seen whether it will be enough to pull up the company for Q4 2014. The biggest question mark, however, remains with the Windows Phone OS, whose future will be determined by Microsoft next steps. Redmond has just recently announced shaving off "Nokia" from its future smartphones and there is still some lingering questions about the "Windows Phone" name itself. Microsoft has yet to reveal when it plans to unveil a new "Microsoft Lumia" device, but that might not make it in time for this quarter's report card.
SOURCE: Strategy Analytics