Android phone hero war: Flagship VS Flagship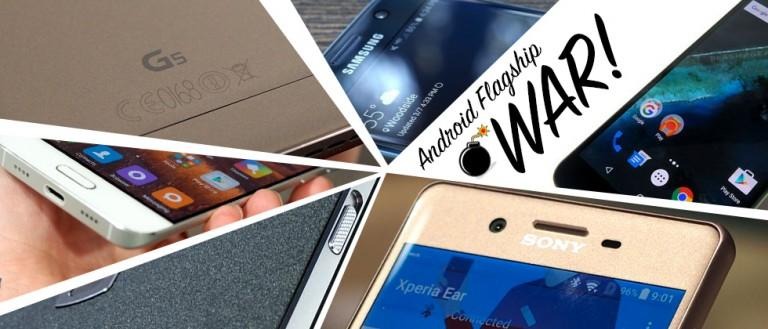 Back in the days, it was quite easy to classify phones into high-end, mid-range, and entry-level categories. Thanks to advancements in technology as well as increasing affordability of components and materials, smartphones are now all over the place. The brands usually associated with budget devices are starting to churn out classy smartphones. Budget smartphones no longer require buyers to make compromises in performance and features. Features once determined by price tier no longer adhere to that old convention. In short, the Android smartphone market has become a lot more diverse, and also a bit more confusing. Here we take a look at some of the latest and finest across the whole range and see how the come quite close to one another.
Narrowing down the playing field
It would be nearly impossible to get a detailed look at Android smartphones in the market given the hundreds of models available in the market as well as those still coming in the next few months. We have to reasonably focus on just a few representatives, some from what is considered the highest end of the spectrum, as well as those falling on the mid-range, budget tier of the ladder. To be fair in the comparison, we also have to consider only the most recent top of the line from each OEM, with the exception of the Nexus, OnePlus, and BLU because of their significance. And so we end up with 8 contenders in this showdown: the Samsung Galaxy S7, the LG G5, the Sony Xperia X Performance and Xperia X, the Xiaomi Mi 5, the Lenovo Vibe K5 Plus, the Huawei GX8 and Honor 5x, the OnePlus 2, and the BLU Pure XL.
A quick rundown
Samsung Galaxy S7
Samsung's latest smartphone is definitely one of the biggest attractions at least for the first half of the year. More an evolutionary update than a revolutionary one, the Galaxy S7 aims to correct the mistakes and improve on the Galaxy S6 before it. Bearing the highest specs known to the industry (except for 6 GB of RAM that only Vivo is boasting about), the Galaxy S7 promises to deliver the best performance, wrapped in a waterproof body.
In a way, there is little to be said in terms of fanciful features or gimmicks, aside perhaps for the always-on display that is, to be honest, a long time coming. At the risk of looking "boring", it is as if Samsung's message is that the Galaxy S7 was designed for serious business and also serious play.
LG G5
In contrast to its rival, the LG G5 is a tad more adventurous, venturing into the still unproven world of modular smartphone design. While bearing much similarity with the Samsung Galaxy S7 in terms of core specs, the G5 puts the focus instead on its "Friends", optional modules that extend the functionality and use of the smartphone. At the moment, the selection of these modules are quite few, so far including only a Hi-Fi DAC, physical camera controls, and soon a Parrot drone controller.
That's not to say that the LG G5 isn't useful by itself. It is definitely capable, as the specs will show. The removable battery alone is definitely a plus. But it's real call to fame will be those Friends of G5 that make the smartphone a lot more exciting. And perhaps also a bit more expensive in terms of total cost of ownership.
Sony Xperia X Performance
Sony didn't have a new Xperia Z flagship to show and it will no longer have any in the future. That's because the Japanese OEM has switched letters and has declared the Xperia X to be its new smartphone line. Whether it will again use numbers to differentiate each generation remains to be seen. But for now, it's starting with a trio comprised of the Xperia X, the Xperia X Performance, and the Xperia XA.
Interestingly, unlike the Xperia Z5 trio, the base Xperia X mode would actually qualify below the high-range flagship marker, as thin as that line might be. It is the Xperia X Performance that actually tries to reach the top, though barely succeeds in doing so. The Xperia X, on the other hand, seemingly straddles both high and mid range worlds. While most of the specs might seem mundane compared to its peers, these two Xperia X smartphones make up for it with some added intelligence, particularly in the cameras that they bear.
Nexus 6P
The Nexus smartphones have always been odd yet desirable ducks. In theory, they showcase the ideal perfection of Android devices, but as Google envisions them. In most cases, they feature the top hardware features available in the market at the time of their release. In the case of the Nexus 6P, that just about hits early 2016 specs as well.
Unlike most high-end flagships, however, Nexus devices are almost sold at cost, maybe even at a loss. LG has repeatedly admitted that Nexus smartphones aren't exactly big money makers, despite their favorable reception. Still, as Google's poster boy for the Android world, the Nexus 6P pretty much has all that you are looking for in a smarpthone.
Xiaomi Mi 5
Year after year, Xiaomi has put out smartphones notorious for selling like pancakes, thanks to a deadly combination of decent specs and a price tag to die for. The Xiaomi Mi 5 is no exception, except perhaps for a disappointing screen that doesn't match its competitors. Still, a price tag well below the $500 line doesn't hurt its chances. Almost like the Apple of China, fans and buyers gobble up each and every new Xiaomi smartphone anyway.
The association with Apple might, however, also be seen in its design. Granted, these days it might be extremely difficult to chance upon a look that nobody has ever seen yet. This year, however, Xiaomi has also taken inspiration from another competitor, bearing some of the design marks now seen in the Galaxy S7.
Huawei GX8/Honor 5x
Perhaps it's not fair to have two (or three) Huawei-made smartphones in this list, but it only helps prove the situation regarding the blurring of lines between high and mid range. The Huawei GX8 and the 5x from is Honor sub-brand are almost so similar, though, amusingly, the Honor 5x trumps the GX8 in some aspects. Neither are Huawei's main flagship, which is still to come in a month or so. They are, however, Huawei's frontrunners for its Western push, making the smartphones available in the US and the UK.
OnePlus 2 and OnePlus X
Given its popularity in 2014, it's hard to ignore OnePlus' presence in the Android world. Trying to outdo Xiaomi at its own game, OnePlus offers smartphones with near flagship features at below price point. It's key difference from Xiaomi, however, is limited availability that has made the OnePlus a sort of rare treat, increasing its retail and marketing value. That said, OnePlus 2 launched last year in a sort of state of limbo. It was a bit too late in the 2015 flagship race but definitely too early for 2016. As such, it bore marks of both worlds in terms of specs, landing it slightly on the mid-range border.
The OnePlus X is an even weirder product in that sense. It was like a slightly refreshed OnePlus One in a new body. It blurs the boundaries even more, with one foot in each of the tiers but with a price tag that screams budget line.
BLU Pure XL
BLU Products, one of the few US-based smartphone makers, might often be panned for its less than stellar yet multitudinous smartphones, most of them way lower down the food chain. The Pure XL, however, is perhaps the lone exception. Here, the smartphone maker has clearly stepped up its game with a smartphone that not only looks premium but also flaunts powerful specs. What hasn't changed, however, is BLU's practice of slapping on almost ridiculously low price tags on its always unlocked devices.
Vis-a-vis
Now that we've laid out each OEM and each flagship's defining characteristics, its time to tally up their points. In other words, their specs. We focus primarily on the parts that they have in common but we also highlight some unique features only a few, or even one, of them have.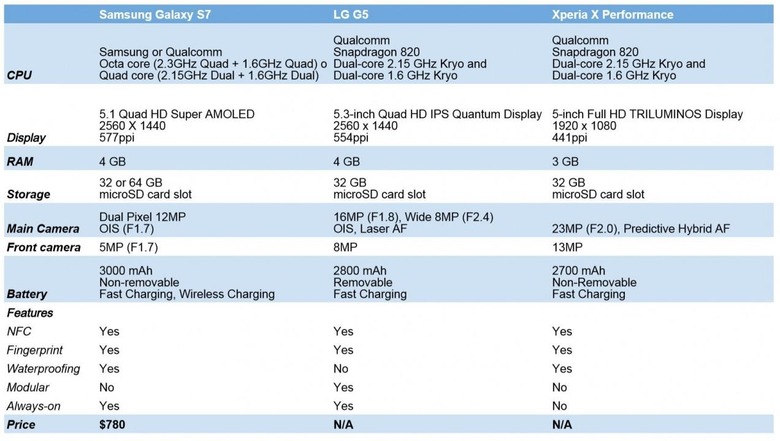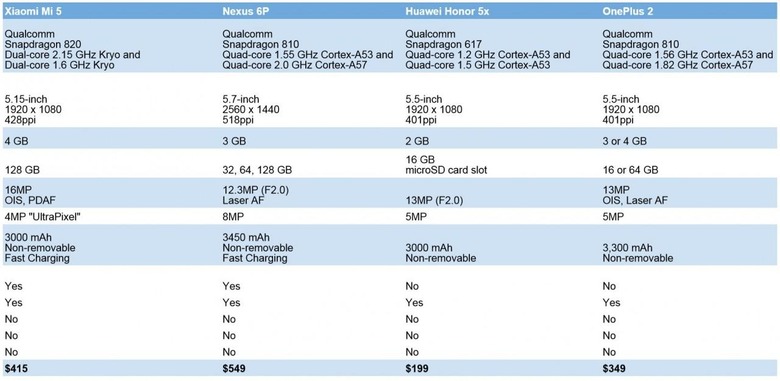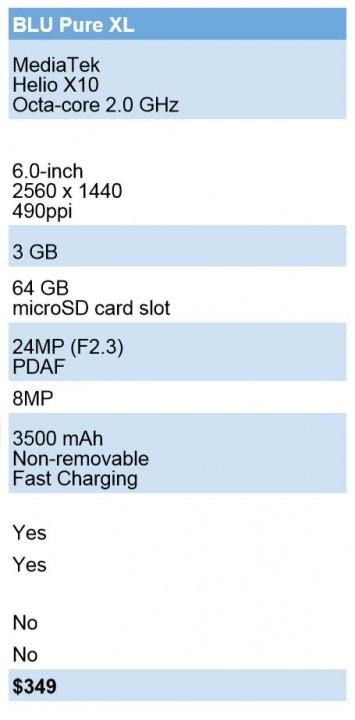 All the smartphones in one huge spread (click to enlarge):
It is probably easier to draw the line between processors, with Qualcomm clearly delineating each processor family. But even then, higher isn't always better, as the Snapdragon 810 so painfully showed last year. And even something as modest as a Snapdragon 617 can almost reach the heights of a Snapdragon 810. And then there's MediaTek, who continually rises to the challenge, offering nearly comparable power at a fraction of Qualcomm's asking price.
Features are harder to categorize these days. Normally high-end, not to mention expensive, smartphones like the Xperia X Performance still carry a Full HD screen, for example. On the flip side, the BLU Pure XL with its sub $400 tag offers QHD resolution, albeit on a considerably larger 6.0-inch screen. With the exception of the OnePlus and, strangely, the Honor 5x, NFC is pretty much a staple these days. Even more common are fingerprint scanners, found in all our sample smartphones.
Wrap-up
Android has always exhibited an irony of choice, making it more difficult to choose what smartphone to buy. Never has that been more evident than today, with the boundaries across device ranges thinning. The good news is that those boundaries might not matter that much anymore, at least not completely. For half the price of the most premium flagship smartphone, you can get one from a reputable brand that can match in terms of features and performance. Buyers no longer need to sacrifice important and much needed functionality just because they have a thin wallet.
That's not to say that devices like the Galaxy S7 or the LG G5 no longer matter. To some, that might be true, but these brands also offer buyers some level of confidence in quality, and sometimes in warranty, that others have yet to earn. And with previously mid-range brands catching up in terms of features, these bigger names have no choice but to present more innovation and more quality to ensure their place at the top.