Huawei was a bit sneaky at CES 2016 yesterday. It did unveil the Mate 8 phablet for international markets but disappointingly left out the US. Now it's announcing something for the US but it isn't that high-end flagship. As earlier leaks hinted, it is indeed the Honor 5X that will be the forerunner of Huawei's Honor brand in the US. All is not lost, however, as the Honor 5X does sound, and especially look, like a formidable mid-range but classy contender in the very competitive US smartphone market.
Honor brands the Honor 5X as a "no nonsense smartphone". What that means is that it delivers on the basics, nothing more, nothing less. That said, it actually tries to deliver more when it comes to the design. Like most OEMs these days, save for those very budget-consciosu ones and knockoffs, Huawei has gone for a metal design, in this case an all metal unibody structure. Unlike many other OEMs, it Isn't aping someone else's design. At least not completely. Huawei, and particularly its Honor brand, has been able to refine it's own design personality that is both familiar and yet unique at the same time.
One feature that could set the Honor 5X apart from the mid-range competition is the fingerprint scanner. Sure, those are almost found anywhere these days, but Huawei's implementation is always more talented that say, Apple's or Samsung's. To be less vague, the sensor accepts swiping and tapping gestures that translate to actions on the user interface. It is the one situation where placing the fingerprint scanner on the back makes a bit more sense.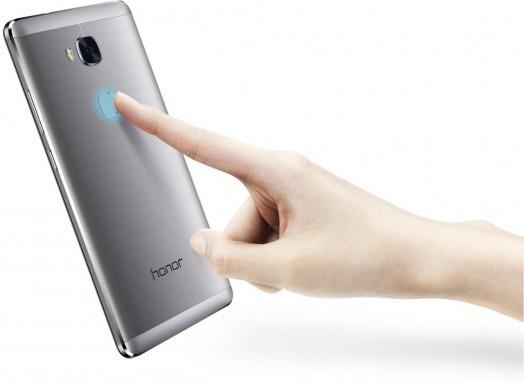 The hardware specs of the Honor 5X may not be flattering, but they're far from being disappointing. Running the show is Qualcomm's higher mid-range chip, the Snapdragon 615, paired with 2 GB of RAM. The 16 GB of internal storage can be supplemented by a microSD card, up to 128 GB more. The 5.5-inch screen goes up to 1080p. It has a 13 megapixel rear camera with f/2.0 aperture and a 5 megapixel front shooter with f/2.4 opening and a 22 mm wide-angle lens for "panoramic selfies". Again, just the basic, no nonsense features.
And you will be getting your money's worth for it. Huawei will be selling the Honor 5X starting January 31 for only $199.99. It will be available in gold, silver, and grey colors and can be bought, most likely unlocked, from Amazon, Newegg, and Honor's own US website.