BLU Outs Pure XL With MediaTek Helio X10, Vivo Air LTE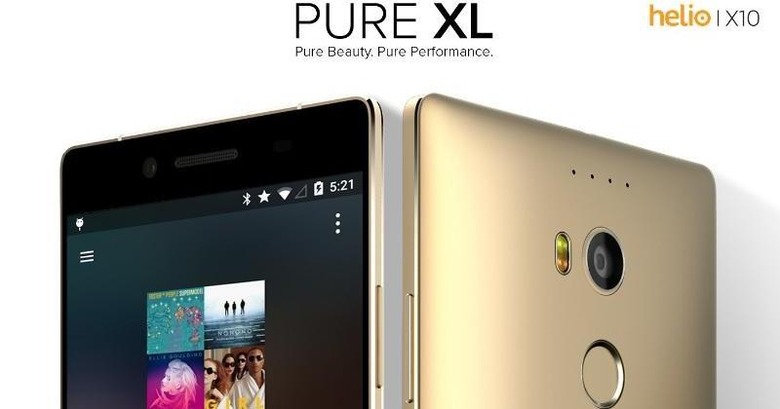 In showbiz, bad publicity is still publicity and that might have somewhat worked for Qualcomm lately. Now rival MediaTek needs a bit more exposure, and good ones at that, as well and it will be doing so with some help from BLU Products. The US-based smartphone maker has just announced the Pure XL, the first device in the US to bring MediaTek's new Helio X10 chip to that market. Of course, that is not its only defining feature, as it also sports a QHD screen and a 24 megapixel main camera.
What's so special about the Helio X10 you ask? Well, maybe a score of around 49,000 on AnTuTu. This puts the 2.0 GHz octa-core processor in the big leagues, ready to rub shoulders with Qualcomm's finest. It's the same chip that powers the HTC One ME, which is a strangely higher spec'd smartphone than the One M9 flagship. In addition, the latest version of MediaTek's CorePilot advanced power resource manager adds heterogeneous computing to its feature set, utilizing both CPUs and GPUs to share the workload. That's the same new type of computing that Qualcomm is singing about as well.
But in case you're not a fan of MediaTek, the Pure XL's other specs are still worth noting. BLU's smartphones aren't always the most premium, straddling the fine line between wallet friendly and mid-range. But the BLU Pure XL is definitely an exception, with a Quad HD screen. That said, the 6.0-inch size might be a tad to difficult to handle. There's an ample 3 GB of RAM and 64 GB of internal storage, with a microSD card slot for 64 GB more. The 3,500 mAh battery is large, but sadly also not removable. And there's also a fingerprint scanner on the backside below the main camera.
That main camera might also be notable. It has a large 1/2.3-inch 24 megapixel sensor with an almost decent f/2.0 aperture. Optical Image Stabilization, fast Phase Detection AF of 0.08 to 0.2 seconds, real-time HDR, and True Dual Tone LED flash rounds up its features. And there's also an 8 megapixel wide-angle AF front camera for selfies.
This unexpected but pleasant BLU Pure XL will be available starting September 29. It can be purchased unlocked from Amazon for only $349.00, or on T-Mobile's and AT&T's 4G LTE networks.
In addition to the Pure XL, BLU Products is also announcing the Vivo Air LTE, the 4G-enabled successor to its ultra-thin Vivo Air smartphone. At only 5.1 mm and 97 g, BLU claims that it is the thinnest and lightest 4G LTE smartphone in the US. This new model also upgrades a few parts, like the new Qualcomm Snapdragon 410 and new 2 GB RAM. The rest remain the same, including the 4.8-inch HD screen, the 8 megapixel Sony IMX219 main camera and 5 megapixel front shooter, and 2,050 mAh battery.
Fortunately, the $199 price tag is also the same. The BLU Vivo Air LTE is now available for pre-order on Amazon and will ship starting September 22.