Android Auto Wireless reminded me of Google's big Pixel mistake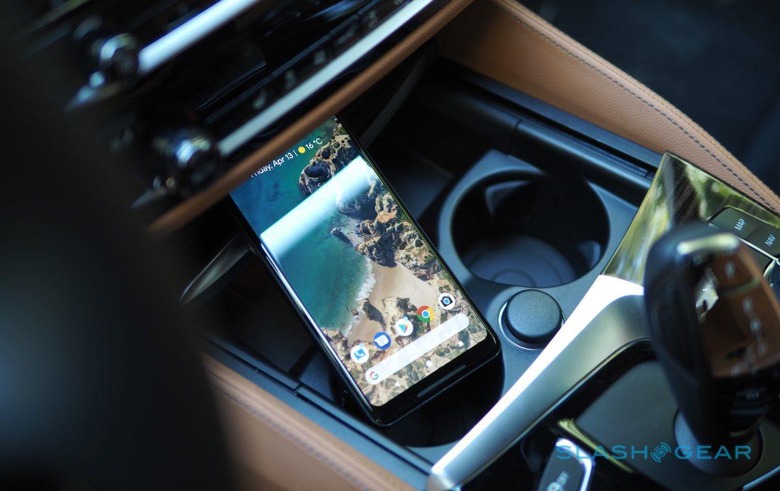 Google enabling Android Auto Wireless is great news, but Pixel phones' lagging behind iPhone in one key area does put the brakes on how useful the update is. Putting down your smartphone while you're behind the wheel is safety advice all of us would do well to remember. I just wish I could put my Pixel 2 XL down on a wireless charger when I do.
I'll put aside the frustration that, today at least, only a handful of third-party aftermarket head units actually support Android Auto Wireless. Unfortunately that means that, even if you have a car currently which supports wired Android Auto connections, there's no telling whether or not you'll get an update for wireless support. Many vehicles out there have WiFi radios, but they won't necessarily play nicely with the software and hardware that Android Auto Wireless requires.
There are a lot of reasons to be excited about Wireless Android Auto. As anybody who has paired their car with their smartphone via Bluetooth knows, having it automatically reconnect when you get inside is one of those little conveniences that adds up over time.
Unfortunately, it also draws attention to one of Google's biggest – and most annoying – omissions: wireless charging. The Pixel 2 and Pixel 2 XL don't have it, and neither did the Pixel and Pixel XL before it. The Nexus 6P and 5X relied on a cable, too. Right now, they're the only six phones that support Android Auto Wireless.
Google's argument has long been that, with fast charging, you get more of a top-up on a cable than you do from a Qi wireless pad. That may well be true and certainly being able to add hours of use from just fifteen minutes or so plugged in is great. Unfortunately, it does somewhat undermine the usefulness of Wireless Android Auto.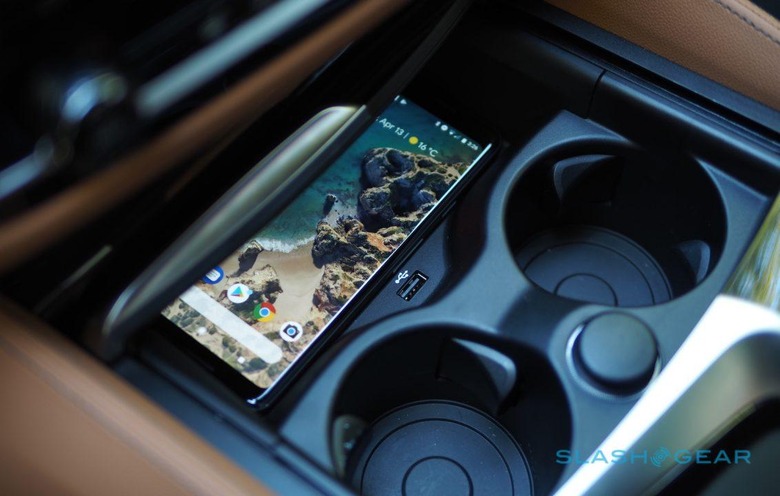 I've been driving a BMW with both wireless Apple CarPlay and a Qi charging nook in the center console this past week, and the combination of smartphone projection and cable-free recharging is a clear winner. Rather than fumbling for the cord when I get in, and dropping the iPhone X into a cupholder, I simply toss it onto the pad and allow it to pair up automatically.
Barring the occasional connection glitch – which I suspect is because I set up CarPlay both wired and wirelessly, confusing BMW's iDrive system in the process – it's worked impressively well. More importantly, given safety is the primary reason for interfaces like CarPlay and Android Auto, it means I use the pared-back UI more consistently. In cars with wired connections, on shorter trips I'd sometimes simply leave my phone in my pocket, only to decide partway through that I wanted to listen to music or make a hands-free call and have to fumble it out and plug it in.
The good news is that, according to the Android Auto team, other phone manufacturers are working on adding support for the wireless connectivity. Even if Google isn't onboard with Qi, handsets like the Galaxy S9 are.
Still, if ever there was a reason for Google to relent on its obstinacy and embrace wireless charging in the Pixel 3 and Pixel 3 XL – or whatever the new Pixel phones end up being called – then this is it. One of the biggest challenges when it comes to reducing driver distraction is getting past apathy and changing ingrained behaviors. Wireless smartphone projection and wireless charging are the way to do that, and I think it's time for Google to close the loop.