Android Auto hits Hyundai first as 2015 Sonata update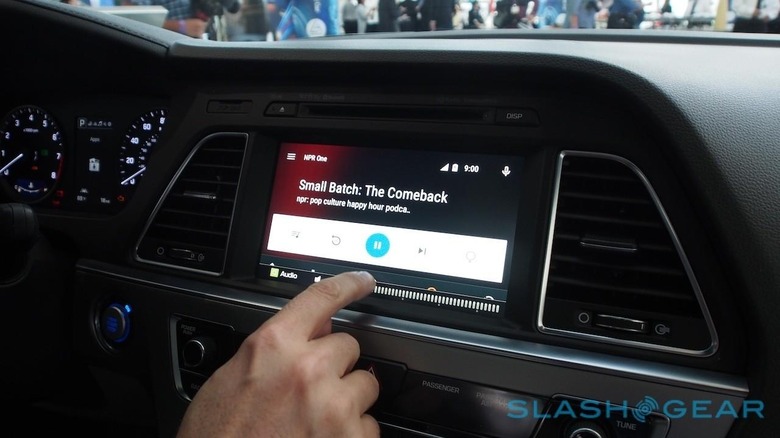 Google's Android Auto push to take over the dashboard has begun in earnest, with Hyundai the first car company to offer the smartphone-tethered system on a production car. As of today, Hyundai's 2015 Sonata with Navigation will come with Android Auto support off the forecourt, and the car maker is offering upgrades for existing owners. Once installed, hooking up an Android phone via USB and Bluetooth pipes things like Google Maps, messaging, and Google Now through to the Sonata's in-dash display.
That should help keep eyes on the road and off confusing factory-fit infotainment systems, which have built something of a poor reputation in recent years for their confusing menus.
Instead, Google is pushing voice control to carry out most functions, whether that be dictating a reply to a text message, requesting a track or playlist from Spotify, instructing Google Maps where to navigate to, or even just ask questions. Android Auto reads out the answers, while the UI – although the platform is more open to third-party apps than CarPlay is – is relatively standardized to help cut button confusion.
As we found when we tried the system out in the Sonata, the results can be impressive. If you're heavily invested in the Google ecosystem – which you may well be if you're an Android device user – then the ability to pull up recent searches and destinations, as well as Google Now prompts, from previous desktop and mobile use certainly cuts down on the amount of touchscreen-tapping you need to do before your journey starts.
Existing drivers with a 2015 Sonata fitted with the optional Navigation package can head into their nearest Hyundai dealership and have the upgrade installed there.
This summer, however, it'll get even easier: Hyundai plans to release the update online, so that drivers can simply load it to a USB stick, plug it into the car, and then have it automatically installed.
As for other cars, the manufacturer says further models will support Android Auto in due course, while Apple's CarPlay is in the pipeline, too. Hyundai has plans for an entry-level head unit with both platforms, embracing Millennials who might consider plugging in their phones the obvious approach and not want to pay any more for a factory-fit system.
Meanwhile rivals are also talking about both systems; Volvo's new XC90, for instance, splits its large touchscreen into two, meaning that the smartphone UI and the automaker's own interface can be shown simultaneously.