2016 Volvo XC90 first-drive - Scandinavia on wheels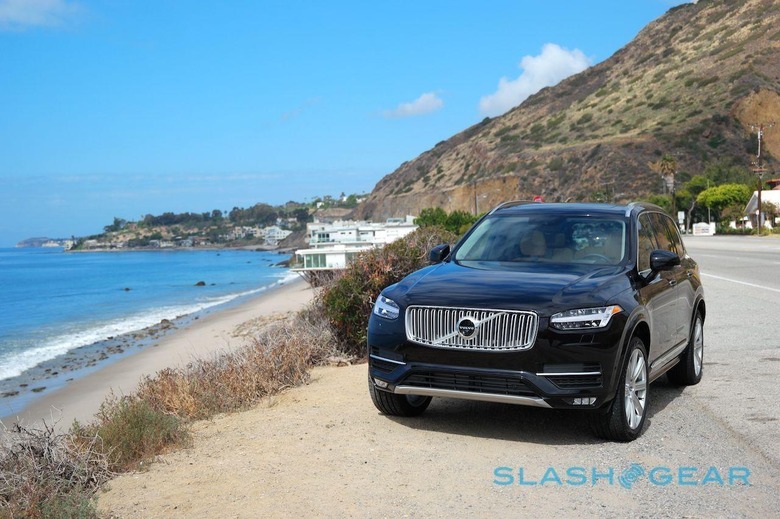 Nordic noir has invaded our television and our bookshelves, and now Volvo wants to do the same for luxury SUVs with the all-new 2016 XC90. As many companies, automotive and otherwise have discovered, throwing money at a problem isn't necessarily the best way to fix it. Nonetheless, it helps to have deep pockets when you're tasked with completely reinventing your line-up, and Volvo has spent over $11bn since it was sold to Geely in 2010 and began to rebuild its range from the ground up. Now, we're getting a taste of what that money bought, and like moody Scandinavian detectives, it turns out to be complicated.
The first example of that ambitious undertaking is the XC90, though there'll be an additional six new cars over the next four years, not to mention seven new nameplates for derivatives. A seven-seat luxury SUV might seem like an odd place to start, but it follows in the tire tracks of a very popular predecessor.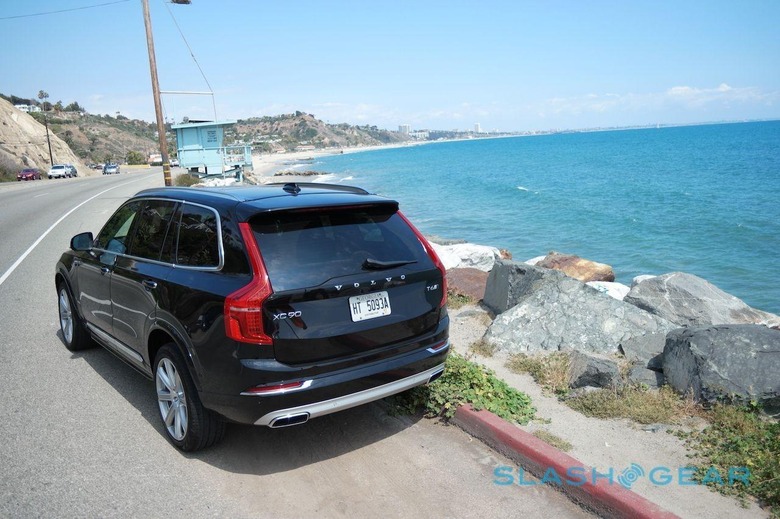 Volvo sold hundreds of thousands of its previous XC90, launched in 2002, and at one point it was the best-selling European vehicle in its class. The new model will be built in Sweden, but with a lot of North American influence. "It's very important that it suits the American market in a big way," XC90 senior product manager Lars Lagström explained.
The answer, for the US at least, is two versions of "Scandinavian sanctuary", the XC90 T6 and XC90 T8 Twin Engine (Europeans will get diesel versions that aren't planned for North American release). Built on the brand new Scalable Product Architecture (SPA) platform, which will also form the basis of a number of models in future, including a new S80 luxury sedan, it's – in T8 form at least – the world's first full seven-seater plug-in hybrid, not to mention the most controversial implementation of Volvo's Drive-E powertrain strategy.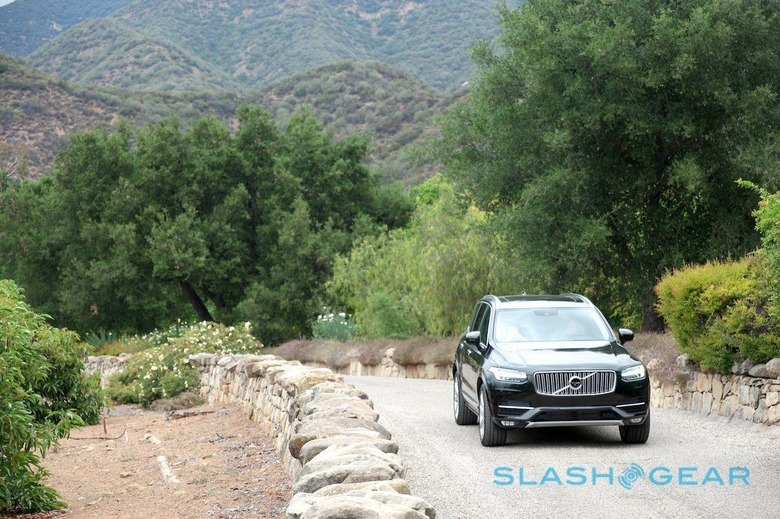 Small Engine, Big Ambition
Drive-E is basically what happens when you throw out your existing line-up of four-cylinder, V6, and V8 engines, and replace them with just one engine platform. That's a mere 2-liter four-cylinder, but to it Volvo bolts both a supercharger and a turbocharger, each bringing its own advantages.
In a segment where your big-bruiser SUV isn't taken seriously unless it has a 3.0-liter V6 at the very least, Volvo's strategy might seem crazy. However, the canny Swedes have some common-sense reasons: the Drive-E engine is a full 143 pounds lighter than the old, all-aluminum V8, not to mention being smaller for a more efficiently-packed engine bay, more fuel efficient, and more flexible in how Volvo can add electrification as in the T8 Twin Engine.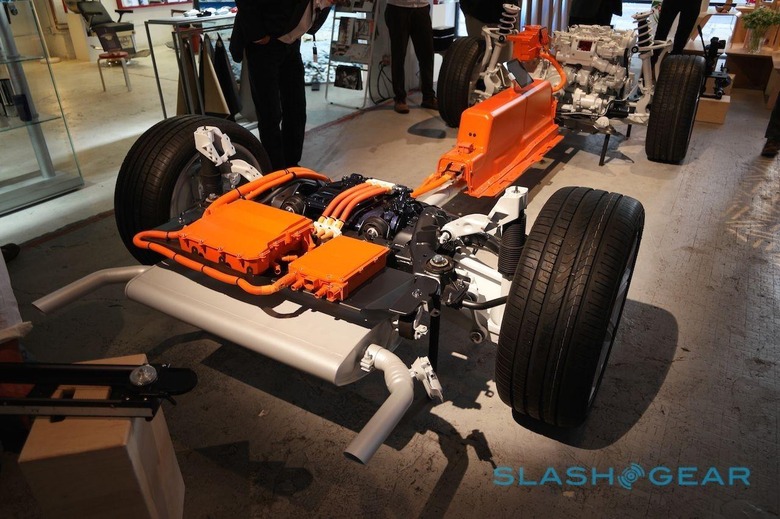 Basically, the supercharger lends its assistance at low engine speeds, from 0-3,500 rpm. That makes sure there's no shortage of power before the turbocharger can kick in, at which point the supercharger uses its electric clutch to step out.
In the T6, that's enough to deliver a not-inconsiderable 316 HP and 295 lb-ft of torque, good for a 0-62 mph run in 6.1 seconds while still being capable of returning 22 MPG. Contrast that with Audi's Q7 3.0-liter TFSI, which tops out at 280 HP and 295 lb-ft, and takes 7.7s to get to 60 mph.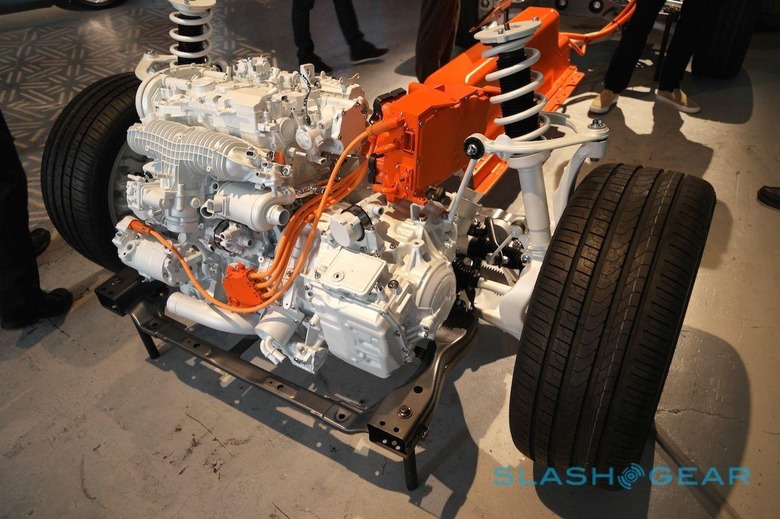 The T8 Twin Engine is even more interesting. Under the hood you have the Drive-E engine, which as well as driving the front wheels is permanently connected to a Crank-Integrated Starter Generator (C-ISG) which, as well as doing the job of a regular starter motor, can act as a generator to recharge the hybrid's batteries, and as a 46 HP, 103 lb-ft booster engine when an extra jolt is required.
At the back there's an electric drive for the rear axle, where the differential in the regular T6 AWD car would normally be. The T8 has no mechanical link between the front and rear wheels, so Volvo puts the 9.3 kWh battery pack there instead, occupying the center console between the driver and passenger.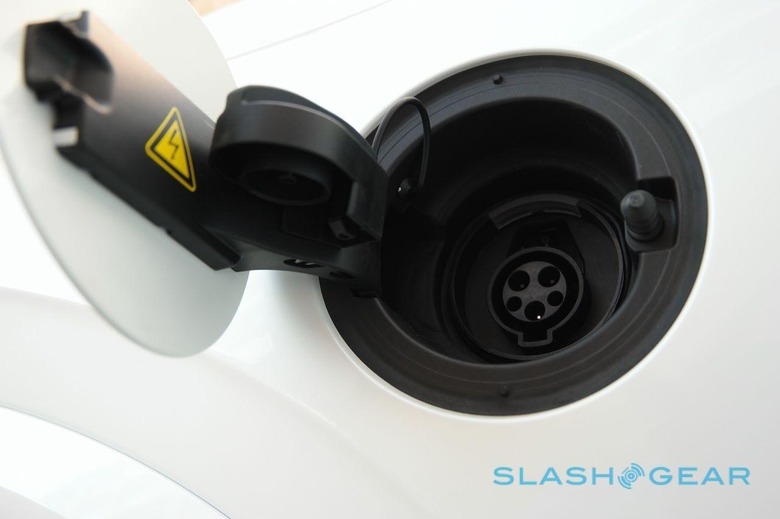 Not only does that mean the 96 Li-Ion cells aren't taking up luggage or third-row space, it also puts them into what's effectively the safest spot in the car. "That are never gets deformed in any accident," Lutz Stiegler, director of powertrain engineering at Volvo points out. The inherent safety of the positioning also allowed Volvo to keep the overall battery weight down, to 265 pounds.
Oddly, the car with the most similar architecture to the T8 Twin Engine is BMW's i8, though the German coupe puts its gas engine at the rear and its electric drive at the front. Volvo musters more power, too, and while US figures aren't yet finalized, the XC90 T8 is expected to deliver a hefty 400 HP and 472 lb-ft of torque, good for a 5.3s 0-62 mph time, while still returning more than 59 MPGe.
XC90 T60
The XC90 may be big and, at around 4,600 pounds, heavy too, but it doesn't feel that way behind the wheel. In fact, it's a testament to Volvo's SPA platform that the SUV handles as well as it does; it's not an M Series or AMG-baiter – though the R-Design will tweak things like the shift patterns of the standard eight-speed auto transmission, even if power isn't changed – but it's predictable and reassuringly stable.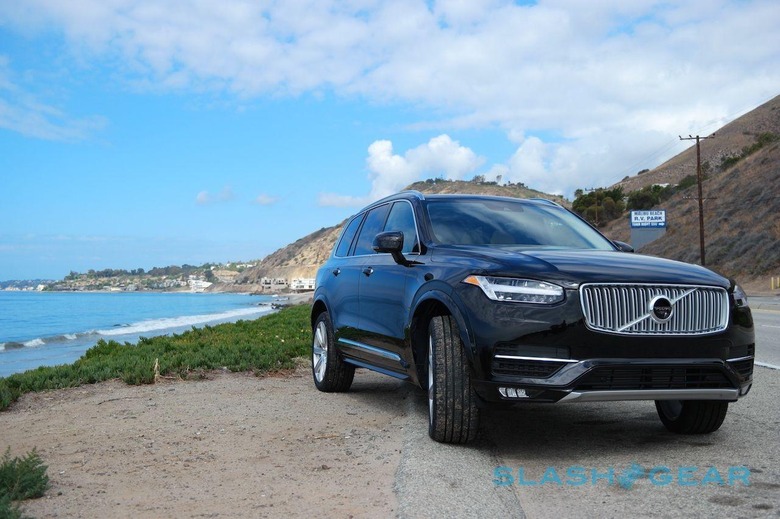 Pricing kicks off at $48,900 for the Momentum trim, while the R-Design will be $52,900 and the Inscription trim $54,500.
Unfortunately, while the regular XC90 will use a new pairing of wishbones at the front and an integral rear-link axle at the back, with a composite leaf spring rather than coil springs that helps maximize rear space, I couldn't test it. Volvo's demo cars were fitted with the company's new, $1,800 homegrown air suspension system instead, with a maximum 9.3 inches of ground clearance but a proclivity to lowering the SUV as much as possible in the name of fuel economy.
In Comfort mode, it's a smooth ride rather than the controversial stiffness of some German alternatives, but switch to Dynamic and things get noticeably tauter. Switchbacks aren't the typical sort of road an SUV would be thrown at, but the XC90 stayed balanced even when pushed considerably faster than the road signs might advise.
The only less-convincing mode is Eco, which deadens the throttle response to the point where you feel like you have an inch of play with no sort of response. With mixed driving – including some more aggressive twisty mountain roads, and driving in each of the modes – I saw 19-20 MPG on the XC90's own gage.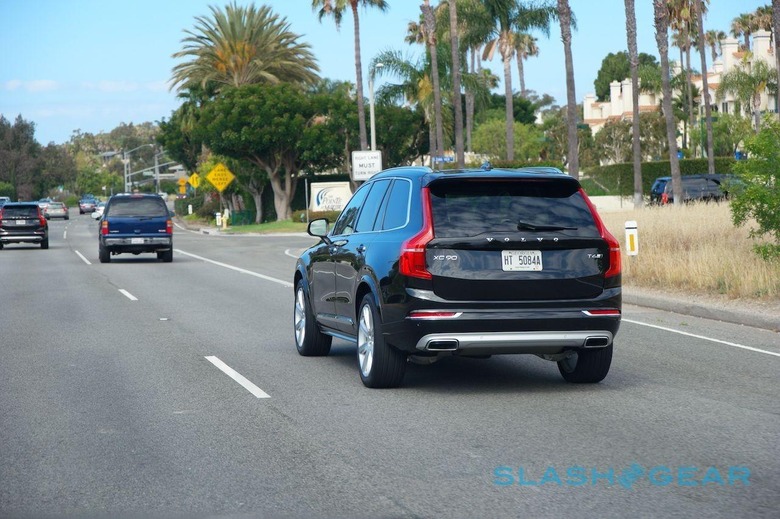 Better, then, to stay in Comfort or Dynamic. The former excels around town, with smooth pick-up from lights and stop signs as the supercharger gives a shove while the turbocharger waits in the wings. Dynamic mode prompts a noticeable growl when activated, the XC90 holding on to lower gears a little longer; paddle shifters are only included on the R-Design spec but I didn't miss them, though you can slot the stubby stick over to the side and tap through the gears manually if you prefer.
Most of the time, though, I had no complaints with the automatic's selection, though there were a few rare occasions where I missed the highway overtaking power you might associate with a naturally-aspirated V6 or V8.
XC90 T8 Twin Engine
While the T6 I drove was fresh off the production line, the T8 is still a prototype, and in fact Volvo had brought along its sole six engineering cars for press to try. That means there could well be tweaks and changes before the Twin Engine SUV arrives on roads later this year, though even this early taste was still more than enough to convince me Volvo's strategy has a lot going for it.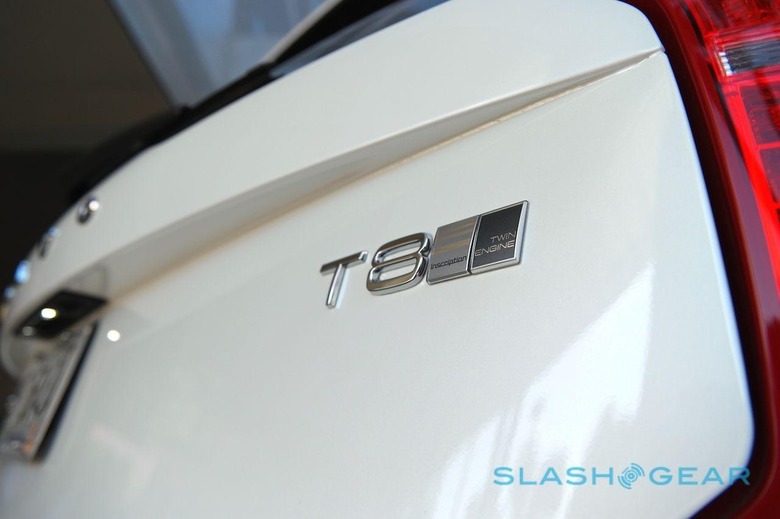 You pay a premium for the advanced powertrain: the entry-level Momentum trim starts at $68,100, the R-Design at $70,000, and the Inscription at $71,600. That's before federal and state tax credits, of course, and any "clean vehicle" rebates different areas might offer, which could collectively knock several thousand off the sticker price.
The drive modes are changed from the gas-only car. By default you're in Hybrid mode, the XC90 balancing power from the gas engine with drive from the rear, and – on rare occasions – even calling on the C-ISG hooked up at the front to throw in a little of its power if road conditions demand.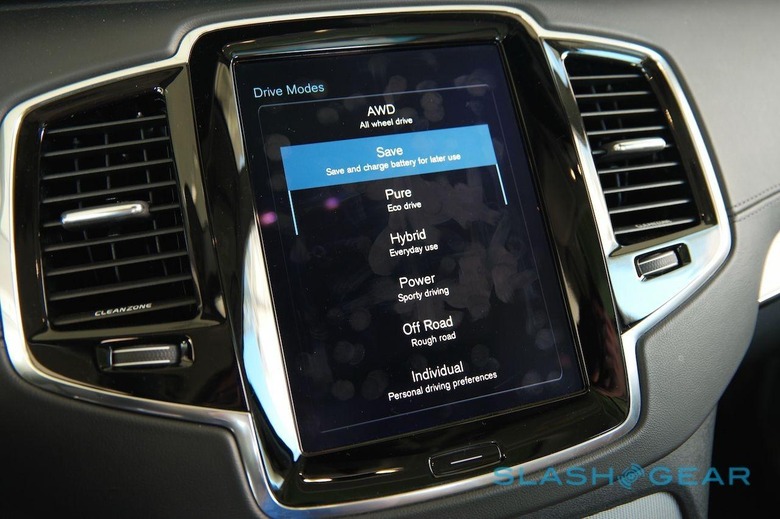 Volvo has done some clever things in how the two powertrains coexist. The electric drive can pulse its contribution to smooth out changes in the gas drive's shift-by-wire transmission, and sure enough they're almost invisible. Switch to Power mode, meanwhile, and Volvo is ambitiously comparing the acceleration from a standing start to Tesla's Model S P85, with a glut of instant torque getting the XC90 moving with an urgency you'd not associate with a four-cylinder, never mind a seven-seat SUV.
While you're carrying around 550 pounds more weight than the gas-only car thanks to the EV components, road handling is still impressive. The brakes, too, are firm and reassuring, hauling the hybrid up with no complaint, and there's an optional regenerative braking setting that prioritizes battery recharge even further, the XC90 swifter to slow when you lift your right foot.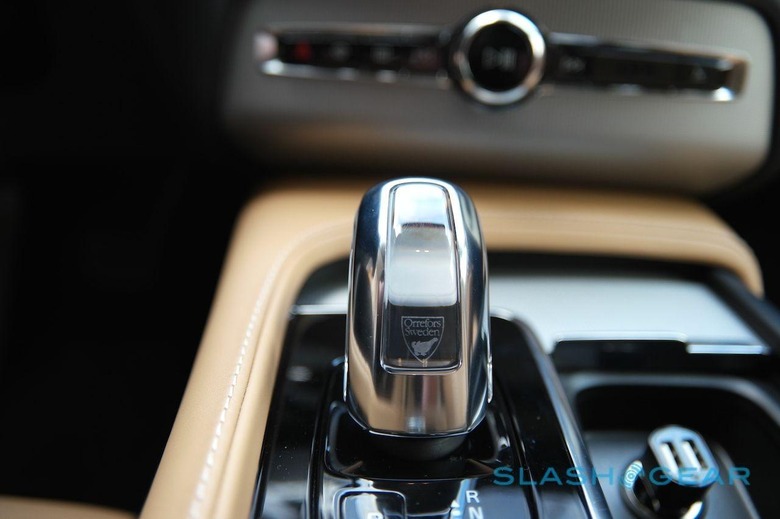 There are three other modes, too. AWD, as with its counterpart in the T6, prioritizes low-speed stability for more challenging terrain, making the gas pedal less reactionary for better control. Pure locks the XC90 into all-electric mode, with the 9.3 kWh battery – of which around 6.3-6.5 kWh is actually used to prolong its lifespan – good for around seventeen miles. Stomp on the accelerator, mind, and the gas engine wakes up immediately, resuming its slumber when you ease up.
Finally, there's Save mode, which preserves battery charge until you later decide to use it. If it's under 40-percent, the SUV will top it up to at least 40-percent, for around 7-8 miles of range. Plug in at the wall, meanwhile, and a full recharge on a 240V, 16 amp supply should take around 2.5 hours, Volvo claims.
Style
At first glance, you could be forgiven for thinking the differences between the old XC90 and the new model are minimal. Look closer, however, and you'll see that Volvo's changes have for the most part been in taking away fussy or extraneous detailing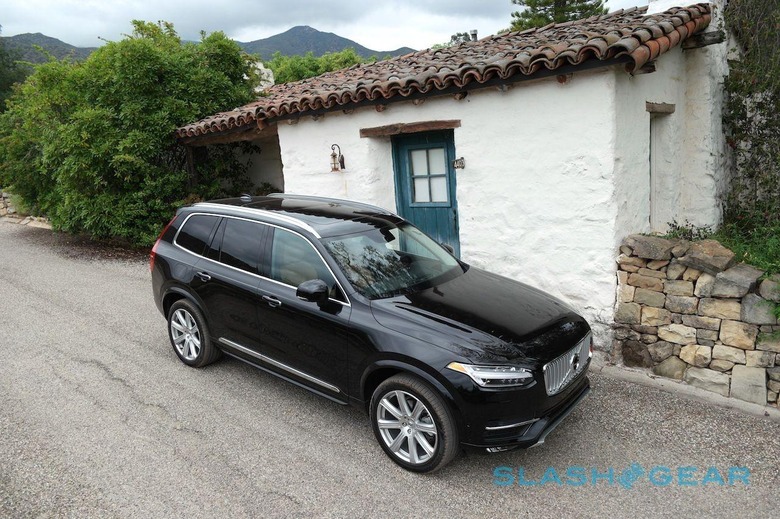 The result is an SUV with the footprint roughly the same as an Audi A6, but which unsurprisingly looks much more imposing on the road, and that I suspect the handsome appearance of which will stay fresh for far longer than some of the more aggressive alternatives out there.
At the front the grille is big and bold, Volvo's logo now better integrated with the diagonal strake that runs across it. It's flanked with large, single-piece lamps rather than the split clusters of the old XC90, and which on higher trim levels are upgraded with an LED "Thor's Hammer" rather than the standard halogens.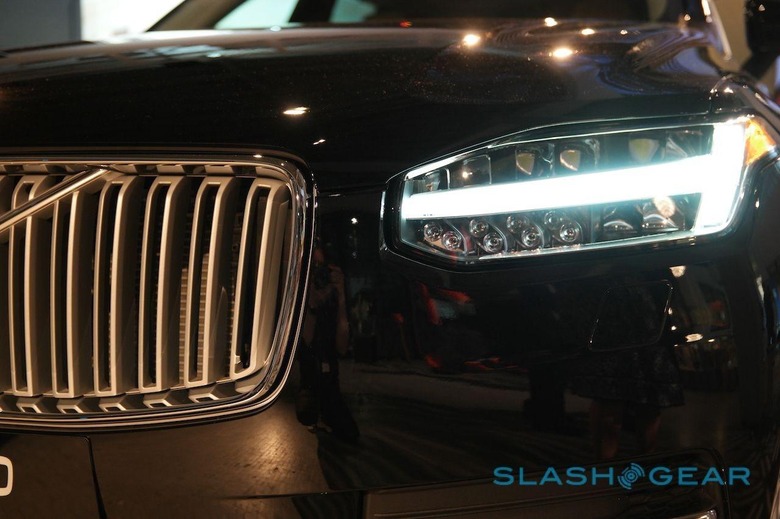 In profile, though the waistline is relatively high, there's still a good amount of glass above it, rather than the pinched windows some SUVs have adopted in order to emphasize their sporting ambitions. Combined with the standard-fit panoramic sunroof, it keeps the interior light and airy. Surfacing tweaks are minimal, too, with only a mild kick at the rear of the shoulder crease. It's classic more than attention-grabbing, and suits the solid colors Volvo had for the test drive.
From the back, more LEDs go into the curving light clusters that bracket the broad rear glass. If anything, you might say Volvo could've gone further with its styling, though there's an interesting bowing to the center second of the hatch.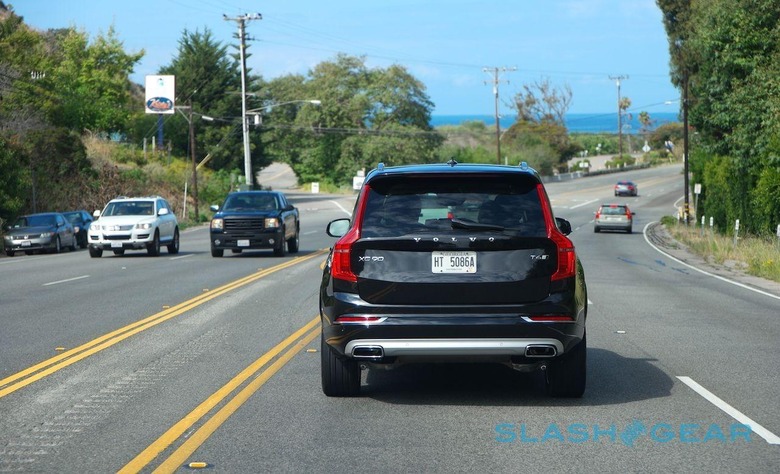 Along with a selection of 19-, 20-, and 21-inch alloy wheels, Volvo will offer two exterior trim packages. Rugged Luxury throws on black cladding around the wheels and sills, similar to the styling of the company's Cross Country variants, while Urban Luxury adds body-color detailing.
Safety and Drive Aids
Volvo's legendary association with safety is well-deserved, and the XC90 demonstrates the Swedes aren't resting on their laurels yet. The company's eventual goal is for cars that don't crash at all, but more immediately the "Vision 2020" ambition is that, by 2020, nobody should be killed or seriously injured by a new Volvo.
It's ambitious, but it's not scattershot. Volvo has been building a car crash database from over 40,000 incidents shared by a major Swedish insurance company, in many cases including the medical records of those involved if the permissions can be obtained, and that's identified two major technological advances in the XC90.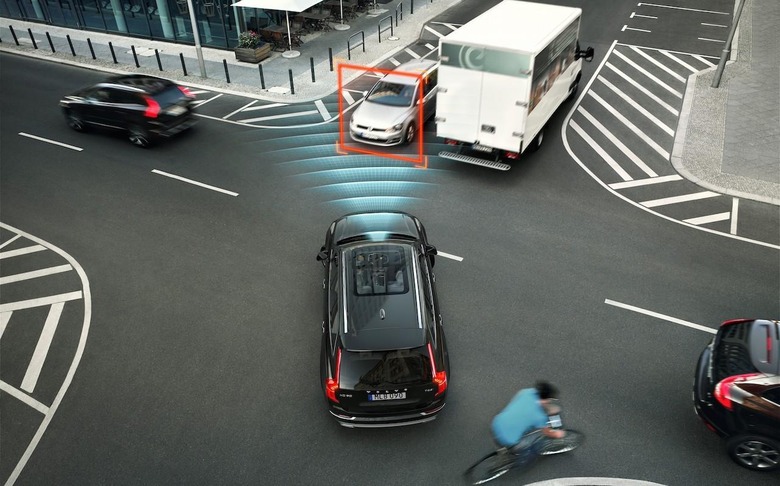 First is auto-brake in intersections. A quarter of dangerous incidents involved cars turning across oncoming traffic and being struck by oncoming traffic, Volvo saw, and so the XC90 uses its radar and cameras fitted up near the rear-view mirror to spot when you might not make it across the junction and can automatically brake to stop you from moving into the point of danger.
Second is run-off road protection, which helps prevent serious spinal injuries. Rather than your spine overloading if the car comes off the road and onto bumpier terrain, there's a new deformation element in the seats that adds up to 4-inches more vertical movement.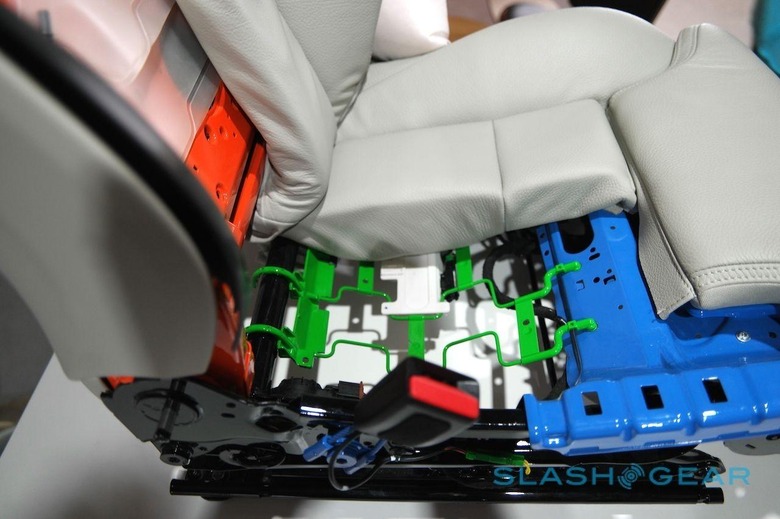 That works alongside new electrically retractable front seat belts that automatically tighten so as to hug you closer and also help reduce movement if off-road.
They're the new additions, but Volvo's back-catalog of safety tech is in full effect too. Pedestrian & Cyclist detection are standard-fit, first giving an audio and visual warning, before automatically braking if the driver applies insufficient force.
Rear collision protection can lock the brakes if the vehicle behind is approaching too fast while you're stationary, as well as tighten the seat belts, to minimize the impact of a crash; outside the US, the XC90 will flash its brake lights as a warning, as well.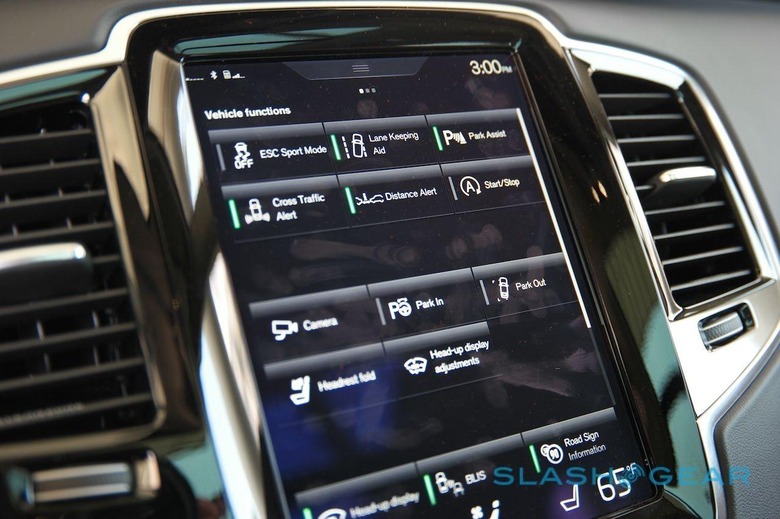 Lane-departure assistance is standard, nudging you back in line if you're straying across the lanes.
Add the $1,600 Vision Package, and you get blind-spot warnings – big indicators in the side mirrors, which also get a motorized folding upgrade, and will dim automatically in bright conditions – and cross traffic alerts.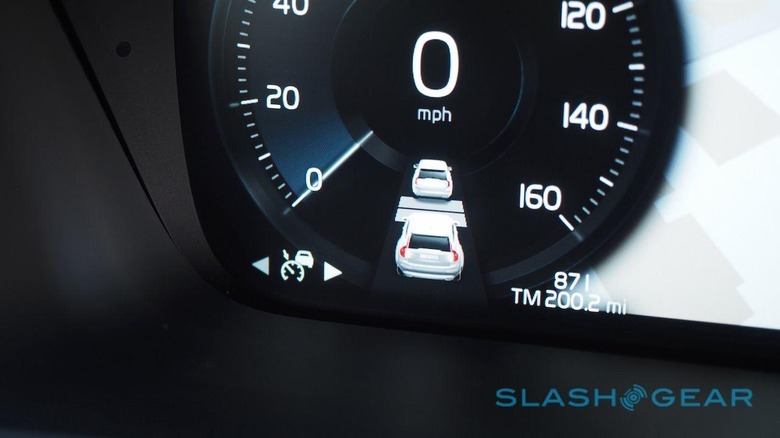 Then there's the $1,800 Convenience Package. That throws in adaptive cruise control, but also Volvo's new Pilot Assist, which tracks not only the car ahead but the road markings to follow traffic at up to 30 mph.
You have to keep one hand on the wheel, else the system starts shouting and eventually turns itself off, but it proved useful in stop-and-go congestion.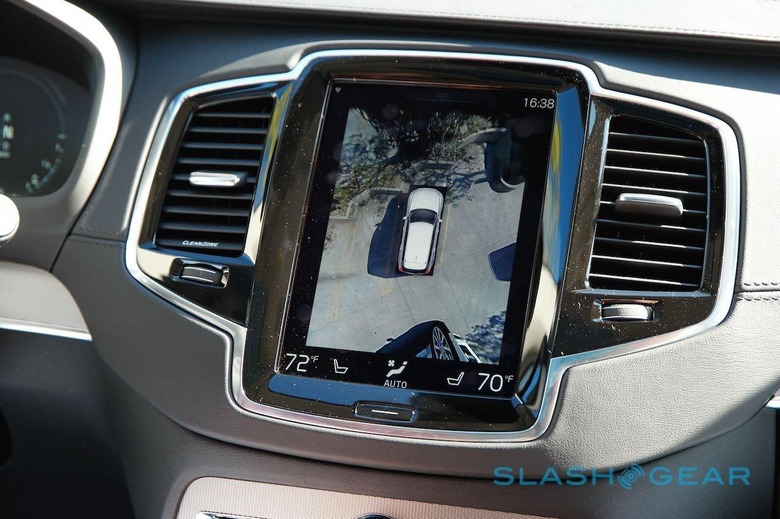 The same package also includes Park Assist Pilot and Front Park Assist, which together can reverse the XC90 into a parallel or bay-style parking space, and then pull it out again.
The driver controls the brake and accelerator, while the car twiddles the steering to get into a space around 1.2x the length of the SUV.
Interior and Technology
It's no exaggeration to say that the XC90's cabin is refreshingly, charmingly different. Leather is standard on the entry-level Momentum trim, along with aluminum trim and lashings of soft-touch plastic wherever your fingers fall, but the Inscription trim upgrades it to beautiful Nappa leather, LED lighting inside and out, ventilated front seats, rear sunshades, and natural walnut trim.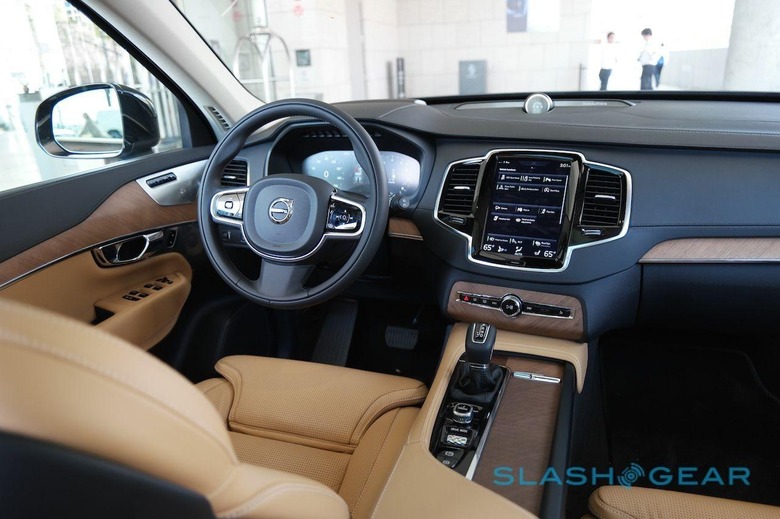 The walnut is a particular triumph, with a welcome matte finish rather than the ridiculous high-gloss most manufacturers opt for, and which inevitably looks fake and plasticky even if it's real. As for the buttons and knobs, Volvo opted for knurled milling.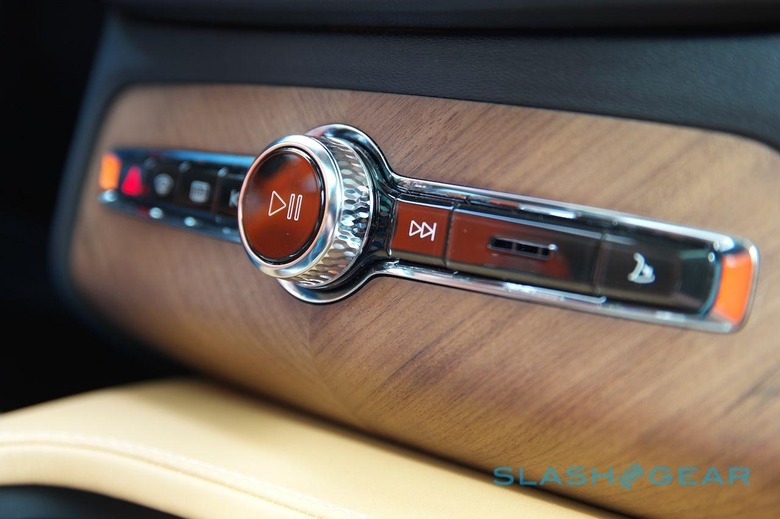 Volvo's seats have been a seven year work-in-progress, and the result looks more akin to an ergonomic office chair than the chunky leather thrones you more commonly find in high-end SUVs.
The goal was to make them both comfortable and safe while minimizing bulk to keep the cabin airy, and sure enough even after a full day in the car I got out feeling fresh rather than cramped.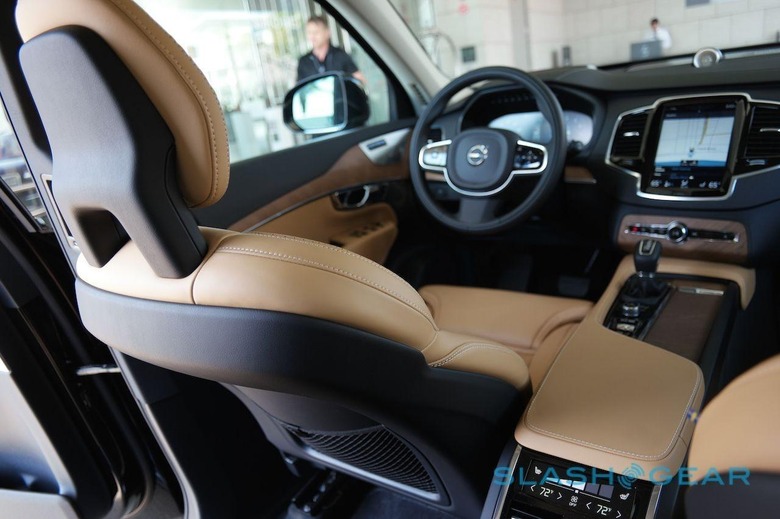 The driver and front passenger get not only power tilt/slide but adjustable lumbar, side, and extending thigh support. Like in the Cadillac ATS-V, the XC90 sensibly walks you through what you're adjusting with on-screen graphics in the center stack.
Oddly, though, the steering wheel reach/tilt is adjusted manually.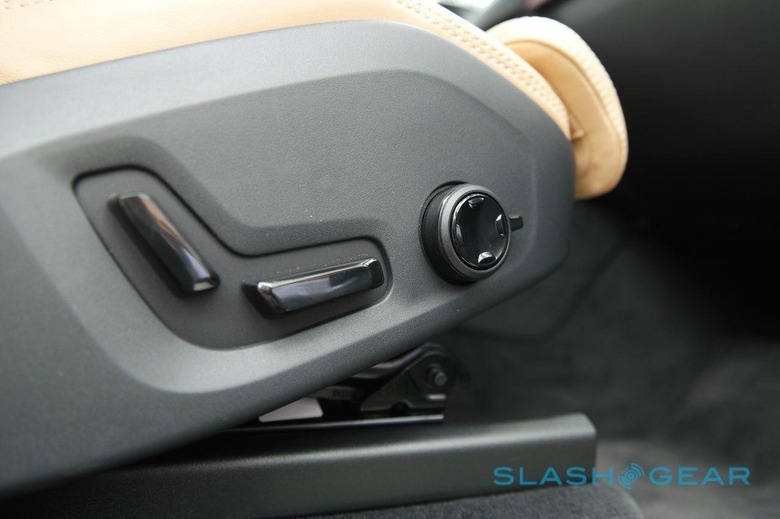 The second row tilts and slides by up to 5-inches, as well as folding flat, while the third row also drops flat into the floor; that way you get a whopping 85 cubic feet of space.
Volvo conservatively suggests the third-row was designed for people 5'6 or under, but even at 5'8 I my head wasn't touching the roof and my knees had a sliver of space behind the seats in front, even with the second-row pushed all the way back. Slide those seats forward, and even the six-footers I coaxed into the rear weren't entirely squashed.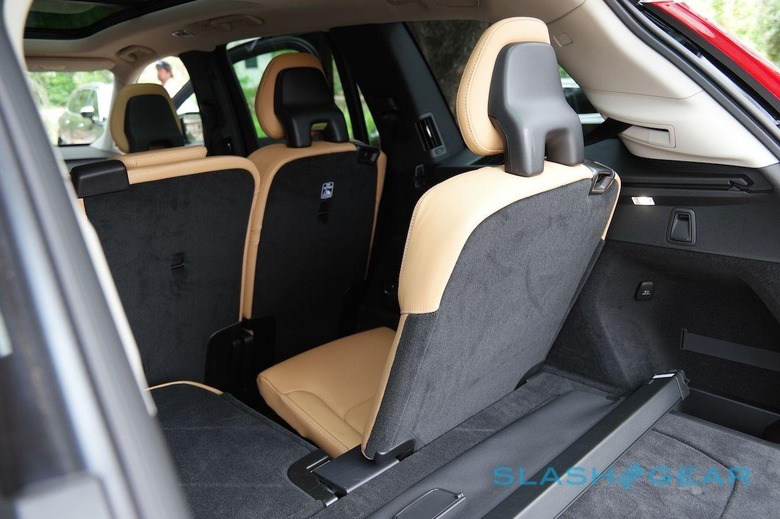 Middle row comfort is great, with plenty of head and shoulder room. The middle – which is tight for an adult – can be upgraded to a pop-up booster seat for children, too, a $250 option which can also be pulled forward so as to be closer to parents in the front.
It's subtle, but each row is tiered – the highest at the back – in an attempt to give everybody at least a glimpse of the road ahead.
Some of the detailing is charmingly Scandinavian. The seats have little Swedish flag tags on them, while the seat belt buckles are stamped "Since 1959", a reference to the year Volvo led the industry in making 3-point lap/shoulder belts standard on front seats.
Those sat in the third-row, and who explore under the lidded side cubbies, will find a cheerful little spider molded there. According to Volvo, the XC90's designer wasn't impressed by the stiffening bracing required on the lid's underside, so decided to make it a spider's web instead.
In the T8 Twin Engine, the transmission knob is a chunk of Orrefors crystal, the Swedish-made glass cradled in a bracket of aluminum.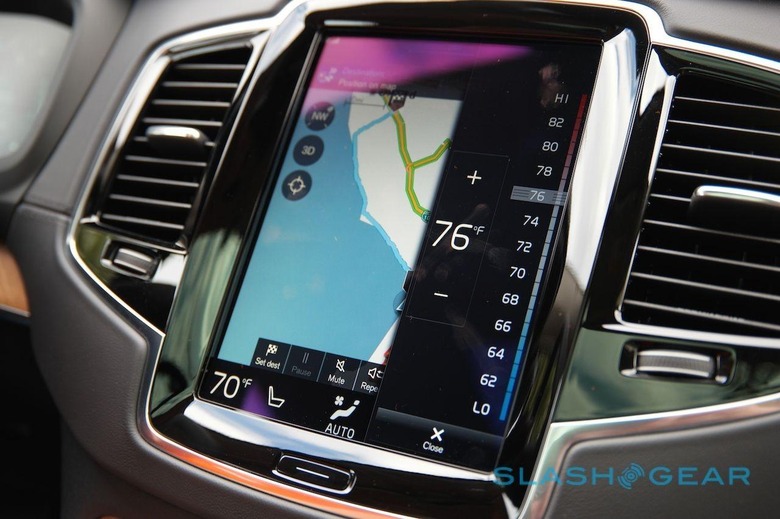 Then there's the technology. Gone is the undersized and mildly confusing display of previous Volvo models, along with the busy cluster of buttons in the center stack. In its place is the new SENSUS touchscreen, a 9-inch portrait-orientation panel that borrows more from the iPad than it does from the old system with which it shares a name.
SENSUS is where you control audio and HVAC, where you find the navigation system, and the hub for any calls and messages funneled through from your Bluetooth-paired smartphone.
The driver display has, in Inscription trim and up, a large 12.3-inch LCD with virtual versions of an analog speedometer and tachometer flanking a map; if you stump up $900 – and you really should – you get an optional head-up display, too. That shows current speed, the speed limit of the road you're on, and upcoming navigation instructions.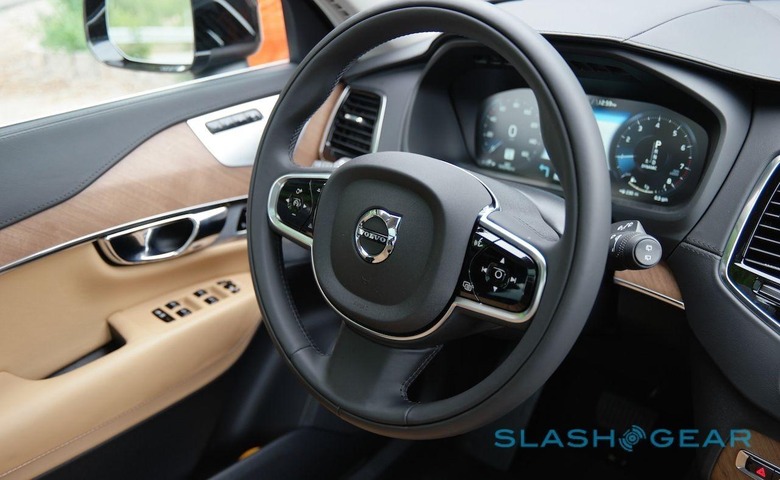 Volvo's goal, Lagström told me, was to put everything the driver might need that's in any way necessary to piloting the XC90 in a place where you needn't really move your hand to reach it.
As well as the steering wheel buttons there's also a vast range of speech commands you can call upon: not only asking for a phone number to be dialed, or for directions home, but adjusting the temperature of the cabin and more. In fact, if you ever want to distract yourself for a good few minutes, asking SENSUS to list the dozens of instructions it will recognize is a reliable time-filler.
It would be painfully complicated, had Volvo not been clever in how it organized its touchscreen UI. The default view splits the panel into four – navigation, media, phone, and climate control running top to bottom – organized with the sort of Swedish common sense that puts the less-commonly-tapped sections further up, while more frequently-adjusted panes go below.
The dual-zone climate control and seat heat/ventilation buttons are persistent no matter where you are in the UI, and there's a physical home button which, if long-pressed, hides everything but them.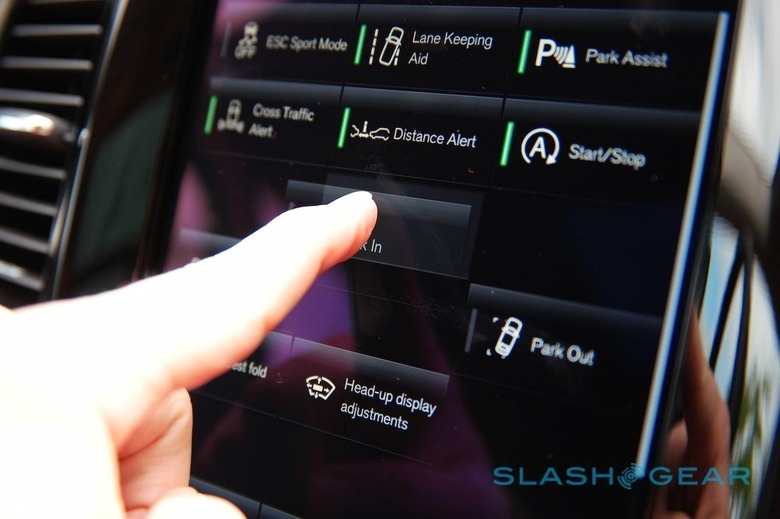 As a result, physical buttons are kept to a bare minimum. A large, easily-spun volume knob is flanked by track navigation buttons, screen defrost, hazard lights, and a release key for the glove compartment.
Everything else gets a virtual button: swipe from the left and you pull open a pane of toggles for things like lane departure and the HUD (which you can long-press and drag to reorganize). Swipe from the right, meanwhile, and you'll find apps, with things like Yelp, Spotify, TuneIn radio, and a browser that can tap into the XC90's baked-in wireless hotspot.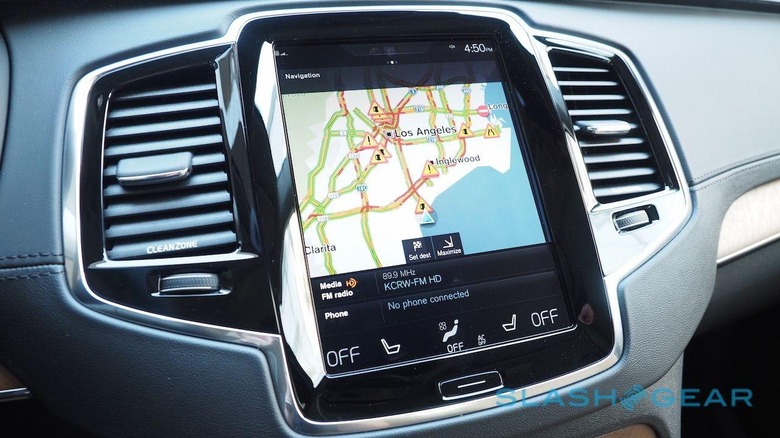 For the most part it's impressively responsive, only showing any sort of lag when trying to pan or pinch-zoom around complex maps; you can thank the cruel Swedish winters and the optical infrared touch system for the fact that it'll respond to even gloved fingers, too.
Part of what makes SENSUS work so well is the degree to which it's integrated. Find a restaurant in the Yelp app, for instance, and it can squirt the address to Volvo's navigation system. This fall, an OTA upgrade will install Apple's CarPlay; next spring, it'll be followed by Android Auto.
Unlike every other implementation we've seen of them, neither CarPlay nor Android Auto will entirely dominate the touchscreen. Instead, while Apple or Google's interfaces will sit in the top-half of the SENSUS display, the bottom half will remain Volvo's terrain, reducing the amount of jumping in and out of native and smartphone UIs.
The standard audio system is a 10-speaker, 330W affair, but I can't tell you how it sounds because Volvo had ticked the box for the $2,500 Bowers & Wilkins premium upgrade.
That bumps the speaker count up to nineteen – including a cute little spherical tweeter poking from the center of the dash top, and which instantly made me wish it was detachable and Bluetooth tethered for picnics and beach parties – and the Class D amp up to 1,400W.
It sounds, as you might hope, monstrously powerful but also capably nuanced. The interior of the XC90 is a generally quiet affair – one of the downsides of the Drive-E engine is that you don't get the throaty growl of more cylinders, while the turbocharger and supercharger duo do their thing with only a discrete woofle – and the B&W stereo fills it with decibels to spare.
Volvo and the British audio specialists even tuned one of the DSP presets to match the Swedish concert hall in Gothenburg.
With an interior so well considered – you get two-zone climate control in the rear, too, not to mention an optional Climate package with heated rear seats and windshield, and a 360-degree Surround View Camera that gives a virtual birds' eye view if you tick the Vision package – the few shortfalls feel all the more inexplicable.
The decision to launch with 3G for the integrated hotspot, and only add 4G later, seems short-sighted, and there's no wireless phone charging option.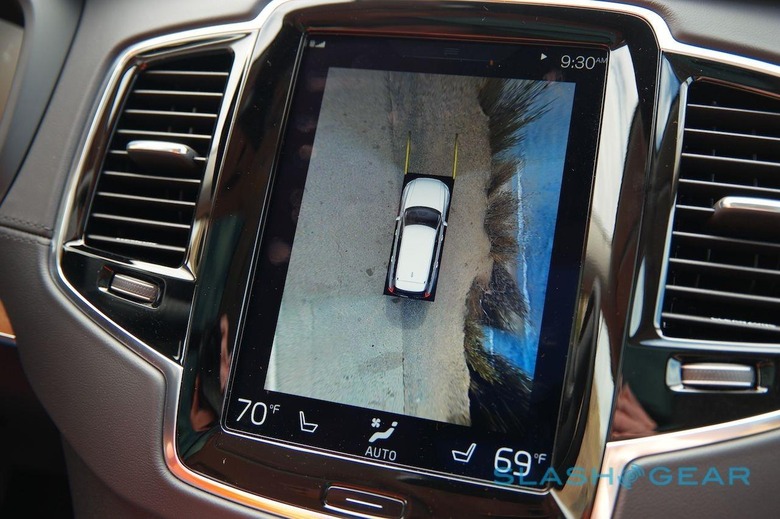 Biggest surprise is the single USB port, which lives alongside a 3.5mm aux-in socket under the front armrest. True, the XC90 has around 17GB of hard-drive space built in, but a couple more USB connections – even if they just supplied power for gadgets brought along by rear seat passengers – seems like an obvious add.
Wrap-Up
You could make a good case that Volvo has made things unnecessarily difficult for itself, eschewing the six- and eight-cylinder engines that buyers of big SUVs are so often drawn to. To be honest, though, while I envisage a little showroom confusion at the T6 and T8 nomenclature, the potential XC90 customer is already going to be willing to embrace the unusual simply by considering the Swedish car over its Audi Q7, BMW X5, Mercedes ML, Acura MDX, and Infiniti QX60 rivals.
Personally, I find the XC90's somewhat kooky Scandinavian charm preferable to the more sober Germans, and the Volvo's sheer quality feels a step above the Japanese pair. There is, of course, the specter of the Tesla Model X on the horizon: similarly priced, all-electric, and arguably even more outlandish with its gullwing doors.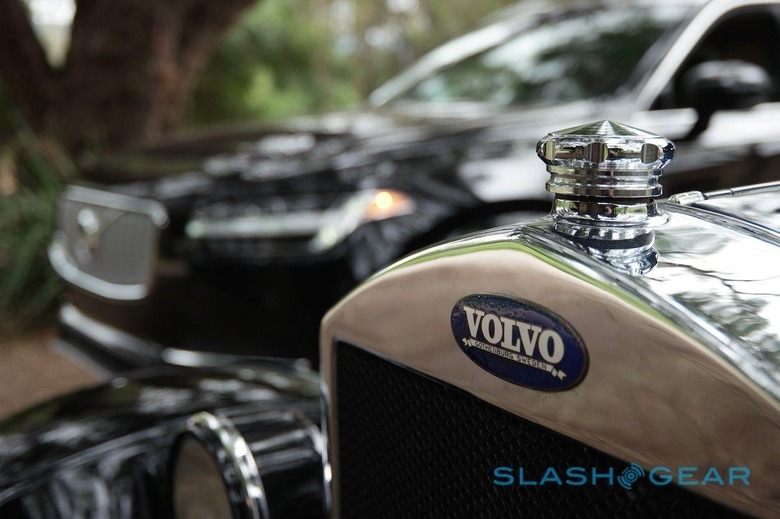 There's availability to be considered, though, with the Tesla SUV only expected to ship to its earliest preorder customers later this year. Deliveries of the XC90, meanwhile, begin in June for the 1,927 "First Edition" special series – which sold out online in just 47 hours – then July for the T6 and October for the T8 Twin Engine and R-Design variants.
It deserves to do well. While past Volvo models – even the previous-gen XC90 itself – have possessed a sort of earnest affability, they've also generally languished in some murky middle-ground: neither the mass-market of a Ford or a Chevrolet, nor the luxury of a Mercedes or BMW. With the all-new 2016 XC90, Volvo has made an astonishingly convincing stab at the premium end, and come up with a legitimate alternative to the knee-jerk Germans.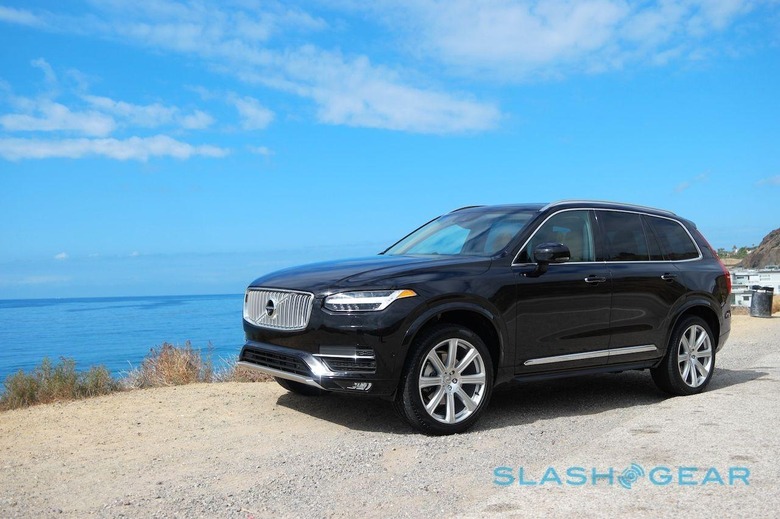 I suspect that it will remain a relatively niche option all the same, though those who try it will more than likely find themselves convinced. Regardless, the XC90 is a prime example of successfully letting brand identity and cultural heritage give your car some personality, not to mention a promising indicator of what we can expect from Volvo's rapid line-up revamp over the next four years.