Android 3.0 MOTOPAD Is Motorola & Google's Honeycomb Opener?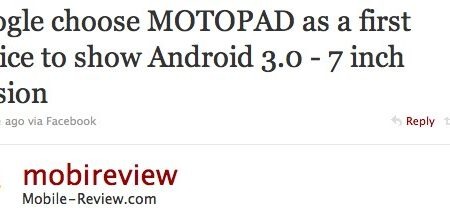 We've heard rumors about Google and Motorola having a priority relationship when it comes to developing Android tablets, and now there's a little extra speculation to add to that murky picture. According to Mobile-Review, Google has picked Motorola's MOTOPAD as the debut device for Android 3.0; more specifically, Motorola's 7-inch version of the slate.
The exact nature of that tablet is unclear, however. Verizon are tipped to be preparing a Motorola-made slate for Q1 2011, codenamed Stingray, while the company has also been connected with NVIDIA's Tegra 2 chipset. We're guessing the reference to a 7-inch MOTOPAD implies there are other sizes on the cards, most likely a 10-inch iPad rival.
[via Android Community]