An alternate 2019 top 10 phones list: Cheaper still wins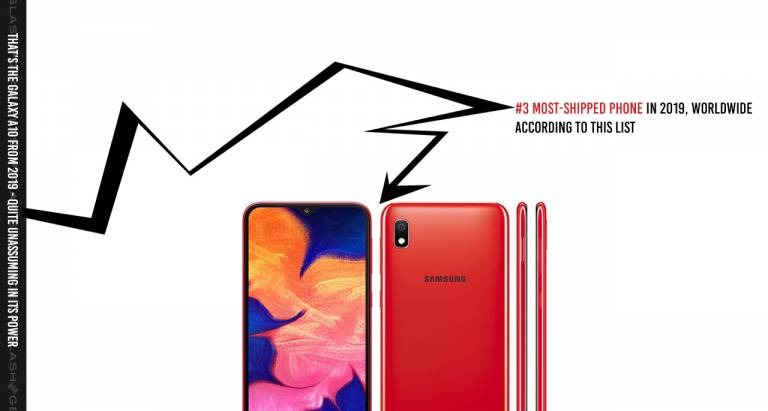 Earlier today we saw some analysis done on sales of smartphone units in the year 2019 from the company called Counterpoint. We learned that the iPhone XR dominated the globe, followed by the iPhone 11 and a few Samsung Galaxy A smartphones. Now we've got some results from another firm, a firm that doesn't track smartphone sales, but smartphone shipments – that's a different part of the puzzle, and it shows some slightly different results!
Analysis from research firm Omdia via MacRumors another ranked list of smartphone models for the 2019 calendar year. Here we see a slightly different perspective from what we saw earlier today – these aren't final sales, they're estimates of unit shipments.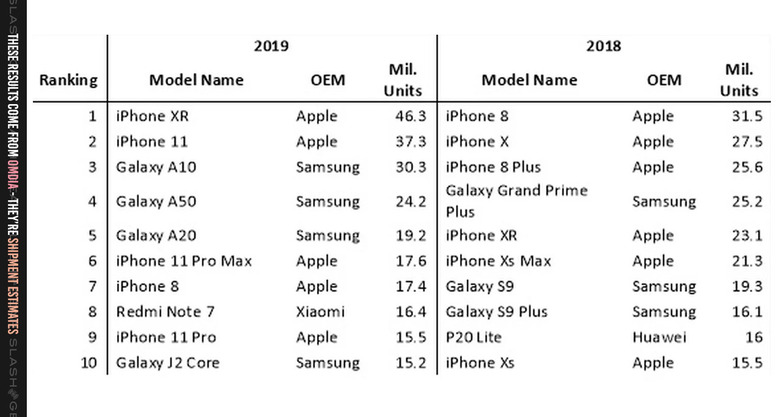 Some of the rankings are the same as what we saw with Counterpoint, while others make a sizable switch in placement when compared to results from Counterpoint. Apple's iPhone XR and iPhone 11 remain largely dominant, followed by the Galaxy A series.
Counterpoint's analysis showed Galaxy A50, A10, and A20 appearing next, interrupted by OPPO A5 and iPhone 8. Omdia doesn't list OPPO at all, instead ranking Galaxy A10, A50, A20, then iPhone 11 Pro Max, then iPhone 8.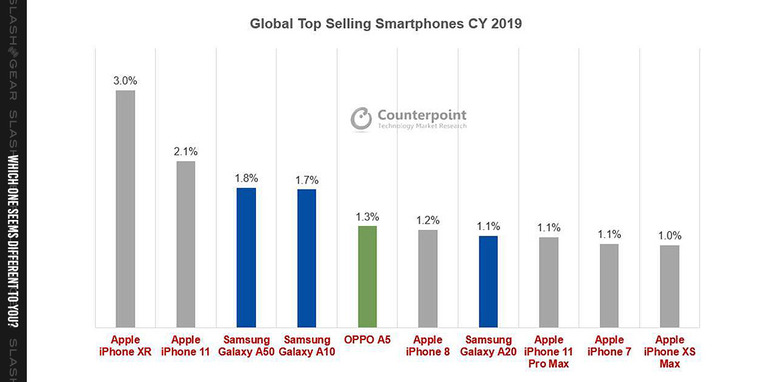 Where Counterpoint's one non-Apple, non-Samsung phone in the top 10 is from OPPO, Omdia's is the Xiaomi Redmi Note 7. The most interesting bit of Omdia's analysis is the comparison to the 2018 calendar year top 10, which shows Samsung's major change in strategy.
Where the year 2018 showed Samsung selling large numbers of Galaxy Grand Prime Plus and Galaxy S9, Samsung's 2019 was most dominant with the Galaxy A series – by a long shot. There, too, you'll see that the only iPhone that appeared with shipment numbers in 2019 were greater than that of the year 2018 was the iPhone XR. This phone is a monster! Take a peek at some earlier surprising results from back in Q2 2019 – with zombie brands included!