Galaxy Note 5 beats all other phones in customer satisfaction index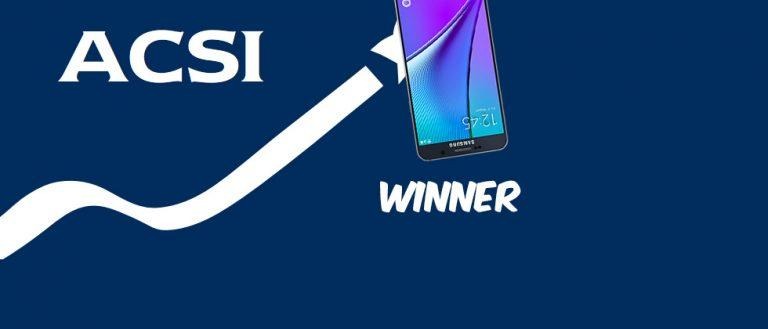 Today the ACSI Telecommunications Report 2016 has revealed consumer satisfaction in smartphones in the United States. This American Customer Satisfaction Index (ACSI) report is run on "interviews with roughly 70,000 customers annually", asking questions about customer satisfaction in brands including Apple, Motorola, Samsung, LG, HTC, and more. Measures are reported on a scale of 0 to 100, 100 being the most satisfied. You might be surprised who holds the number 4 spot – it's not a phone released this year, nor last year, believe it or not.
Important to note is the fact that these interviews were run in March of this year. That means that the most recent smartphone released by Samsung was the Galaxy Note 5, while the Galaxy S7 had only barely reached stores, having also been released throughout March. The iPhone 6S and iPhone 6S Plus were the newest smartphones from Apple.
Samsung and Apple hold 15 of the top 16 spots in this customer satisfaction rating for smartphones. They've absolutely dominated this index. This follows, as Samsung and Apple sell far and away the most smartphones inside the United States, and it'd be especially strange if interviewees were asked to rank their satisfaction with phones they didn't own.
That said, several devices appear on this list that we know didn't make a massive impact in smartphone unit sales over the past few years, including such oddities as:
Galaxy Core Prime
• LG Leon LTE
• Samsung Galaxy Grand Prime
• HTC Desire 626
These phones are not headliners. They're not even particularly well known. Instead, they're devices that are either inexpensive, available at prepaid mobile phone carriers – Boost Mobile, TracFone, Straight Talk, and the like.
You'll also notice that the one interrupter of the top 16 spots is Motorola's Moto G. That's a device that we've been impressed with for several generations – it and the Moto E were some of the best budget Android phones of the year 2015.
Moto E made that satisfaction list too.
Devices that didn't sell nearly as well as the iPhones and Galaxy devices on this list have satisfaction ratings that are mightily impressive.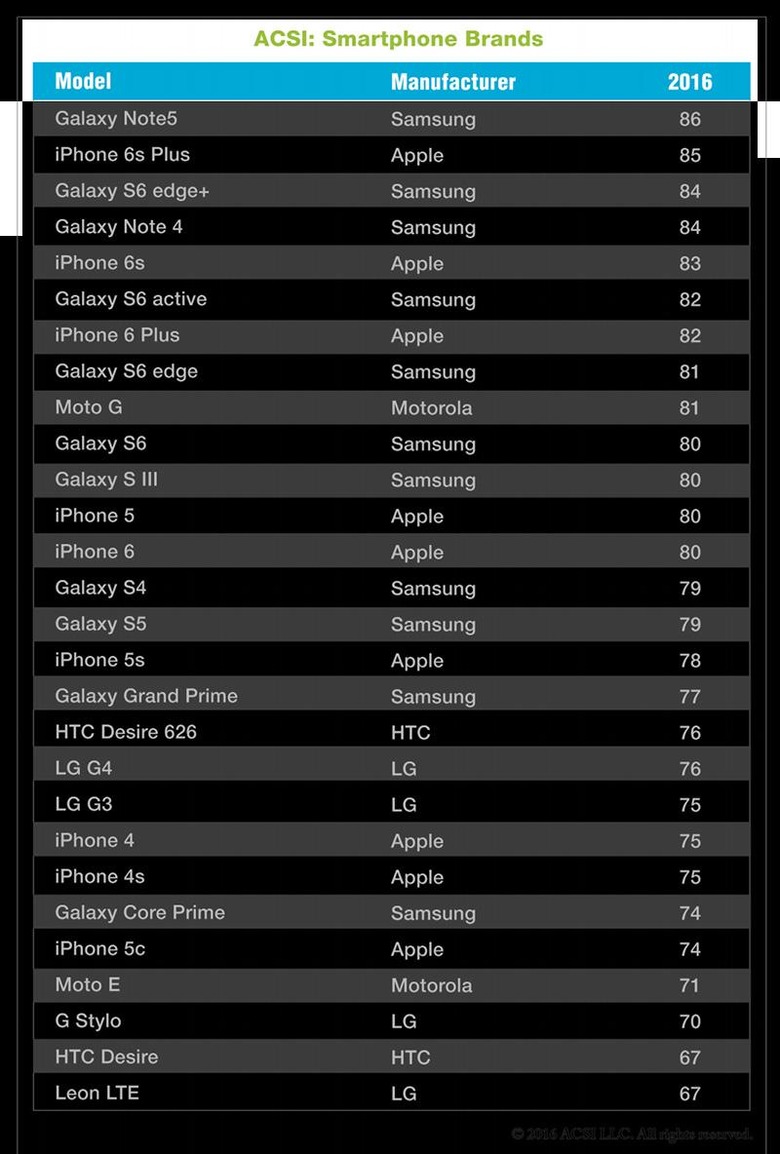 The Galaxy Note 5 leads this chart by a single percentage point while iPhone 6s Plus and Galaxy S6 Edge Plus come up behind by one percentage point lower, each. The S6 Edge Plus actually ties the device we see in fourth place: Samsung's Galaxy Note 4, a device released two years ago but still very much in use by the masses.
The top four spots are held by the most massive smartphones on the market.
Then you'll find the iPhone 6s, which we've come to expect higher up on a list like this, then the Galaxy S6 Active.
How odd that the "Active" model would out-score its S6 standard model relative. You'll find the S6 Edge Plus highest on this list for that generation, then S6 Active, S6 Edge, and the S6 standard model.
You'll also find the Galaxy S III, LG G3, and the iPhone 4 on this list – plain evidence that these device makers have made devices that stand the test of time – at least for a few years after they've been released.