With the probable renaissance of the digital pen, in part thanks to rumors of a certain iPad Pro, it seems that LG is willing to give another whack at a stylus-enabled smartphone. After the somewhat lackluster LG G3 Stylus, the Korean OEM is now coming up with a still disappointing LG G Stylo. While that might sound a bit too harsh for a new smartphone, especially considering it does improve on the G3 Stylus just a bit, it does fall short in others and is in no way fit to take on Samsung's Galaxy Note line.
Let's see what has changed, hardware-wise. The screen has definitely been improved, from qHD then to 720p HD now. Sadly that also resulted in an increase in display size, from 5.5 inches to 5.7. The new processor might seem like a downgrade if you only look at the numbers, but the key improvement here is that the Snapdragon 410 is a 64-bit processor. RAM, however, has been bumped up only by half, now at 1.5 GB. The new cameras are a strange mix. The rear shooter has been downgraded to 8 megapixels while the front one was upgraded to 5 megapixels. LG was, perhaps, more interested in pandering to selfies.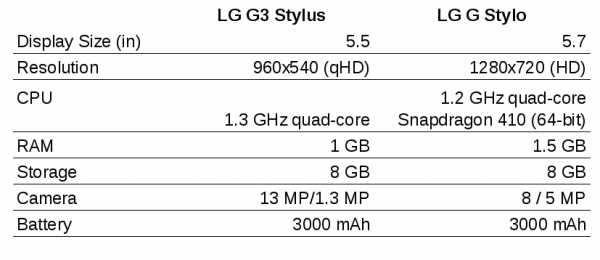 Both the G3 Stylus and now the G Stylo wants to sell you the idea of a pen-enabled smartphone, but it isn't making the same sales pitch as Samsung. Indeed, the rubbery nib of the styluses here would remind you of regular capacitive styluses in the market, except advertised to be more sensitive. One key difference is that LG's phablets provide a silo to hide the stylus when not in use. It seems that very little has changed between the two stylus-bearing smartphones, but LG is now adding the advantage of in-cell touchscreen technology to the mix. In a nutshell, this means that the display and touch panels are merged into one single panel, making the overall display thinner and more sensitive. This is the same technology LG has prepared for the LG G4 due next week.
In terms of software, LG is also advertising the G Stylo as a stylish device, emphasizing the "Stylo" refers to "style" just as it does to "stylus". The phablet runs Android 5.0 out of the box and is loaded with LG's UX features, including Gesture Shot for selfies Glance View for quick information, and an updated Q Memo Plus widget to go with the stylus.
The LG G Stylo isn't going to win any high-end awards, but that is probably the point. LG is content to market this device to a budget-conscious market that prefers large screens that don't have large price tags. The stylus is, perhaps, simply a built-in accessory just thrown in. No word yet on when the LG G Stylo will hit the market.