Amazon slams iPad mini in Kindle Fire HD attack ad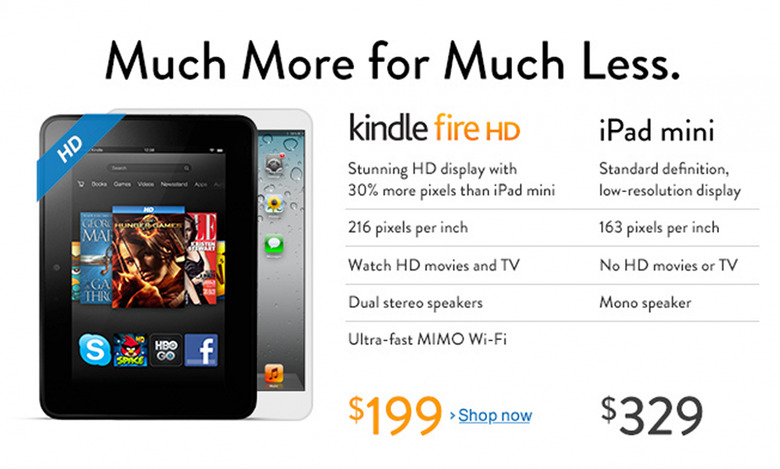 Amazon has directly called out Apple's new iPad mini in a homepage attack advert, criticizing the new 7.9-inch iOS tablet for falling short in specifications versus the Kindle Fire HD. The comparison, seen when you first visit Amazon's US site, contrasts the $199 Kindle Fire HD with its 216ppi, 7-inch display against the $329 iPad mini, which has a 163ppi display. That's not the only shortcoming, Amazon maintains.
The Kindle Fire HD also has a set of stereo speakers, while the iPad mini makes do with mono, and MiMo WiFi for faster connections, Amazon writes. The retailer also points out that the new, smaller iPad can't watch HD movies and TV shows, though of course that's a limitation solely of the Apple tablet's integrated display: it can also be used to stream at up to 1080p via AirPlay Video, or with an HDMI adapter for directly hooking up to a TV.
It's not the first time in recent days that Amazon has singled out Apple's new tablet. The company made similar comparisons in its financial results, published on Thursday last week. "Our approach is to work hard to charge less" CEO Jeff Bezos argued. "Sell devices near breakeven and you can pack a lot of sophisticated hardware into a very low price point."
Still, the retailer has Apple's own example to go on. The company directly contrasted the iPad mini with Google's Nexus 7 during its launch event last week, calling out the smaller display and larger bezels of the Android slate.
Preorders of the iPad mini began on Friday last week, with deliveries – and in-store sales – of the WiFi variant set to begin this coming Friday. Shipments of the WiFi + Cellular model will begin later in November.