Apple Launches New Lightning Adapters, Will Cost You $49 Each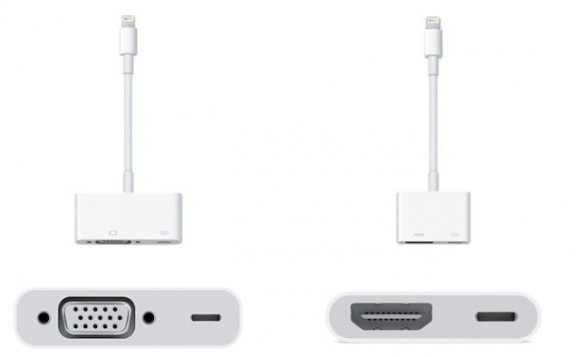 If you have an Apple TV, sharing content on your iOS device to your television is super easy using AirPlay, but if you're at friend's house or at your parents', AirPlay may not be available. That's where adapters come into play, and Apple officially released a couple of Lightning adapters today for use on all the newest iOS devices.
Currently available on Apple's website is a "Lightning Digital AV Adapter," which is essentially Lightning-to-HDMI, and also a "Lightning to VGA Adapter." Both come with a secondary Lightning port next to the HDMI or VGA port, that way you can still use your Lightning port even with the adapter plugged in.
As with any Apple accessory, these things aren't cheap, and are more expensive than their Thunderbolt adapter cousins. Both Lightning adapters will be priced at $49 each. That's a steep price to pay, but you travel a lot and enjoy playing your mobile content on a bigger display, they might be a good investment.
Then again, if you stay at home most of the time, but don't have an Apple TV, we'd highly suggest getting one if you were thinking about getting a Lightning adapter. An Apple TV would only be $50 more, or only $35 more if you went with a refurbished unit. Either way, the adapters are available to purchase, but won't ship for another 2-3 weeks.