Apple compares the iPad mini to Google's Nexus 7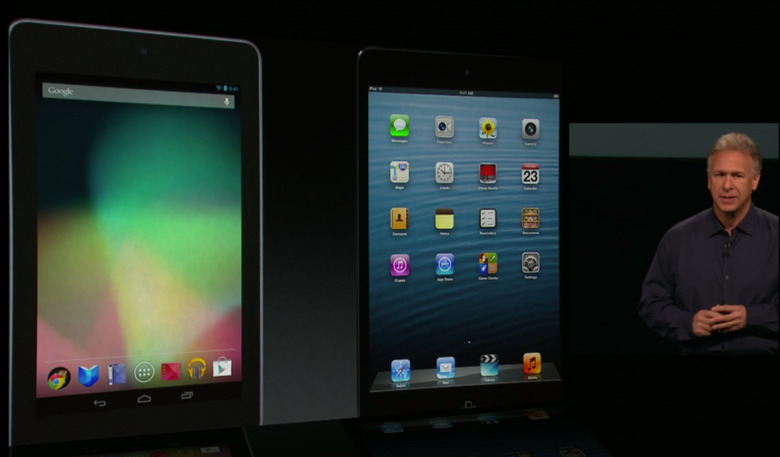 Today Apple has finally announced the all new iPad mini. While they are still talking on stage about their new mini model, they're also taking the moment to take a few shots at Google's extremely popular Nexus 7. As we already knew, the iPad mini is thinner, lighter, and comes with a 7.9-inch display. Below are a few talking points Apple's making vs the Nexus 7.
While we can't actually go down and compare everything until we know more, and get our own hands-on time. Apple's already quickly jumping at the heels of Google. Showing us their larger display, smaller bezels, thinner and more durable aluminum design and more. While the resolution is only the same as the iPad 2, being 1024 x 768, we still get a display that looks gorgeous. Here's a few images right from Apple.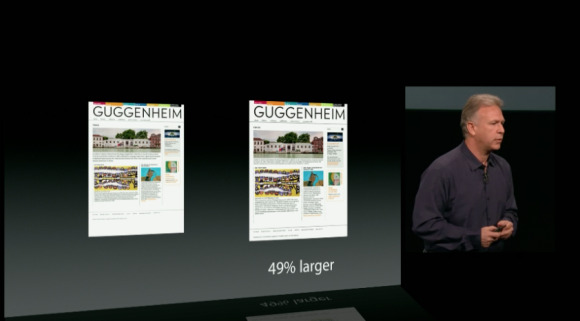 As you see above, they were quick to mention the bezel. Showing the iPad mini has a much smaller bezel while still having a larger display and staying thinner. Pretty impressive right? The image above shows Google's Nexus 7 without the on-screen keys, without the browser tabs up top, and as an end result you get a much smaller display for actually viewing and enjoying HD content. From browsing the web, enjoying movies, playing games and more the iPad mini and its 7.9-inch display just does more — according to Apple.
Apple's new iPad mini comes with an A5 dual-core processor, an HD display, iOS 6, and of course they've confirmed 4G LTE as well. For full details you'll want to check out our iPad mini announcement post. Starting at just $329 for the 16GB WiFi model, it still costs more than Google's Nexus 7. Stay tuned for more details and hands-on coming soon!