Amazon Kindle Oasis Review (2017)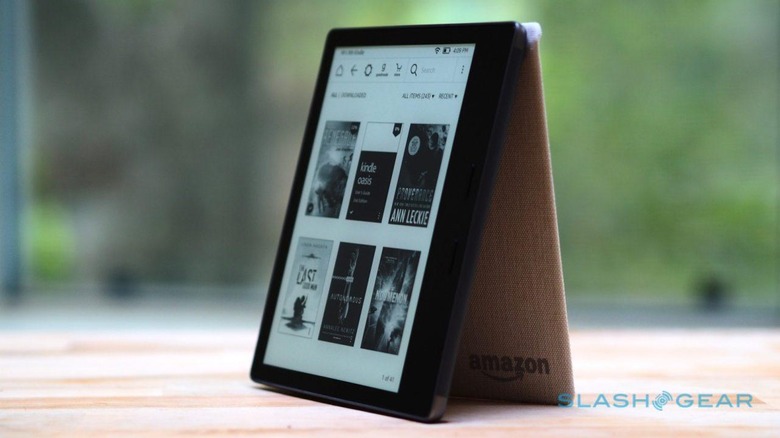 EDITORS' RATING: 8/10
The medium may not be the message but, when it comes to the new Amazon Kindle Oasis (2017), it's hard to ignore the fact that this is a highly covetable – and expensive – ereader. The original Oasis promised lighter, more portable ebook consumption than ever before, and now its successor arrives with long-awaited features like audiobook playback and waterproofing. Even the price has taken a dip, albeit only by a little. So, is the new Kindle Oasis the must-have gadget for ebook fans?
You only really notice it properly when you have the first- and second-generation Kindle Oasis side by side, but the new model is significantly larger. At 6.3 x 5.6 x 0.13-0.33 inches it's almost square, with the front taken up by a 7-inch glare-free 300ppi display. As you'd hope, there's edge illumination for night reading, but Amazon has increased the number of LEDs to twelve for more consistent lighting.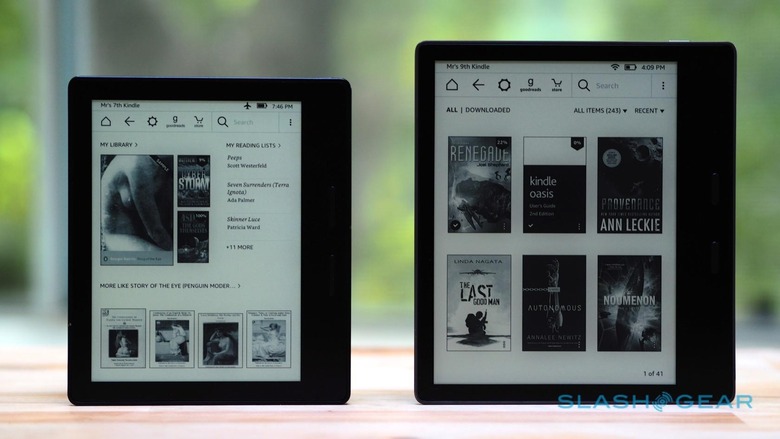 It also added an adaptive light sensor, which the original Oasis lacked. That means the screen can change brightness according to the surrounding conditions, and it's a big improvement. If you'd rather, you can adjust the brightness yourself manually, or turn off auto-brightness altogether.
To the side of the screen there are two page turn buttons, which are a little thicker than on the old model. However, as before you can control everything via the touchscreen. It's more responsive now, an improvement most noticeable in screen rotations, which happen automatically courtesy of the accelerometer.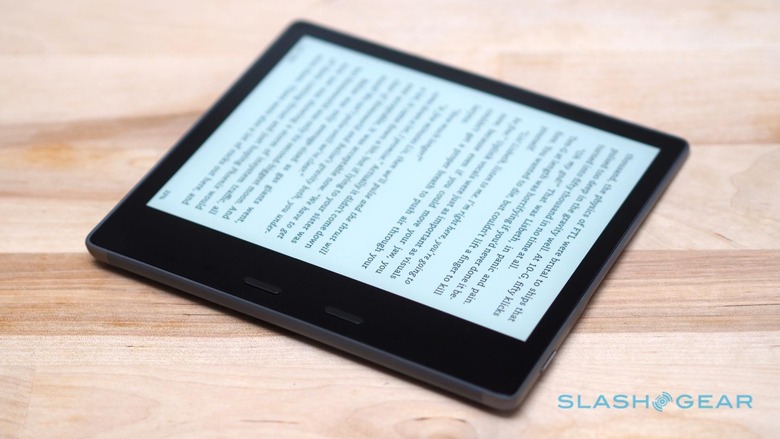 Gone is the hybrid cover-battery of the first-generation Oasis, which Amazon needed in order to deliver on its battery claims. The new Kindle Oasis keeps the asymmetrical shape – thicker on one side, to give you somewhere to grip (and, of course, accommodate the electronics), then tapering – because Amazon says it's more ergonomic. I can't disagree: the way weight is balanced in the Oasis is just more comfortable than with a regular Kindle, because the heft is biased toward your hand.
I say "heft": there's not much of it. The new Kindle Oasis may be bigger than its predecessor, but it's only 6.8 ounces. In contrast, the first-generation was 4.7 ounces in WiFi + 3G form, but for a like-for-like comparison you really need to add in the case too, at which point the original rises to 8.5 ounces.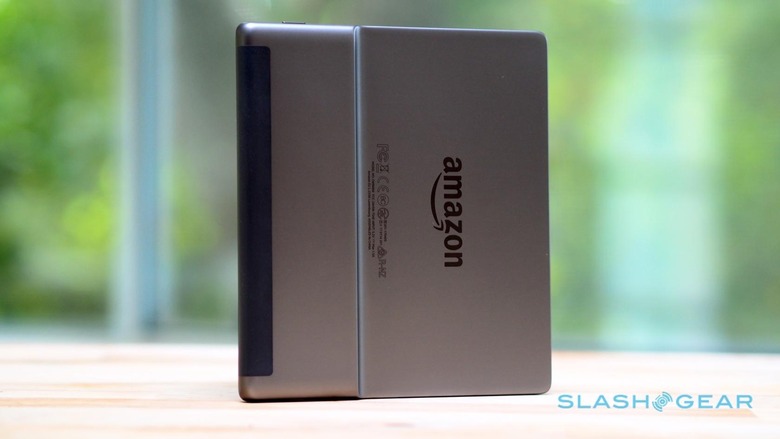 It's also Amazon's first waterproof Kindle. Officially, the rating is IPX8, which means it'll withstand up to an hour in two meters of water. However, realizing that the water an ereader is likely to face includes the sea, the bathtub, and other less-than-perfect examples, Amazon also tested it with those, too.
I'm not much of a bath reader, but I am pretty clumsy, and have been known to spill a cup of coffee or glass of wine across a table – and across a book – accidentally. The Kindle Oasis will shrug that off merrily. As will, indeed, the fabric standing covers, $44.99 apiece, which cling magnetically to the ereader, though you'll need to take more care with the $59.99 leather versions.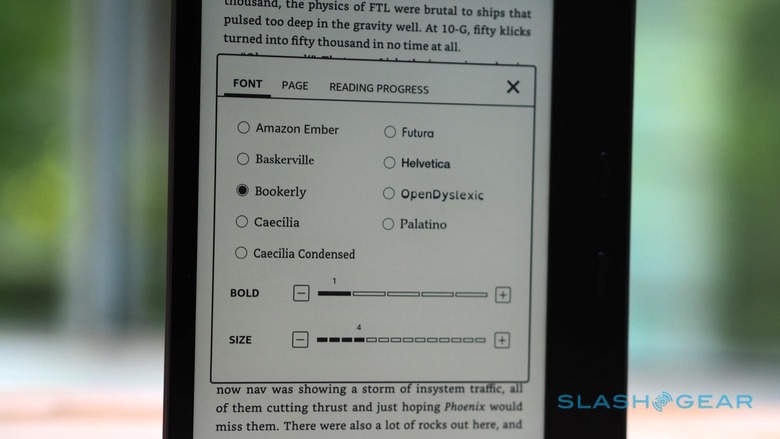 The second-gen Kindle Oasis debuts Amazon's latest software for its ereaders, though it'll be pushed to older models too. There's a broader range of size adjustment across the eight fonts, which should be welcome to those who require reading glasses, and you can now adjust text boldness too. I found the default a little anemic to my eyes, but the maximum level is positively chunky.
There's also support for blowing up the general interface, including not only the buttons and text but the graphics too. If you want, you can switch off the justified text in books and have left-alignment instead. I suspect many people will just turn on and start reading, but having more options – including the OpenDyslexic font especially designed for those with dyslexia – is certainly welcome.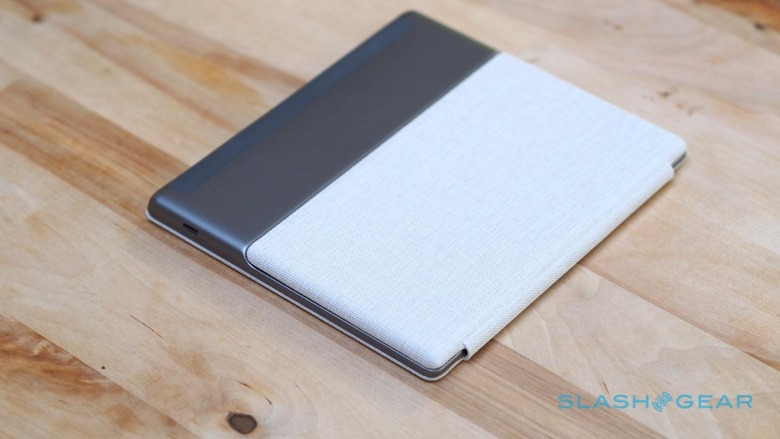 The other big change is audiobook support. The new Kindle Oasis lacks a headphone jack, Amazon instead relying on Bluetooth. I hooked up a set of Samsung's new Gear IconX 2018 Edition earbuds, but you could wirelessly pair a speaker if you preferred, or even your car's audio system.
Audiobooks are signified by a headphone icon in the top right-hand corner. While you're reading a text ebook, there's a headphone icon in the bottom right corner if there's an audio version; tapping that loads it. As you'd expect there are speed controls, and if you flip back to the text it'll automatically take you to the point at which you listened up to (and vice-versa).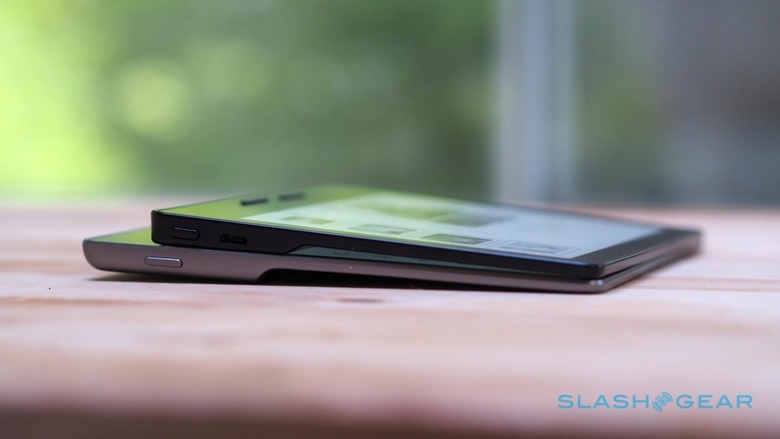 Battery life is a quoted six weeks, though that's based on a half hour of reading each day, wireless turned off, and the light at a little under half brightness. What you'll actually see will depend largely on how much Bluetooth you use and whether you leave the wireless turned on; I've been reading each day for the past five or so days, with wireless left on, and the gage has dropped from 50-percent to a little more than a third. You recharge via a microUSB port.
Wrap-up
The Kindle Oasis' original issue was price. The new version improves on that a little – it now starts at $249.99, rather than $279.99, though you no longer get a cover bundled – but it's still an expensive device. The entry-level model has WiFi only and 8GB of storage, and shows you Amazon's Special Offers on the lockscreen. $30 more gets you 32GB of storage, and an additional $50 throws in LTE with free service for downloading books.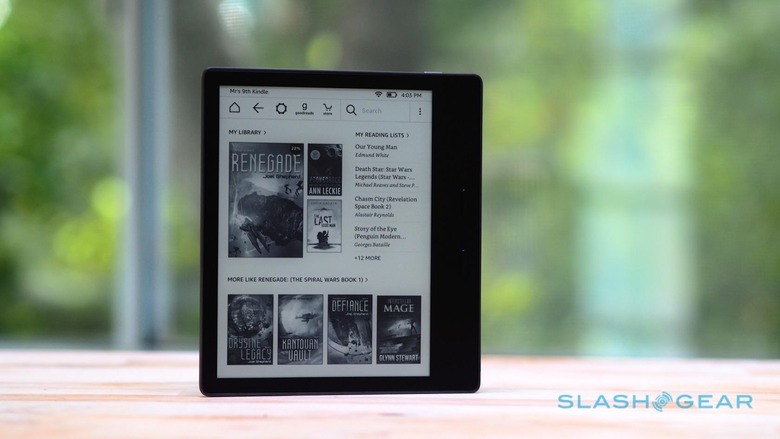 Max it out, therefore, and you're looking at $349.99. That's a huge amount for a single-purpose device, especially when you consider that one of the flagship features – Audible audiobook support – is actually going to be pushed as an upgrade to the cheapest Kindle in the line-up. If audiobooks on Kindle are your primary interest, you'l be able to get support for them for under $80.
All the same, there's far more to the new Kindle Oasis than just being read to. The long-anticipated waterproofing, the great new screen – largest on any Kindle available today – and the speedy performance make for an ereader that rightly sits at the top of Amazon's tree. As before, only the most enthusiastic and voracious of book-lovers will likely be able to justify it, but the 2017 Kindle Oasis wipes out most of its predecessor's rough edges in a frustratingly tempting package.