Amazon Kindle Fire HD 8.9 Review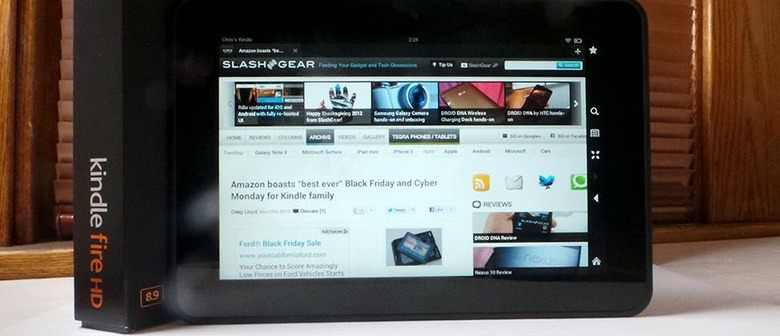 With the Kindle Fire HD 8.9 comes the most well-rounded Amazon content delivery system you've ever held in two hands – but that's all it is. This device is being sold as exactly the device it was meant to be: the Amazon Vending Machine HD 8.9, and it takes its job seriously. If you could never bring yourself to pick up an iPad and the Apple-bound content environment that is iTunes, nor could you purchase a Nexus 7 or 10 as connected to Google Play, Amazon might be the third heat you were looking for.
Content Delivery System
It's a mistake to compare the Amazon Kindle Fire HD 8.9 to any other tablet on the market not inside the Kindle Fire family unless you're a software developer, a hacker, or you're just about to jump into the digital content arena and have never before purchased yourself a digital video. With the Kindle Fire HD 8.9, the iPad 4th generation (the one with the Lightning port that's in the store now), and the Google Nexus 10, you've got extremely high definition displays, and it's there you should start if you're demanding to see the best hardware package.
But here's the thing: there's a massive amount of Android tablets on the market today, each of them able to access the whole of the Google Play store. There's several iPad models in the line's history, and a set of rather similar Kindle Fire models tablets out there able to access the Amazon content system – but Amazon's system doesn't stop at the Kindle Fire. The only system that stops at the hardware (and vice versa) is the iPad.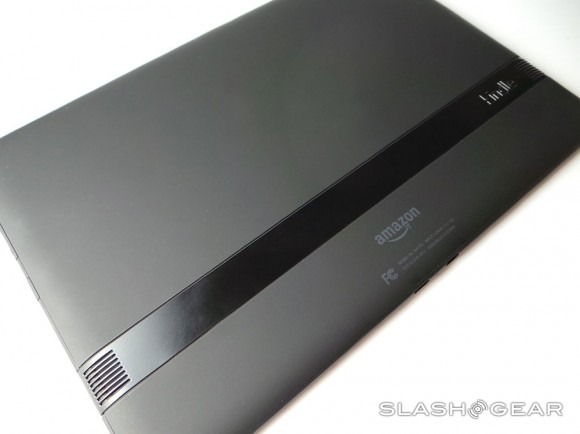 What the Kindle Fire HD 8.9 does is place the Amazon content system directly at the center of a machine that's been checked and approved by Amazon itself. With that, it's been limited to the Amazon content system so that you can be assured an experience that Amazon approves of – Apple does that same thing with the iPad. The Kindle Fire HD 8.9 is indeed a fabulous place to access your Amazon content.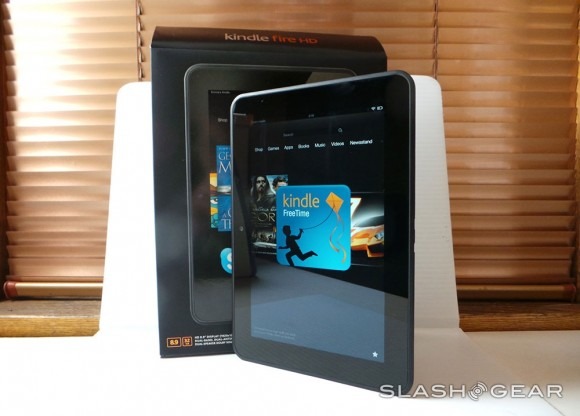 The connectivity on this device is wi-fi but a 4G LTE bit of AT&T mobile data is available from Amazon if you pick up the edition with that ability. The offer behind that LTE is interesting at $50 a year, but with a limit of 250MB of data a month – this means you'll be able to use this device for email using that data, and if you start watching streaming content or downloading media, you'll go over in no time at all. Watch the overage costs rack up and that smile will turn upside down real quick.
Hardware
The display is extremely nice, bringing on a resolution of 1920 x 1200 pixels over 8.9 inches, that being 254ppi. That's less than the iPad 4 and less than the Nexus 10, but up at this resolution we're not able to tell the difference without getting up real, real close – closer than we'd get on any normal day, that's for sure.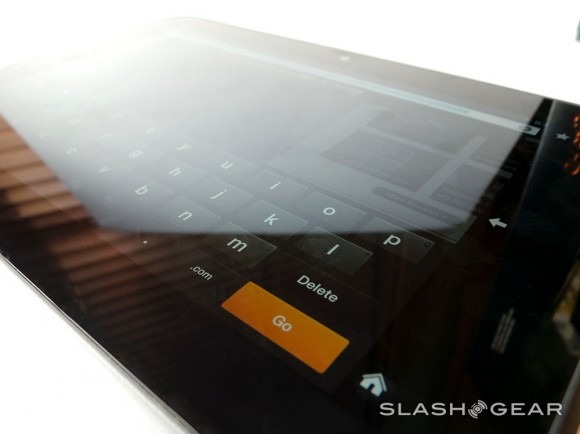 Colors are reproduced extremely accurately and with the darks on this machine being as deep as they are, we've been using this machine as a content machine via the miniHDMI as a top pick. Downloading an HD video from Amazon's collection and playing it on the device or through the microHDMI port to an HDTV makes for a massively impressive experience – amongst the best on the market if not straight up the best there is with a wire.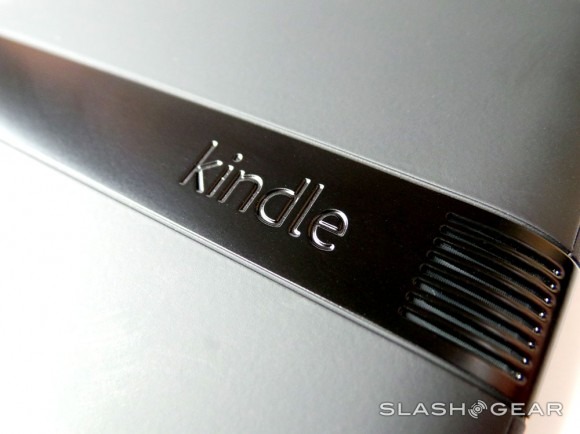 The speakers on the Kindle Fire HD 8.9 are Dolby powered and stereo – bringing on two channels for real. The speakers on this device are loud enough that you'll not want to be a room away from a sleeping baby when them turned all the way up – you'll wake that baby up. It's unfortunate that they're facing backwards as most of the tablet universe still has them aiming, but holding the tablet with two hands has the sound bouncing off your palms – that's good enough for most.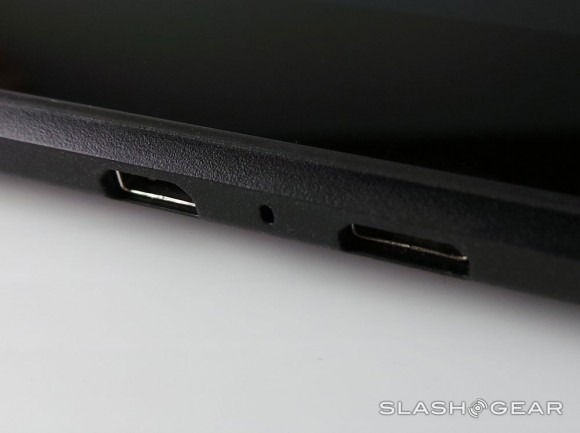 Battery life on this device is rather good, especially since you're only working with wi-fi connectivity at this time. LTE might make you bust down a bit quicker when it comes around, but for now you've got a couple of days at least with daily usage as a game-player and TV show downloader/watcher. Chatting on Skype (which is, mind you, generally OK but certainly not the nicest Skype experience on the market by a long shot due to less-than-perfect video quality) will drain your battery quickest.
There's also a rather nice case/cover that you'll probably want to pick up from Amazon if/when you purchase the Kindle Fire HD 8.9. It's made by Amazon and looks like what you're seeing above, complete with a magnetic "smart" off/on function (as the Kindle Fire HD 8.9 does indeed have that sensor) and has a rubbery bumper that allows it to stand up like you're seeing here too.
Performance
With the processor mentioned above you've got a suitable environment in which you can play most if not all of the most high-powered games on the market. What you'll see in the video below is Asphalt 7, a racing game, opened and tested in a real basic way just so you can see how quick everything renders out and responds – just as nice as the nicest devices on the market today.
We've heard of some people having small problems with the user interface and non-immediate opening of apps and switching between screens, but any such problems were negligible from our perspective. This is a high-quality device and Amazon has created a user interface over the top of Android that should do the original creators proud.
You've got a processor from Texas Instruments that's one of the rarest on the market today, the OMAP4470 dual-core used only on the Nook HD family, Samsung Galaxy Premier, the BlackBerry Dev Alpha B, and a variety of oddities. This processor works perfectly well for this device, comparing in performance with the other dual-core processor on them market in a very general sense to the Qualcomm Snapdragon S4 dual-core processor we've seen on a large number of smartphones this year including the Galaxy S III and HTC One series.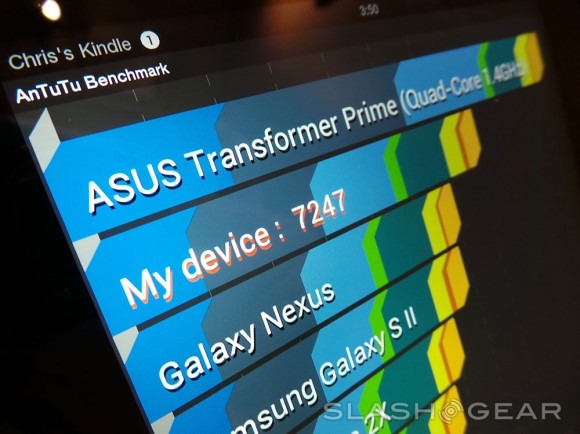 The processing power here does not bring us as ultra-swift a system as we're seeing on the Nexus 10 or the iPad 4th gen – but the difference is invisible if you're not using both one next to the other or doing extensive processor tests in a lab. Once you've got it in the lab, on the other hand, you'll find the device ranking up on systems such as AnTuTu benchmark system with a score of 7247 – nowhere near the quad-core competition.
Store Access
If you're not planning on purchasing videos from Amazon, you don't want to use Amazon's system for music, you've got no intention of purchasing any ebooks from Amazon, and you don't want to use Amazon's App Store, this is not the tablet for you. This unit is first and foremost a window into the Amazon library of digital content, and you're going to have to pay for it.
The Amazon store exists at all corners in this device, and the different kinds of media you're consuming here sit right up front and center. The first display you see on this device once you've started it up is a giant set of icons in a side-scrolling gallery that says quite clearly "you're about to start" rather than "welcome to your Amazon tablet." If there's a scale from tablet interfaces that goes from standard computer to window, it starts at Android, moves up to the iPad, and ends at the Amazon Kindle Fire – this is not a device you're going to use like your notebook or your desktop, it's a consumption window.
X-Ray
There's a brand overlay that exists between two different bits of in-content excellence that come with this device working with content from Amazon called X-Ray. This system works in videos as a direct connection to IMDB, showing the actors that are working in essentially any given scene and with books showing keywords and connections to them throughout the story you're reading – find all the Ali Babas in the story and link in to them with ease.
This system works with a lovely collection of ebooks and videos coming from Amazon – not every single piece of content coming from Amazon, but certainly enough to warrant calling it a great selling point for this tablet. We're always wondering who the heck that guy is getting his face cut off by the monster in the horror film scene we're watching – now we know!
Kindle FreeTime
The folks at Amazon have come up with an extremely simple home screen replacement app that brings forth an environment for your kids. This environment is created by you, the parent, and is so simple that you can't mess it up. You open up Kindle FreeTime and select the profile you want, deciding there what settings you want your child to work with and what apps/media they're going to be able to see, and bang, you're done.
From there the person in that profile – child or not – needs a password to exit again. That's so simple that we wish Amazon would release FreeTime for the Google Play app store – please? Pretty please? For now you'll need a Kindle Fire to use Kindle FreeTime – and for some parents that might be a deal-maker.
Wrap-up
If you're deeply invested in the Amazon universe for content, this device is the best content delivery system you're going to be able to buy today. It's the biggest tablet Amazon makes at the moment and gives you access to all of your Amazon-held content in high definition, top to bottom. It's not an Android tablet (as far as the Google Play store is concerned), it's not an iPad, and it's not a Windows device. It's a unique tablet that's deeply engrained in the Android environment.
The price of this device in its wi-fi configuration – that being the one we're looking at here in this review – is $299 USD, and for that price there's no competition unless you want a smaller display and a different content environment. For Amazon users, there's nothing else – unless of course you consider the smaller version: see our Kindle Fire HD 7 full review as well.