Amazon Kindle Fire HD review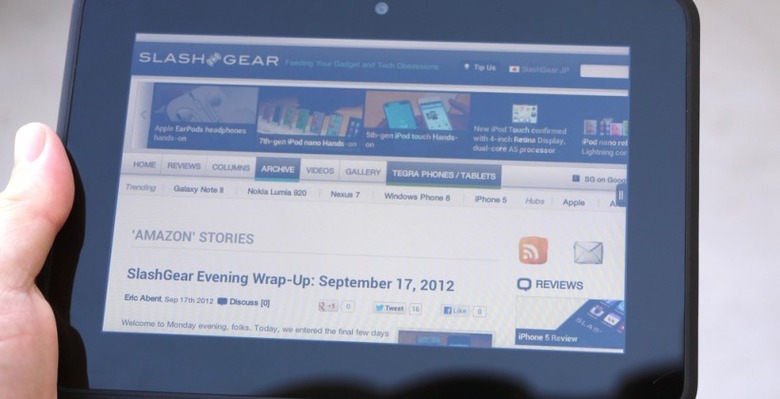 Last year Amazon entered the tablet and hardware market on an entirely different level with their Kindle Fire tablet. Now just 10 short months later we have a completely evolved product from the retail giant. Today we're taking a look at the new Kindle Fire HD 7-inch tablet. Everything you didn't like about the original (including that Playbook styling) has been improved for round two so lets take a look and see how it does.
Meet the Kindle Fire HD. This time around everything's been completely improved. It's faster, more powerful, lighter, thinner, and even looks a bit better too. The styling has seen a massive change from the original, and the curved edges and aluminum band around back gives it some character. No longer is this just a black squared rectangle that wishes it ran Android.
Hardware
As we mentioned above everything has been improved with the Fire HD. That old and dare I say ugly design of the original has been replaced with a unique, custom, and elegant design that surely will have a few happy. While it could still use some improvements (like a smaller bezel) it certainly is prettier than its older brother.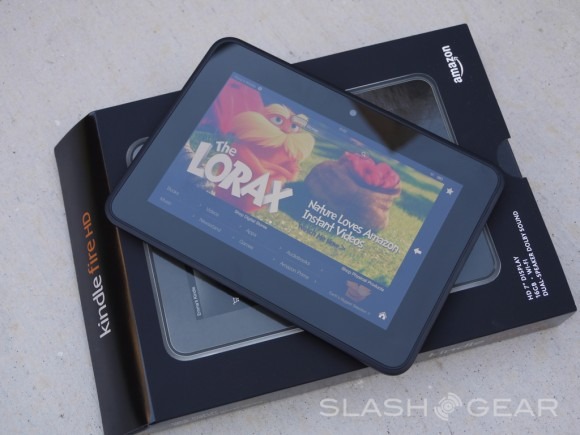 The Kindle Fire HD measures in at 193 x 137 x 10.3mm in size. Which is about 1.1mm thinner than the original but a little wider and taller. So while it doesn't offer a huge change in size, the curved edges and smooth corners makes it feel and look much thinner. The designs starting to grow on me although I'll never get used to those buttons. It's also slightly lighter than the original while getting a bump in all specs under the hood, but only by a hair. Take a peek at our unboxing and first impressions below.
As you can see from the video everything is quite elegant this time around. The flooding of matte black is nicely changed with the aluminum band around back, and the stereo speaker grills — while odd in design — give it even more character and a unique look we've not seen yet from most tablet manufactures. Overall the design is quite calm and looks to by flying under the radar with nothing loud about it. Sleek, dark, and powerful.
As far as internal specs Amazon has stepped it up considerably but still isn't up to par with recent devices like the Nexus 7. We get a brilliant and vivid 7-inch display (more on that below) with a 1280 x 800 HD resolution. The Fire HD is powered by a Texas Instruments 4470 dual-core processor, it has been stepped up to 1GB of RAM, and of course has 16GB of storage all for $199. A few notable features is the Kindle Fire HD is the first tablet with dual-band MIMO WiFi support (for better, faster connectivity) and it also features Dolby Digital stereo speakers.
If we didn't make it clear enough in our video above, while we love the design and slim edges, the fact that the power and volume buttons are so hard to find/push was a cause for concern. We were constantly searching for the power button and it will surely take some getting use to. There's nothing on the left side, around to the top you'll have a single microphone for video chatting, then the right side houses the buttons just mentioned. You'll also get micro-USB and micro-HDMI down on the bottom for charging, syncing, and streaming all that Amazon HD content to a bigger screen.
Display and Speakers
As we mentioned above the display has been rather impressive. Amazon made a big deal about their technology and coating to prevent glare for those movie watching or outdoor readers but we've hardly noticed a difference. Screen glare remains a problem, but might be less of a problem with the Kindle Fire HD.
As far as actual screen quality however, it is stunningly gorgeous, bright, and crisp. The 1280 x 800 resolution HD display is an IPS panel. This means we have accurate and not overly saturated colors, vivid and crisp text, and excellent viewing angles. Now that we have a higher resolution all that HD content from Amazon can finally be put to use — at a premium. Movies will cost a little extra, plus their size will take up extra space, and the same goes for games and apps. However that is worth the tradeoff because it's rather fun to look at.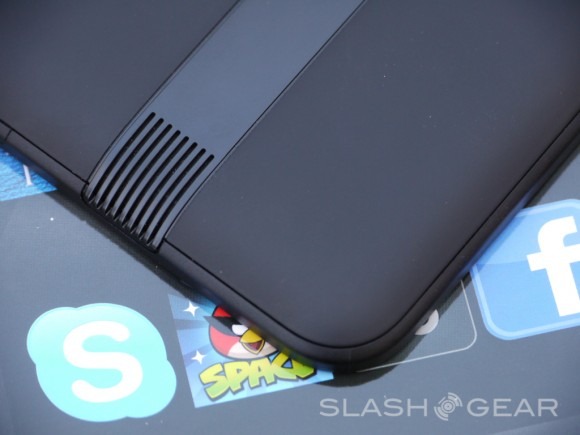 The Stereo speakers are also pretty stellar. The Fire HD is the first tablet with Dolby Digital Plus technology integrated into the tablet. While sound quality wasn't of the highest we've heard, it certainly was loud and crisp and certainly can be heard from a distance. Most tablets don't have this type of audio quality so we'll give both of them a thumbs up for that.
Software
Android... Fire... Ice... What do we have here? The Amazon Kindle Fire is running on Android 4.0 Ice Cream Sandwich, but you'd never know from looking at it. Aside from the pulldown notification bar Google's old Andy is no where to be seen. They've got their own Amazon App Store, their own Maps (powered by Nokia) and their own slew of video players and reader solutions. This is nothing new and exactly like the previous Kindle — just a little faster. Their Fire UI has completely put out the blazes of Android.
The user interface in general will either appeal to most, or be bothersome. The content-rich in your face design never fades, and Amazon's constant nag (recommendation) of other movies, apps, books, videos, or other purchases is as present as ever. Instead of explaining the Fire UI to everyone, since you've probably seen it before, enjoy our extended hands-on video review for a better idea of software looks and performance.
As you can see, the interface is largely the same and basically unchanged. However, it's extremely smooth. Not quite buttery smooth, but a huge increase and certainly smoother than before. While we did experience the occasional hiccup or browser lag, in general performance has remained swift even after hours of usage.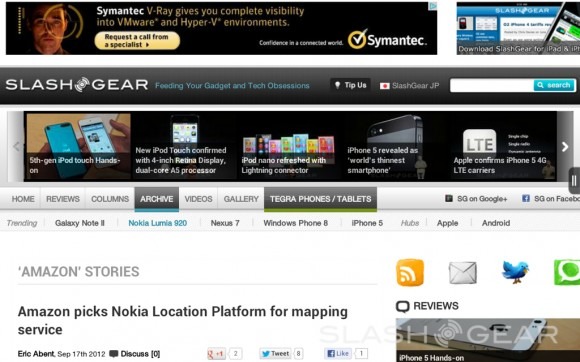 The "customers also bought," "More products" and "similarly viewed" content is all in your face. We've talked a lot about the ads or commercial space, and well, because it's everywhere. Amazon has stated there will be an opt-out, but we'll talk more on that another time.
Everything from reading, enjoying a movie, or checking out the latest set of apps has all remained unchanged. Why tweak the reading experience when it's so excellent. What Amazon has done however is improved it with small additions. We now have X-Ray as shown in the video above. X-Ray gives users an in-depth look at the book their engulfed in, details on every character, and where in the book (or movie) they are mentioned. With videos you'll be treated with the same awesome X-Ray feature and it's also integrated with IMDB. From there you can pause the movie you've just rented and look up everything you'd ever like to know about that cute girl in the scene. See other movies she's been in — and of course they'll obviously recommend more films for you to purchase.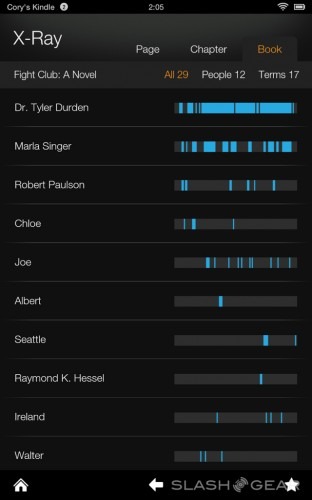 Overall we've been rather satisfied with the largely unchanged yet faster software and user experience. Productivity is certainly not on the forefront here as this tablet is all about content consumption and purchases. The awesome and easy-to-use multitasking features of Android, especially 4.0 ICS have been completely removed. There's a few small multitasking options like music in the dropbown bar but for the most part any sort of multitasking is slow, cumbersome, and a chore.
At the end of the day the software is pretty solid. For those that want a streamlined user interface with everything you need (and might need) directly provided front and center with suggestions and large HD content this is surely for you. For the Android enthusiast this is a long ways from anything Android. Oh and if you don't like all those ads and suggestions you can opt out for about $15.
Battery Life
As far as battery life is concerned you shouldn't have much of an issue here. For the occasional users that gets up and reads the occasional webpage, checks a few movie times and sports scores and more this tablet can clearly last a solid 3-4 days of medium usage. When it comes to more intensive things the Fire HD was on par with most recent tablets.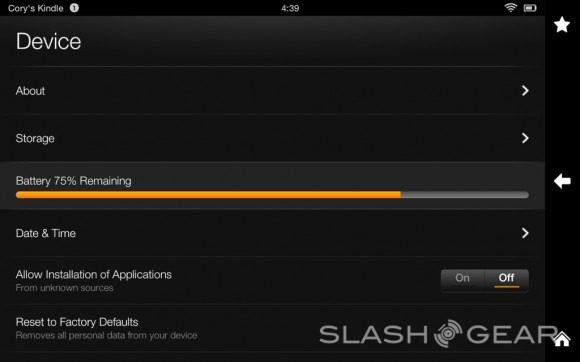 With the Fire HD running a continuous video loop we managed just over 9 hours of usage. Amazon quotes it for 11 but you probably won't quite be getting that unless you have the brightness pretty low and do light tasks. The Nexus 7 lasted a tiny bit longer with rundown tests, but sadly we weren't able to fire up the usual Android apps to test most of those things we like to test.
It's safe to say you can read for hours, enjoy videos for an entire road trip, or casually use this device on the couch all without worrying about a charger too much.
Competition
As far as the competition is concerned, no one can hit this price point except for Google. Most tablets in this size range, even with lower specs, aren't able to come near the $199 price point Amazon introduced — and now reintroduced while beating out the Nexus 7. With the iPad Mini looming but still not announced we can't compare that — yet. As far as the Android ecosystem goes the Nexus 7 gives this a pretty good run for its money.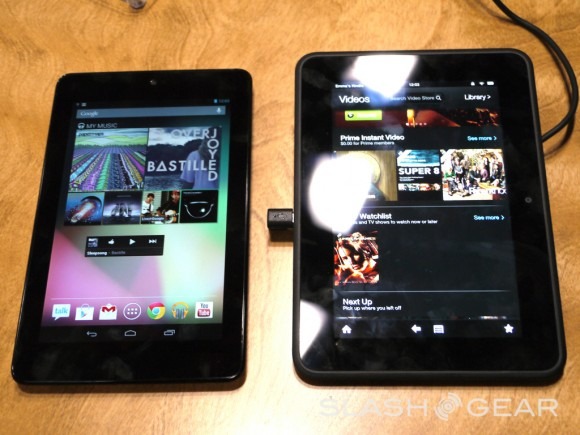 When we reviewed the Google Nexus 7 we said it was the best 7-inch tablet money could buy, if not the best Android tablet in general. Now just 3 months later we have this nipping at its heels. Overall however the Nexus 7 performs better in all tests. The Android 4.1 Jelly Bean speed with the Chrome Browser always won by at least a few seconds. Intensive games seem to handle things better, and the Nexus 7 has the full Google Play Store. In the end though it isn't about which is better for your $200 crisp dollar bills. It's about what you need. For those looking for that all around tablet experience the Nexus 7 reigns supremacy simply for the fact that it's pure unaltered Android. For those looking for an awesome consumption device that doesn't need the bells and whistles that Google provides — the Kindle Fire HD is a finely tuned content consumption machine.
Wrap-Up
Just like we mentioned above, the Kindle Fire HD is a mighty fine device. Amazon's increased the speed and performance throughout, improved the display (obviously) and added even more awesome features. If you don't mind the slightly subsidized feeling, or pay for the opt-out, you'll surely be in for an enjoyable experience. In the end we can't help but feel like this tablet is just as much for shopping and browsing Amazon.com than it is for searching the web and enjoying movies.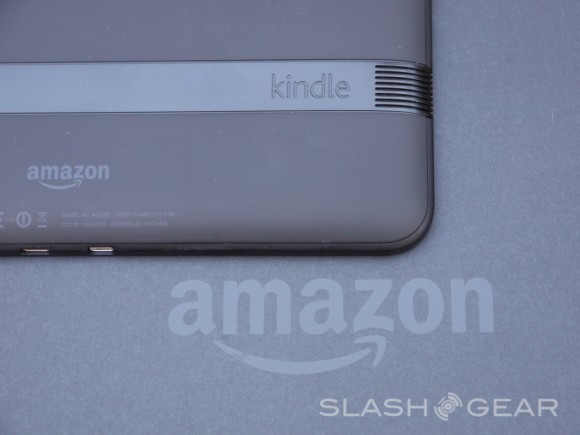 In terms of Amazon's complete ecosystem of games, apps, videos, movies, books, music and more this is the perfect tablet. Deep down however for those looking to do more with their tablet like what we see with the iPad and the Nexus 7 — the Kindle Fire still has a little ways to go. If Amazon will ever take it there is a different story.