Amazon forces "Special Offers" ads on all Kindle Fire tablets [Update 2]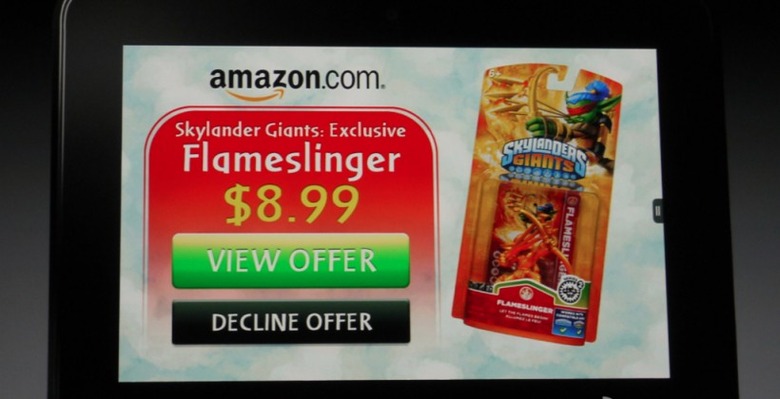 will only offer advertising-supported
tablets, injecting "special offers" into the standby screen of its Android slates, and giving no option to pay more to remove the promotions. The "special offers" concept was launched for e-paper Kindles some time back, subsidizing the upfront cost of the ereader in return for showing adverts on the homescreen (though not during actual ebook display); now, that same concept has been included in the new range of Kindle Fire and Kindle Fire HD tablets.
However, whereas Amazon charges $20 more to opt out of the advertising from the e-paper Kindles, including the
, no such option is available for the Kindle Fire tablets. Amazon has already undercut Google's Nexus 7 with the cheapest Kindle Fire, bringing it in at $159.
According to Amazon, potential offers for the Kindle Fire to display include a $5 credit for the MP3 Store and $5 for "select titles" in Amazon's Instant Video Store. Third-party brands involved include AT&T, Discover, and Intel – one such promo is a $10 Amazon gift card for those who use a Discover card to buy an Amazon digital product – and they may also show up on advertising screensavers.
The Kindle has always been considered something of a loss-leader for Amazon, the Kindle Fire particularly, with the retailer using the hardware to encourage content sales of ebooks, video, music, and apps. It appears the assurance of that long-tail revenue stream isn't quite enough to satisfy Amazon with the second-gen Kindle Fire line-up, however.
More on the Kindle Fire in our full hands-on with
and
. Check out
from Amazon this week.
Update: Looks like this won't always be the case; however. An Amazon support team member told one customer that "options for unsubscribing [from] special offer [sic] will be announced soon,"
 reports.
Update 2: Bad news – Amazon PR says there's actually no plan to release a non-Special Offers version of any Kindle Fire model, despite what a (presumably misinformed) customer services rep might claim.