Kindle Fire HD 8.9 hands-on
Though we wont be able to have a peek at AT&T's 4G LTE version of the tablet until later this year, Amazon has allowed us a quick touchy-feely experience with the 8.9-inch version of the Kindle Fire HD before its software is finalized. What we're seeing here is the slightly larger version of the Kindle Fire HD 7, that being essentially the same size as the standard Kindle Fire which also got a refresh this week. The Kindle Fire HD 8.9 is the company's new flagship device, we would say, with an 8.9-inch display made to compete directly with Apple's iPad.
This device has a back that's slightly rubbery with a single ribbon of shine on the bottom half, there showing the device's brand. The device is relatively light and certainly thin, and though its chassis don't tell much about how it's forward-thinking here in 2012, the software features and display construction certainly do. One of the more important elements sits right up front and center with the display being closer to the glass panel than Amazon's previous efforts, this resulting in a much clearer, crisper, and less glare-prone solution.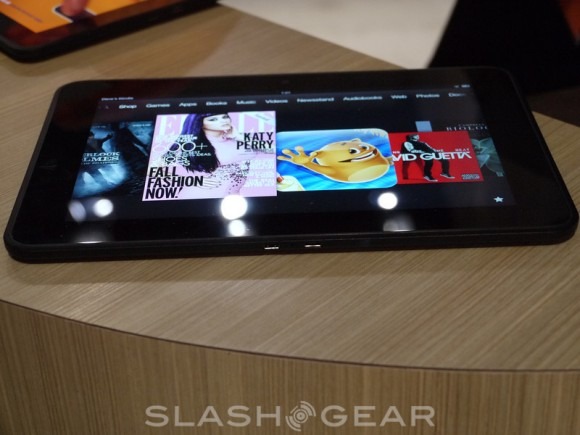 The Kindle Fire HD 8.9 is indeed going to be coming with essentially the same software build as the Kindle Fire HD 7, with a user interface that's been upgraded from the original Kindle Fire as well. Here we're seeing nearly buttery-smooth action and next-level response time thus far – we'll need more time with the finalized device to know for sure.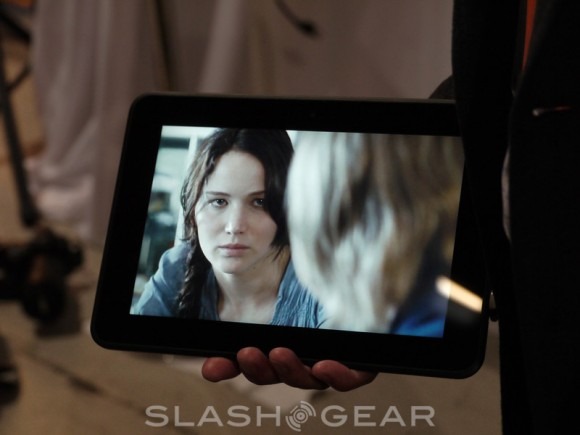 With a relatively standard non-intrusive and certainly quiet-seeming bit of hardware to surround it, Amazon appears to have once again created what may be a winner for the 2012 holiday season for hardware. How it'll work to ramp up sales in all sectors when they've now got not two, but three tablets with quite similar specifications and three very different prices though, we're not sure. Check out the timeline below for additional information on the releases that've occurred this week with Amazon and plan on getting a Kindle this winter – this 8.9 tablet wont be out until November.