Amazon Fire TV: everything you need to know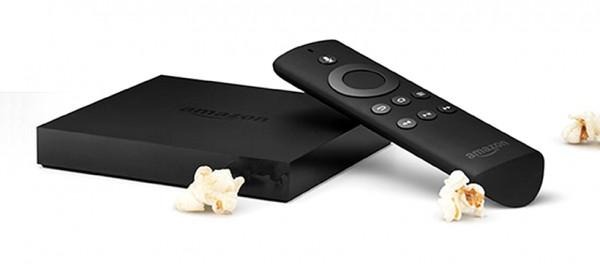 The living room market has earned itself another contender this April with Amazon Fire TV. This device is a 4.5" x 4.5" x 0.7" (115 mm x 115 mm x 17.5 mm) box with several outputs on its back and its own dedicated remote control, aimed at being connected to your television via HDMI. From there, you'll be using the internet to watch TV.
Amazon's services in the Amazon Fire TV are based in their own version of Android – in an unnamed operating system at the moment. It'll be able to access a number of "services" right out of the box for TV shows, movies, and gaming.
*NOTE: Amazon lists the OS of Amazon Fire TV as "Fire OS 3.0, based on Android Jelly Bean (API level 17).
Services
Notice here that Amazon has moved away from the word "apps". Instead, perhaps to add value to their device uniquely, they've suggested that "services" are presented here. Games are still games, it would seem.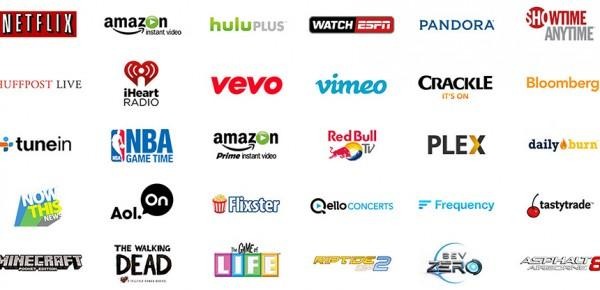 If you take a peek at the Amazon app store's listing for Fire TV Apps, you'll find that it's a sub-category of "Apps for Android." There are a total of 777 apps here, including games. Games in the "Fire Game Controller" category number to 133 at the moment, and Amazon suggests that "hundreds more" are on the way.
Some of the bigger names in apps that have appears in this set of compatible bit os functionality are as follows:
• Netflix
• Amazon Instant Video
• Vevo
• Vimeo
• Hulu Plus
• Plex
• Frequency
While you will be able to side-load Android apps as a consumer, it's not an easy process. Developers are given a step-by-step guide on how to side-load apps to test before modifying them for Fire TV's UI specifically – Amazon wants all apps to be optimized for their hardware before they'll give them full support.
Non-TV or Movie Services
The main user interface of Fire TV is quite similar to what you'd see with Amazon Prime's video service. Amazon Instant Video is included here as a separate service, but you'll still need to be an Amazon Prime member to benefit.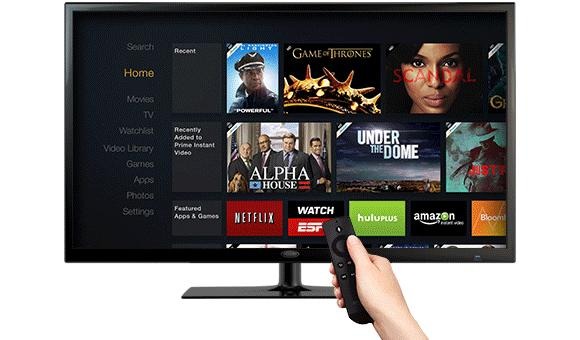 Voice Search is included on Fire TV, allowing you to speak to the (included) remote control to find what you want to watch. At the moment, it would appear that this service is limited to Amazon's own video services, but we'd not be surprised to see this integrated with Hulu, Netflix, and the rest, soon.
As you'll see above, activating Voice Search requires that you press and hold the microphone button near the top of the Fire TV remote. From there, you'll just speak the name of the program you'd like to watch or play.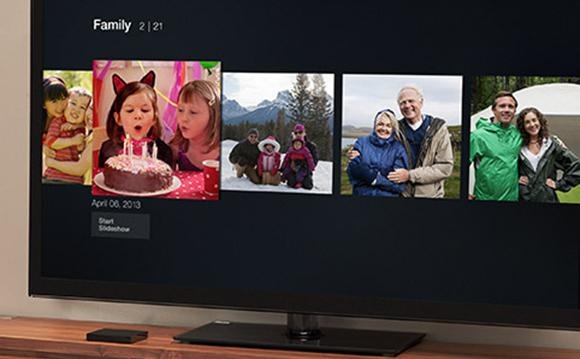 Amazon Fire TV works with Amazon Cloud Drive which will enable you to see "slide shows, photos, and personal videos you've saved in the cloud." It's unclear how Amazon will stop users from downloading movies illegally, then uploading them to Amazon Cloud Drive for free viewing with Fire TV.
Games
As for Amazon Fire TV games, we're in the process of attaining more information on the exact steps a developer must go through to bring their game to Fire TV, specifically with the Fire Controller. The Fire Controller is a gaming controller introduced this year manufactured by Amazon as their own, unique piece of hardware for gamepad functionality.
UPDATE: Amazon Fire TV requires that developers work with a GameController API which is new as of the release of the Amazon Fire TV SDK. This means that while it's possible that legacy games will work with Bluetooth controllers, it's not guaranteed.

Amazon Fire TV is able to support up to seven Bluetooth controllers at once. These Bluetooth controllers do not have to be the official Fire Controller.
Hardware
A simple black box is all that the Amazon Fire TV consists of, for starters. This box is a matte black sizing in at 4.5" x 4.5" x 0.7" (115 mm x 115 mm x 17.5 mm), weighing 9.9 oz (281 grams). This device connects to your TV with a full-sized HDMI cord and is able to connect to the web with full-sized Ethernet or wirelessly.

You'll need to have this box plugged in with its included power cord – into the wall. You've also got the option of plugging in external speakers with Fire TV's Optical audio port. There's a USB port on the back of this device – alongside the rest of the ports – that we're not sure the meaning of (for the time being).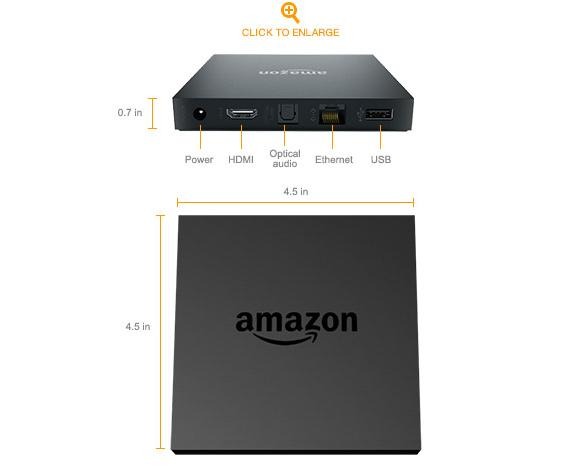 Fire TV works with a Qualcomm Snapdragon 8064 (Snapdragon 600, that is to say,) Processor with 2GB of RAM and 8GB of internal storage. Wireless internet is provided by Dual-band, dual-antenna Wi-Fi (MIMO), while 802.11a/b/g/n standard with support for WEP, WPA and WPA2 security is included as well.
The following content formats are supported at 720p and 1080p at 60fps:
• Video: H.263, H.264, MPEG4-SP, VC1
• Audio: AAC, AC-3, E-AC-3, HE-A, PCM, MP3
• Photo: JPG, PNG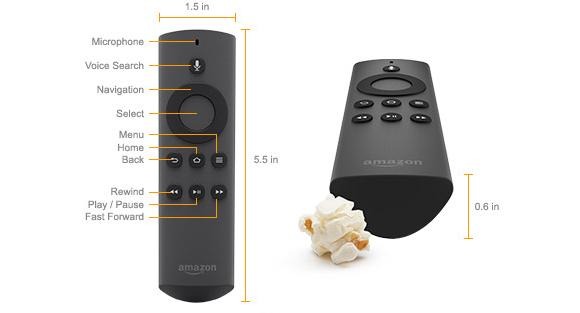 This unit is being launched with a remote control with has a single microphone hole up top, a voice search button, and navigation wheel. In the center of the wheel there's a search button, and below you'll find six buttons: menu, home, back, rewind, play/pause, and fast-forward.
What's in the box?
Fire TV will be launched with a 1-year Limited Warrantee with service included. Amazon warns the world that "certain services" may not be available outside of the United States, and the whole works is ready for shipment right this minute.

Inside the box you'll get the Amazon Fire TV and remote, power cord, 2x AAA batteries for the remote, and a quick-start guide. Devices and services you'll need to use Fire TV that are NOT included in the box are as follows:
• Television with HDMI input
• HDMI cable
• High-speed internet
The Amazon Fire TV device was announced officially on Wednesday, April 2nd, and it was made available for $99.00 USD the same day. Using One-Day Shipping, users were able to get the device shipped overnight for an additional fee. The Amazon Fire Game Controller was also made available immediately for a cool $39.99 USD.