Amazon Fire TV apps include Netflix, Hulu, ESPN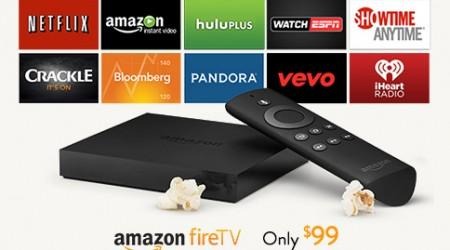 In Amazon Fire TV is the company's first look at a real dedicated piece of hardware for the living room. Using a quad-core processor with "dedicated GPU", this device is said by Amazon to be "3x as powerful" as Apple TV, Chromecast, or Roku devices. The device is a box which sits near your television – tiny and unobtrusive (but not quite a dongle, as it were).
The remote that you'll find working with Amazon Fire TV is essentially the same size as the remote you'll have seen for Apple TV. It's a bit thicker, at it works with approximately 7 buttons and one "ring".
Amazon Fire TV will be working with Netflix and Hulu right out of the box, and will be pushing TV shows and movies like Life of Pi, Alpha House, and The Americans right out the gate. Amazon Fire TV also works with WatchESPN, MLB, NBA, Pandora, YouTube, and Crackle.
UPDATE: Twitch, Plex, Vimeo, TED TV, Vevo, Red Bull, iHeartRadio added – more on the way! This system will also be working with a watchlist feature, apps, photos, and games.
Working in tangent with Amazon Kindle Fire devices, you'll be able to stop watching a show on one device and begin from that place on another. This is otherwise known as "Whispersync", if you've never used it before. Additional Kindle Fire abilities will certainly be appearing in the near future as well – these details have just scratched the service!