Amazon shows gaming prowess with Fire TV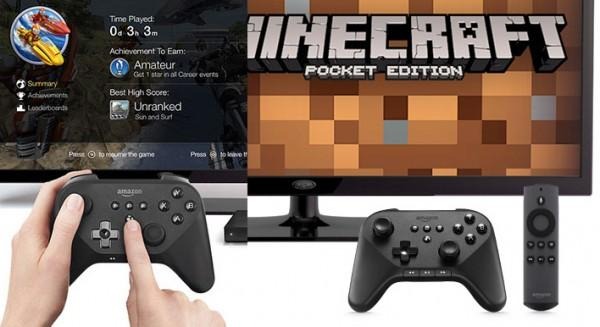 In rolling out their Fire TV today, Amazon had an opportunity to take on some incumbent devices. Whether you think their media offerings are adequate or not, one thing is certain: they want to make a name in gaming. In that vein, amazon has introduced their gaming efforts today, hardware and all.
Inside of Fire TV, there is a controller icon, pointing to a gaming section. From there, you'll be able to enjoy all your favorite Amazon game apps right on your TV. Michael Frazzini of Amazon was quick to note that the average price of games on Amazon was $1.85, so you're not coming out of pocket much — on average. A demo of Minecraft was shown off, streaming easily and effectively on the big screen.
In addition to games currently on offer, Amazon Game Studio is working on title specifically for the Fire TV, with Amazon showing a third-person shooter in Sev Zero. While not a massive leap forward for mini console gaming, it does show Amazon's intent as a serious platform for casual gaming. We'll also get the ability to use a Kindle device to control our games in the future.
The Fire TV hardware is geared toward gaming, too. A dedicated GPU in the console, as well as a quad-core chipset, make for a pretty nifty gaming experience. While Amazon notes their streaming device is three times faster than a Roku or Chromecast, they don't say how well it stacks up against the likes of Ouya. Earlier in their announcement, Amazon made reference to the ease in which Android apps can be ported over, so we'll look for that to be a big push for gaming in the near future.
That Amazon game controller we saw previously? It's here, too — with a catch. The add-on is $39.99, but also comes with 1,000 Amazon Coins. At $99, though, it's hard to argue that Amazon hasn't created something that could be a winner in the near future, for both streaming media and gaming. It's available starting today, so if you're interested, snap one up quickly!