Amazon Fire TV (2017) Review: 4K HDR, Alexa, and a problem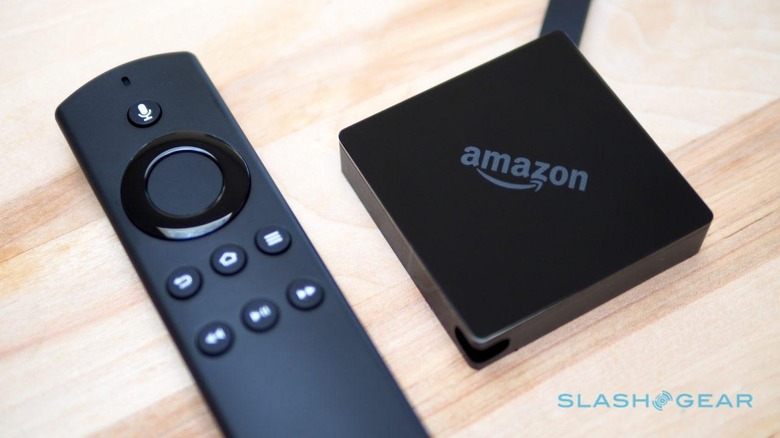 Welcome to the age of 4K HDR and a brand new Amazon Fire TV (2017), complete with Alexa to hold your hand as you wade into High Dynamic Range content. Aggressively priced at $69.99, and thoroughly undercutting the latest Apple TV in the process, Amazon's newest media streamer boasts not only 4K HDR 60 fps, but all the skills and talents its virtual assistant can offer. As I found, however, the road to multimedia nirvana is seldom smooth.
Hardware and Setup
Larger than a dongle, smaller than a set-top box. The new Fire TV is bigger than the Fire TV Stick but much smaller than its predecessor: it's designed to hang behind your TV from its short, fixed HDMI cable. If you've got a wall-mounted set you might find that a little tricky, since Amazon doesn't supply any fixings like sticky pads or Velcro to hold the 2.6 x 2.6 x 0.6 inch block in place.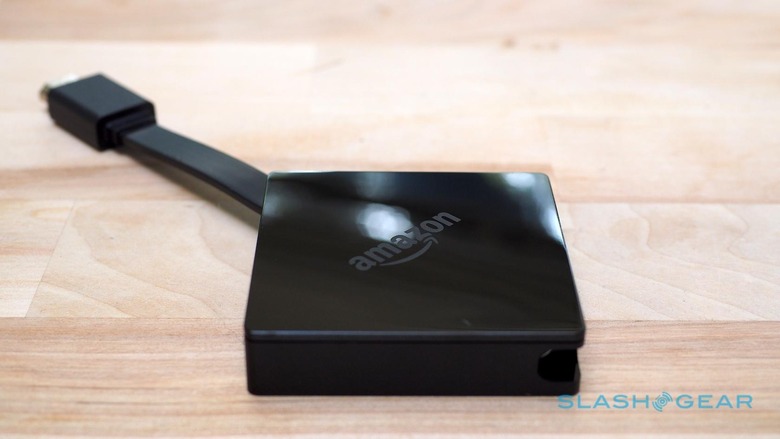 Power is via microUSB and the supplied adapter. However, that port can also – with Amazon's $14.99 dongle – add an ethernet port, if you'd rather use a wired connection rather than the 802.11ac dual-band MIMO WiFi.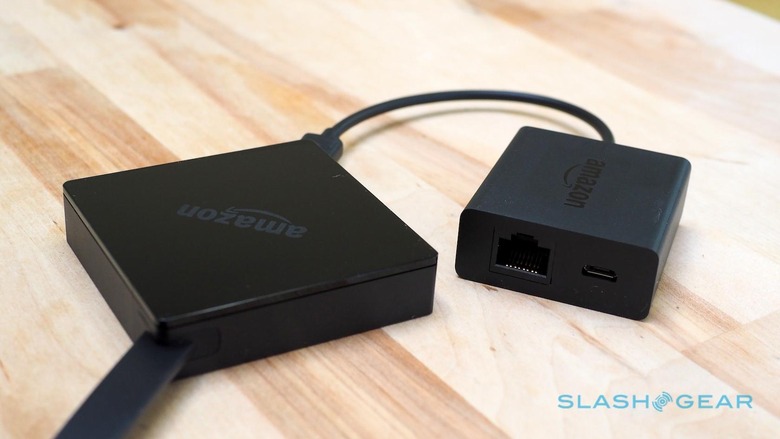 Most of the time you won't see the Fire TV itself, only the remote. That's by now a familiar thing, connecting via Bluetooth 4.1 and offering basic navigation controls and a button to trigger speech recognition. Unfortunately there are still no volume controls for your TV.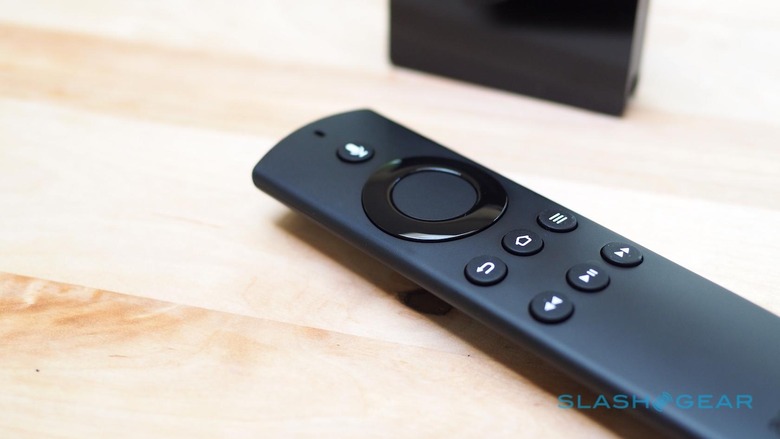 If you buy from Amazon direct, the Fire TV will come preconfigured to your account. All you'll need to do is point it at the right WiFi network. Obviously if you want to use the Fire TV's apps for Netflix, Hulu, or other services, you'll need to log into those separately.
Alexa onboard
Amazon won't be happy until Alexa has ears in every room of your house, and sure enough the Fire TV 2017 supports the smart assistant too. Unlike with an Echo, however, Alexa isn't listening out by default: you need to press the microphone button on the Fire TV's remote.
Once you do that, though, you can use all manner of commands across Amazon's various services. Saying "Play The Man in the High Castle" called up the series through Prime Video, playback of which I could then control by saying "pause" or other commands. "Play smooth jazz" started up a jazz radio station through Prime Music.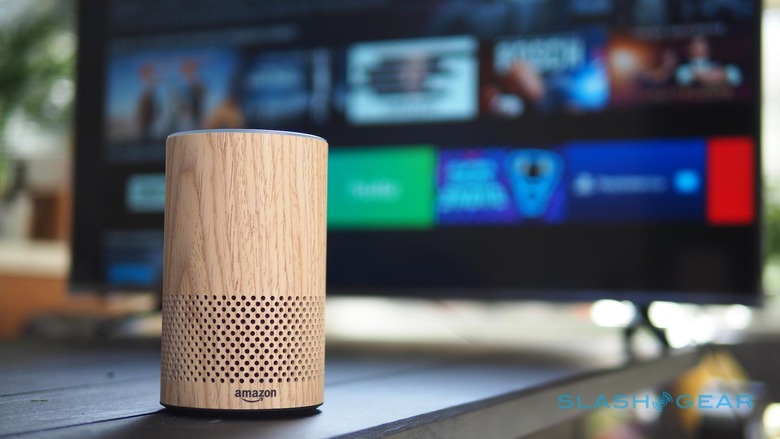 MORE Amazon Echo (2017) Review
If you do have an Echo, mind, you can do even more. Saying "Alexa, play Transparent" called up the show on the Fire TV, with no buttons involved at all. You can even turn everything on – including your TV, as long as it supports the HDMI-CEC standard which most recent sets do – by saying "Alexa, watch Fire TV".
Either way you get the majority of Amazon's existing Alexa skills, including control over your smart home devices – lights, thermostats, and more, for instance – together with traffic and news reports, weather updates, and even seeing a feed from your connected security cameras on the TV. You can load Fire TV apps, too, for third-party services. Saying "Alexa, launch Netflix" called up the streaming app.
Weirdly, not all Alexa interactions are created equal. While Alexa on the Fire TV has claws deep into both Amazon's services and those of third-party services, Alexa on a separate Echo does not. If you're using the latter, though you can load the Netflix, Hulu, or other apps by voice, you can't call up their shows and movies directly. To do that, you'll need to use the Fire TV remote.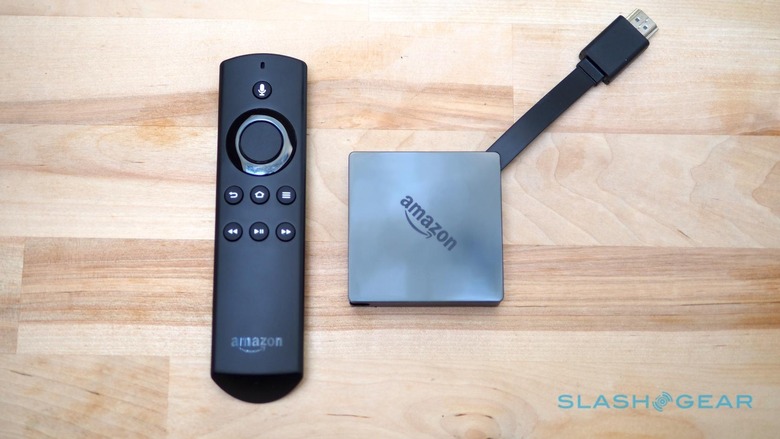 My other frustration was with the efficacy of Amazon's search, whether using Alexa or not. The basics are there, like hunting for a specific title or actor, but the fuzzier searches – "new French language movies" for instance – proved less successful than rivals manage. Content overload through our streaming providers is the modern day equivalent of having hundreds of cable TV channels to scroll through, and I wish the Fire TV did better at discovery.
Not all 4K HDR is created equal
The 2017 Fire TV makes some big video promises, most notably the support of 2160p 4K and HDR content. HDR is shaping up to be the TV industry's next big reason to upgrade, with a significantly improved brightness range that could do for your eyes what the jump from HD to 4K did. However, there are a few things to bear in mind.
HDR currently comes in two different flavors. HDR10 is the most widespread, though it's also the more basic of the two; Dolby Vision is less prevalent, but generally more impressive. Some TVs only support HDR10, and similarly some set-top boxes only support HDR10.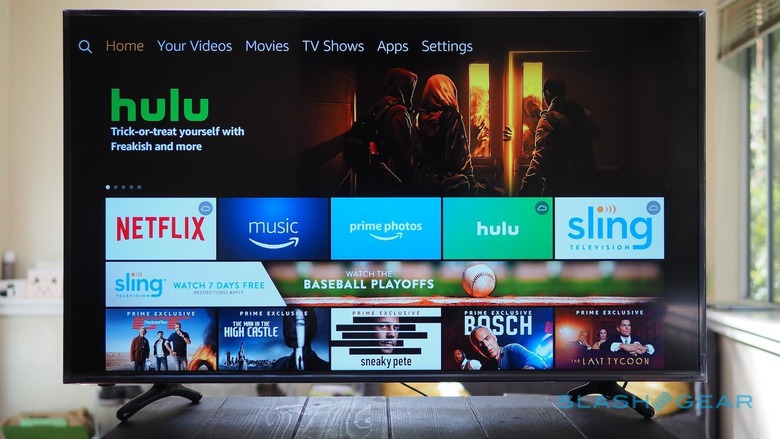 The new Fire TV is one such box. Even if you've got a 4K HDR TV with Dolby Vision support, you'll be limited to HDR10 content from Amazon's streamer. You do at least get HDR support in the YouTube and Netflix apps.
If you're looking for HDR movies on the new Fire TV, you may be disappointed. Amazon simply has far fewer titles, it seems, than its rivals do. The pickings are better in Amazon Prime Video's TV catalog, where many recent shows do support HDR10.
Amazon also bills its Dolby Atmos support as a key reason to go for this new Fire TV, though you'll obviously need the right home theater speaker system in order to benefit from it.
The competition
There's plenty of choice in the streaming box market right now. The new Apple TV has a hefty $179 price and supports Dolby Vision, though there's no Atmos compatibility and Siri is less capable than Alexa. In Apple's favor, it's upgrading any movies you've already bought to 4K versions, if available.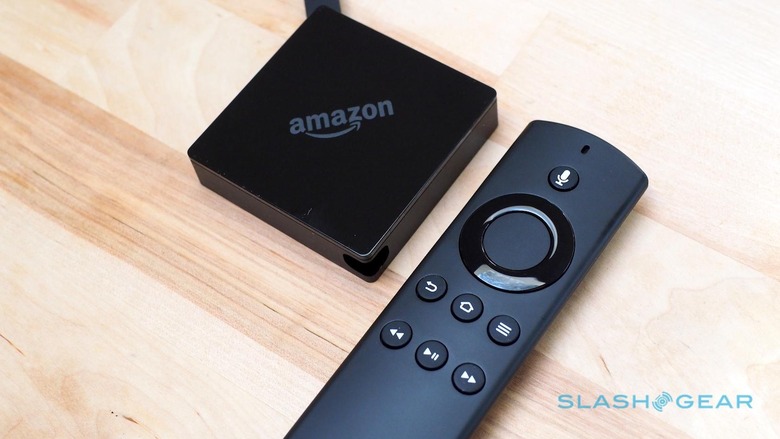 Google's Chromecast Ultra matches Amazon's $70 price tag, meanwhile, has both Dolby Vision and Atmos support, and some of the voice-command integration if you've got a Google Home. Roku's $70 Streaming Stick Plus, just announced, also has Dolby Atmos and can play Amazon content too. You don't get Alexa, but you do get more services with 4K HDR movies, which after all is the point of a streaming device.
Wrap-up
There's a lot to like about Amazon's new Fire TV (2017). It's easy to install, speedy to use, and the Alexa integration works well – whether you're using the assistant built into the box, or through a standalone Echo. However, I still have some reservations.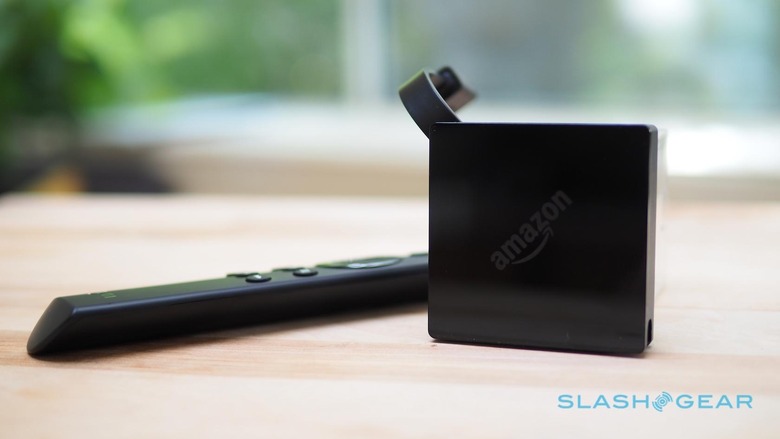 If you're buying primarily for the promise of 4K HDR, the limited content availability and absence of Dolby Vision support are big concerns. I'm also not especially impressed by Amazon slotting adverts into the UI. The remote, too, needs at least volume buttons for your TV.
Those in deep with the Amazon ecosystem will find plenty here to like, especially if you're gung-ho about Alexa. Certainly, the new Fire TV's integration with Echo devices is probably the cleanest example of how a cross-platform assistant could work. Nonetheless, if your goal is the best 4K HDR content and you have the TV to match, there are other streaming boxes which deliver more.