Amazon Eero mesh router launched for $99 with Alexa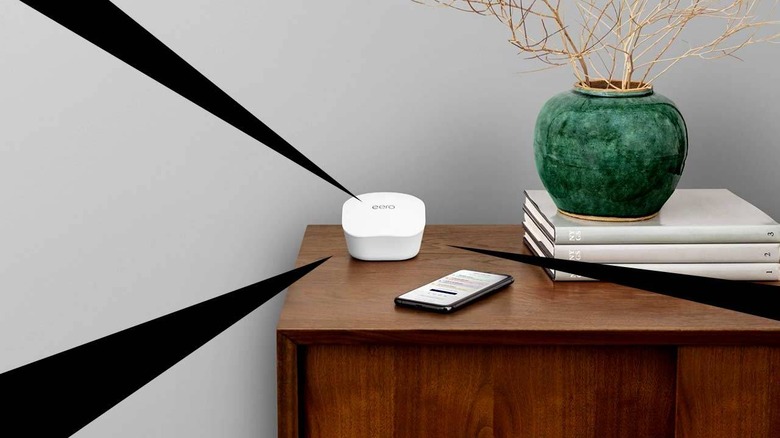 The folks at Amazon launched a new Eero mesh router system today for approximately $99 USD. This device will launch with dual-band radio system support and support for the Eero Secure and Eero Secure Plus subscription systems. This is the first product launched by Amazon with Eero since Amazon acquired Eero in March of 2019.
The new Eero can be "set up in 10 minutes or less" and includes what Amazon describes as "whole-home mesh WiFi coverage." This unit has adaptive backhaul and dual-band radio technology. With this new unit, Amazon's added far more integrated and powerful Alexa controls than in the previous generation. Expanded router-based Alexa controls will be made available through a new API for routers coming later this year.
Wi-fi access management with Alexa will be launched with compatible ASUS routers and TP-Link routers this Fall. Amazon added that devices from Arris and Linksys would get new Alexa abilities like these starting in early 2020.
The Amazon Eero acquisition sparked questions on the potential loss of privacy courtesy of Amazon's Alexa. Back then, Nick Weaver, Eero co-founder and CEO said that privacy was taken "extremely seriously" at Eero, and that they will be clear with all the data they'd be collecting in the future, like "network diagnostic information only to improve the performance, stability, and reliability of our products and services."
This was after our Eero 2nd-gen Review back in 2017. That system cost around $400 – but included three mesh wi-fi units and a base unit with which one would create the mesh network in one's own home. Now the new Eero from Amazon is just the base for around $100, and $250 for a three-pack.
You'll find this newest version of the Eero on Amazon with the name "all-new Eero" while the Eero Pro and Eero Beacon lineup will remain available at the same time. Since most Eero products look exceedingly similar, it may be difficult to tell which product is new – but for Amazon's "all-new" branding setup, just like Fire and Echo devices of all sorts over the past half-decade.