Amazon Echo can now control your lights thanks to Wink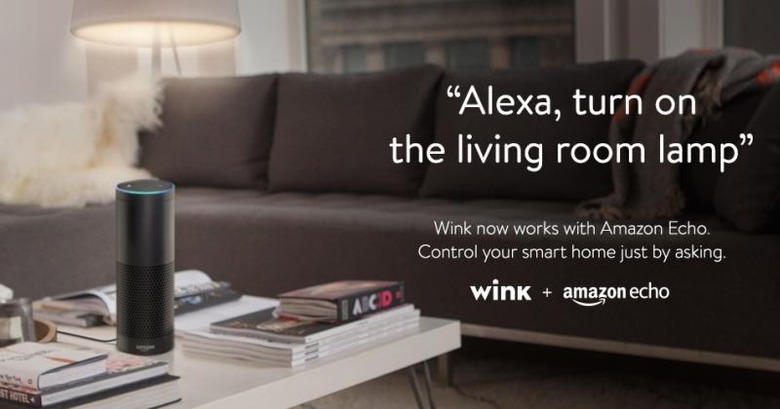 Amazon Echo, which others lovingly refer to as Alexa, is a rather odd duck. Unlike other cloud-based voice-activated assistants, you can't take it around with you, as the cylindrical contraption is rooted in your home. Until recently, it was also quite limited in the things you can do. Ironically, shopping by voice was added only later on. Now it's getting a bit more talented however, not through its own power but by hooking up with Wink. Now you can confidently say "Alexa, dim the bedroom lights" with a wink.
You'll still need the Wink mobile app to set everything up, of course. You can hook up any Wink-compatible smart bulb from the likes of GE, Leviton, and Lutron and then hook up your Wink account with Echo itself. It doesn't end there, however. Strangely enough, you actually have to ask Alexa to discover new devices and wait for a few seconds. Once the setup is done, however, controlling your lights is just a matter of uttering a command.
Amazon Echo isn't exactly the most popular voice-enabled smart assistant, though it's definitely the most fancy looking one. Because neither Siri nor Cortana actually have distinct devices. More than the lack of portability, its lack of functionality also hinders it from becoming a household name. Amazon is changing that status quo, though rather slowly.
At first, it directly added support for features and services, like shopping by voice or Google calendar but in the past months, it has sought to harness the talent of other developers in the effort. A new IFTTT channel opened up Alexa to a world of possibilities, some of which Amazon probably never imagined. Then late last month, Amazon released its official SDK to allow developers to integrate with Echo, just like what Wink has done here.
That said, until recently, Amazon Echo was only available for Prime members, so it hasn't reached the consciousness of the masses just yet. Then again, the idea of having to buy a separate device just to have a smart assistant to control your smart home might not exactly be tempting, especially when you have one that's already in your pocket or in your hands.
SOURCE: Wink