Amazon's new Prime Music streaming service quietly slipped out to Prime subscribers overnight, but now the retail giant has detailed the audio add-on and just how it will compete with Spotify, Beats Music, and others. Offered as an added bonus to those who sign up for Amazon's unlimited shipping subscription, Prime Music currently includes 1m+ tracks, though it's not without its issues.
Amazon is clearly hoping that most of the streaming will be done through its Kindle Fire HDX and HD tablets, though they're not the only way to access the music. The iOS and Android apps are also updating to support Prime Music, and there's support on PC, Mac, and in fact anything with a decent browser.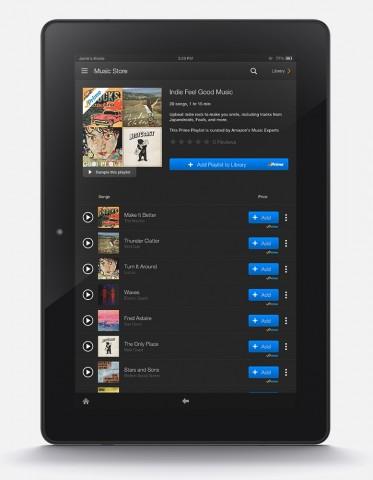 On mobile devices, there's support for offline playback, too, locally caching tracks so that you can still listen to them on a plane, for instance, rather than paying for in-flight WiFi. Since you're already coughing up for Prime membership, Amazon is promising no adverts, either.
Although there's the possibility of digging through the catalog manually and picking tracks that way, Amazon is also using its recommendations engine. That will generate personalized playlists depending on what you've listened to before.
Alternatively, there are hundreds of preconfigured playlists to choose between
Themes include "50 Great '90s R&B Songs", "Boss, not Bossy" – intended to remind you that you're a strong, powerful, independent woman/man who don't need no man/woman – and "Dance Party With My Tween" for your daily One Direction hit.
If you've got your own music already stored on whatever device you're using for Prime Music, the two can be intermingled in combined playlists. What we're yet to see is support on Fire TV, Amazon's set-top box.
However, while Prime Music is a perk – alongside the Kindle Owners' Lending Library and Prime Instant Video
– for subscribers to regular Prime, Amazon Mom, and Amazon Student, it's only provided for the primary member on the account. If you've shared Prime access with other members of your household as guests, they won't get to use it.
It's also only supported on one device at a time: if you try to begin playback on a second, it'll force you to end the streaming on the first. Offline tracks can be stored on a maximum of four devices simultaneously, and Prime Music requires a connection to Amazon at least every 30 days in order to remain active.
Meanwhile Amazon is believed to be readying its first smartphone, tipped to have a 3D interface with face-tracking among other things, for reveal next week. SlashGear will be at the June 18th event to bring back all the details.