Amazon Apple Watch app puts shopping on your wrist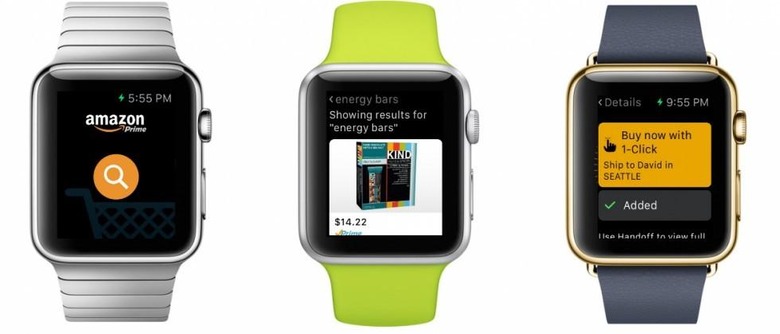 Amazon has updated its iPhone app to support Apple Watch, turning the new wearable into a mobile voice-controlled shopping accessory. The new version of the app, released just as the first Apple Watch orders are shipping out, not only works as a scratchpad for the Wish List, but entire purchases can be carried out directly from the wrist. It's one of around 3,000 Apple Watch apps already waiting for Apple's new toy in the App Store today.
In Amazon's case, the app is allows searches to be made of the retailer's catalog, and then have products added to a cart and shipped to the default address using 1-Click.
It's also possible to add them to the Wish List for later purchase, while Handoff – which opens the counterpart app to that being used on the Apple Watch on the iPhone – can be relied upon to make more fundamental changes to an order in-progress.
Amazon already has Dash, a voice-controlled shopping wand. That's currently available by invitation only, to users of Amazon Fresh, the company's grocery delivery service.
Meanwhile, Dash is also WiFi-only, so intended for use around the home.
In contrast, though the waiting list for Apple Watch is still considerable, the product will be far more mass-market than Dash ever could be.
It will also presumably help Amazon make in-roads into brick and mortar stores with even more ruthless efficiency. By making a price comparison as straightforward as asking your wrist, shoppers will quickly be able to see whether it's cheaper – and more convenient – to have goods sent to their home rather than picking them up in-store.
MORE Amazon app [iTunes link]