Alienware Alpha console hits preorder (without SteamOS)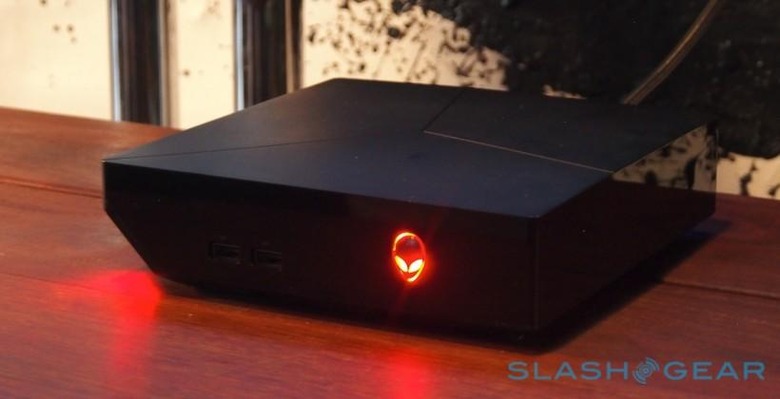 Alienware's Alpha console has gone up for preorder, no longer waiting for the delayed SteamOS and instead running Windows 8.1 with deep ties into the Steam game library thanks to a homegrown couch-friendly interface. Priced from $549, the Alpha runs a choice of Intel Haswell dual- and quadcore Core i chip, paired with a custom NVIDIA Maxwell GTX GPU with 2GB of its own memory, and up to 16GB of DDR3 system memory. That's all squeezed into a box that's compact enough to fit discretely under your TV.
The matte and gloss finish black box contains a single 2.5-inch hard-drive bay, as well as a choice of wireless cards up to 2x2 802.11ac dual-band and Bluetooth 4.0.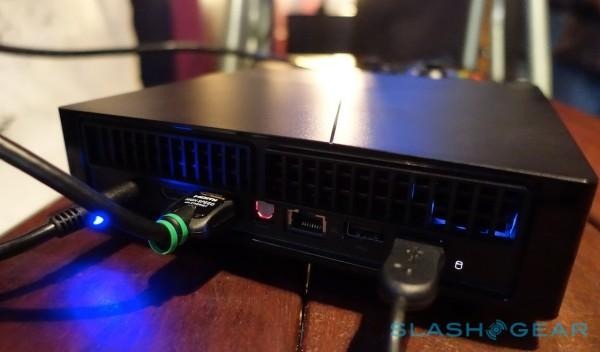 It's not short on ports, either: as well as two USB 2.0 on the front there are two USB 3.0 on the back, along with gigabit ethernet, HDMI out and HDMI in, and an optical audio output. A further USB 2.0 is inside, accessed by a hatch on the bottom.
Alienware's familiar "AlienFX" multicolor lighting is present, though given the size of the console it's limited to just the company logo and the glowing triangle on the notched edge. Each can be independently controlled, as well as set to adjust automatically according to game events.
The original plan, of course, was to launch the Alpha with Valve's SteamOS. However, that platform is now delayed, and so Alienware has developed its own Alpha UI that can be controlled entirely with a gamepad and seen all the way across the living room from your couch.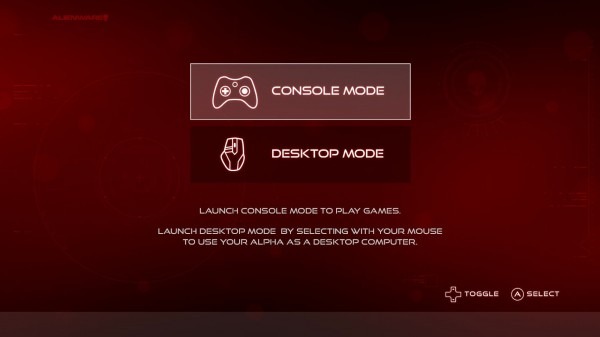 That includes an on-screen keyboard and cursor control, so that you never need to plug in a keyboard or mouse, and support for Steam Big Picture mode. There are more than 500 controller-compatible games in the Steam library, but you can also go into the regular Windows 8.1 desktop and do anything you would with a regular PC.
Alienware also supports what it's calling "Open Console", a platform which will allow the Alpha to be modified and then those custom versions shared with other owners.
It's compatible with the Xbox One controller and the Xbox 360 controller, and there'll be four versions at launch with varying CPUs, storage, and memory; a single Xbox 360 pad will be in the box too. Preorders begin today, from $549.