Steam Big Picture Mode officially launches, Valve celebrates with sale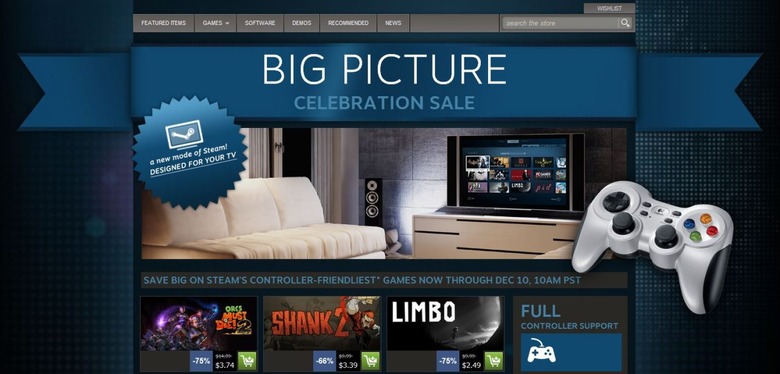 PC players who love playing on the big screen rejoice, because Valve has officially launched Steam Big Picture Mode. Big Picture Mode has been in beta since September, but now it's ready for prime time, with Valve rolling the feature out to everyone. For the uninitiated, Big Picture Mode makes Steam and the games it offers compatible with larger screens, meaning you can hook up your computer to your TV and play your PC library from the couch.
It gets even better though, because Valve has decided to celebrate the official roll out of Big Picture with a sale. The sale will be going on until December 10, with all of the games on sale coming with full support for controllers. By "full support," Valve means that you can use a controller for everything – including the installation process – making them the perfect choice for Big Picture players.
In all, Steam lists 41 games with full controller support, and another 386 games with partial controller support. If you pick up a game with partial controller support, be aware that while they're compatible with controllers, they may need a mouse and keyboard at times. In any case, there are plenty of games that are primed and ready for Big Picture mode, so you should have no lack of titles to play on the big screen.
Notable titles that have been discounted for this sale include a number of games in the LEGO series, Castle Crashers, Sonic Generations, Warhammer 40,000: Space Marine, and Braid. That's just the tip of the iceberg though, with many games being discounted by as much as 75%. Even if you aren't planning to play these titles in Big Picture mode, this is still a good time to snag a few deals you missed during the Steam autumn sale. Are you planning to take advantage of Steam Big Picture mode?
[via Steam]