AirCast Chromecast "Any Video" App Released By Koush In Beta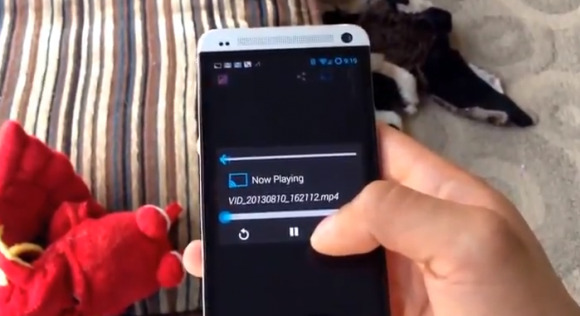 Earlier this year Google's Chromcast device became (rather quickly) one of their biggest hardware hits, selling out not long after it was first put on sale. Almost as quickly, developer Koushik Dutta began work on prospective apps for the device, aiming to expand the functionality of the miniature HDMI-friendly dongle to allow more than Google's own services and a handful of 3rd party apps. Here Koush releases the beta of the first of a set of apps: AirCast – able to play any video to Chromecast.
While Chromecast works with Google Play Videos and YouTube right out of the box with your Android smartphone, AirCast backs up a step and allows an Android device's entire video library to be cast. With this app, the unique "Cast" ability is able to "fling" a video from your smartphone (or tablet) to the Chromecast device, playing said video over the wireless network in your home.
The big difference here is how necessary it is for your smartphone to be on (as in, not turned off) when you're playing a video. Using YouTube, Google Play Videos, or Netflix allow your phone to be shut off entirely as you're not pulling content from the phone, you're pulling it from the internet itself.
On the other hand, this app also works with videos from Google Drive and Dropbox – these able to play from the cloud like Netflix and YouTube.
With AirCast, Koush began work with Google-provided developer code for Chromecast. At this point in development, he suggests that no Chromecast or MediaRouter SDKs are being used at all – this allows the app to circumvent all developer whitelist restrictions altogether. The app plays videos both from a built-in gallery and through a remote appearing in your Android devices notification pull-down menu.
This app is available as a free APK and – as a reminder – it is in Beta mode right this minute, so some features will not work as intended. Some gallery apps have not functions – specifically on the HTC One, for example – but most devices appear to be rolling with the software without issue.
Be sure to check our recent Chromecast expansion rundown for an alternate app by the name of Cheapcast – this app allows an Android device to turn in to a Chromecast itself. One working with the other hand-in-hand makes the whole process essentially free (if it works for you, that is).