Adobe bites the bullet and puts Lightroom in the Mac App Store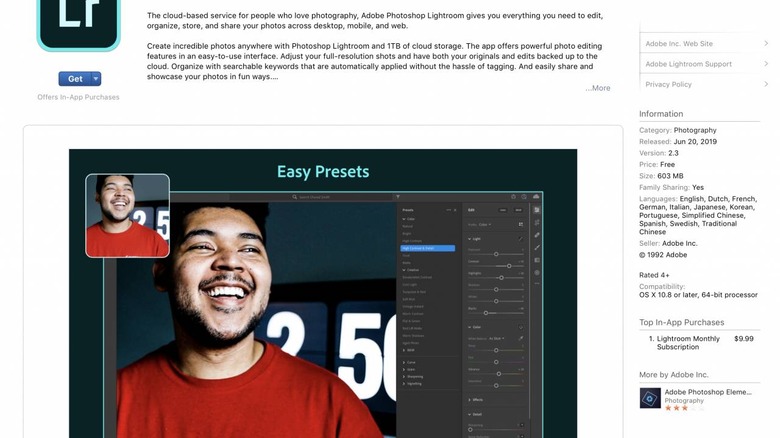 Adobe's Lightroom has found its way into the Mac App Store, offering subscription access to the popular photo editing and organization tool. It's the first software from Adobe's full-featured Photoshop family to find its way into Apple's official download store for macOS.
Adobe has software already available in the Mac App Store, though with a more consumer focus. Adobe Photoshop Elements, for example, offers a cut-down version of the popular Photoshop app, intended for those who don't need the full functionality. It's currently priced at $69.99.
Lightroom, however, takes a different pricing approach. The version being distributed through the Mac App Store is the app formerly referred to as Lightroom CC, and uses Adobe's subscription plan rather than being available for outright purchase. You get seven days of access when you download it, to see if you like it, and after that it's $9.99 per month.
Adobe's switch to a subscription-based model didn't go down well with many of the company's users, back when the company announced the "Creative Cloud" system in 2013. Rather than selling software licenses outright – and then hoping that users would pay to move up to the most recent version – Adobe instead promised full access to its suite of apps but for an ongoing monthly fee. Since then, it has gradually phased out its standalone software, pushing all new versions of Photoshop family apps to a subscription basis instead.
While some are still frustrated by the shift, others have accepted that subscription can have its advantages if you make full use of what Adobe is offering. The $9.99 for Lightroom also includes 1TB of cloud storage.
What's notable about this Mac App Store arrival is that it suggests Adobe is banking on extra exposure making up for Apple's cut of its subscription revenues. Apple takes a fee from all subscription payments, which in the first year of a subscriber's paid service amounts to 30-percent. After a subscriber has been paying for a year, that drops to 15-percent.
With the $9.99 subscription fee staying the same as if you signed up through Adobe direct, it's clear that a customer acquired through the Mac App Store is actually worth less to the software company. On the flip side, Apple's distribution heft is considerable, and Adobe has clearly decided that even with reduced revenues, the benefits in visibility are worth it.