Adobe Photoshop CC pushes system online with subscription-based Creative Cloud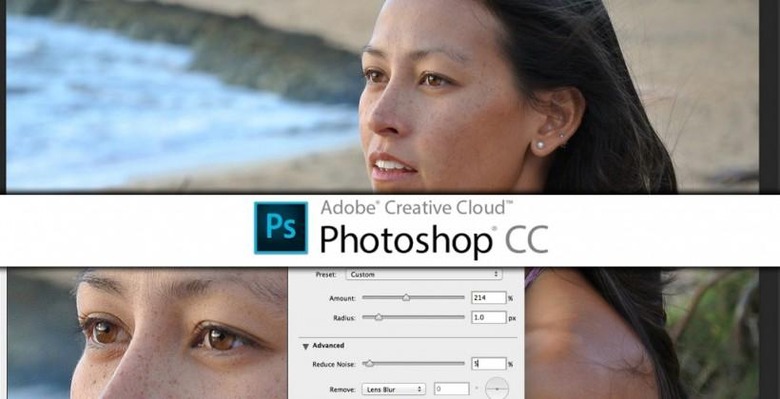 This week's Adobe Max 2013 conference has played host to the announcement of a new system known as Creative Cloud, taking what did exist with Adobe's Creative Suite and making it a system prepared for the future online. This transition brings in a monthly subscription cost of $50 USD in exchange for Sync services, 20GB of online storage for documents of all kinds, and automatic cross-platform downloads to and from all applications in the suite. This push also includes access to the Behance community hub for creative discussion online.
With this change-over, each service will be clad with a "CC" moniker, so Photoshop CC will be first while the suite is called Adobe CC. The big-shot system known as Photoshop Extended, up until now purchased separate from any regular Photoshop build, is now folded in to the one single Photoshop application: Photoshop CC. Photoshop Extended's abilities folding in to Photoshop CC include 3D editing as well as higher, more sophisticated image analysis from all directions.
Photoshop CC adds a RAW editing engine as well as some rather odd action with a camera shake reduction engine that, from what the company has shown thus far, really does appear to work miracles for users prone to snapping images without a tripod. Photoshop CC's camera shake reduction works to push your photo together, so to speak, as your camera tore them apart while your lens moved across an image.
With Photoshop CC's RAW editing engine, Adobe's newest version of Lightroom will be taking full effect. Here you'll be able to make continuous non-destructive RAW edits or work with non-RAW images with extended tools. This release also makes a move with an updated smart sharpen, path selection integration, and a collection of new features adopted cross-service from Illustrator and Lightroom.
At the moment it's unclear if Photoshop CC will be available to users not wanting to work with the Adobe Creative Cloud and its subscription service fees. It will be interesting to see Adobe attempt to work in the online space where their offline presence has been so full of impact.
Below you'll find a set of demonstration videos from Adobe detailing some of the features included in this new Photoshop CC setup. First you'll see Asobe Camera Raw 8 and Layer Support.
Next is Photoshop CC's demonstration of Camera Shake Reduction. You'll notice again that this works with the effects of a photo taken with a camera shake, not necessarily one blurred due to an out-of-focus lens.
Finally you'll see Smart Sharpen, an update to Photoshop's system that allows you to minimize the noise that would normally appear when you sharpen a photo too much. This system allows for fine-tuning of images for crispness all around.