Acura Type S Concept is the soul reboot we've been waiting for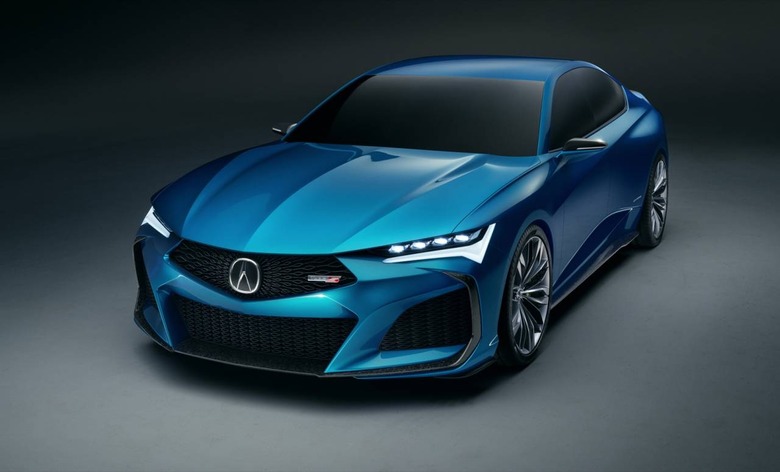 Acura has always punched above its weight when it embraces its own unique Japanese heritage and runs with it, and so consider us already charmed by the Acura Type S Concept car it has pulled the wraps off today. Set to make its official debut at Monterey Car Week in California this coming week, the sleek sedan is Acura's vision of what its four-door cars should look and feel like in the future.
In this case, it's the sort of "Precision Crafted Performance" that visually straddles sedan and coupe, and does so very well indeed. Clearly related to the Acura Precision Concept of 2016, the Type S Concept stretches out the hood and gives the A-pillars an elongated rake, while the back doors blend near-seamlessly into the rear fenders.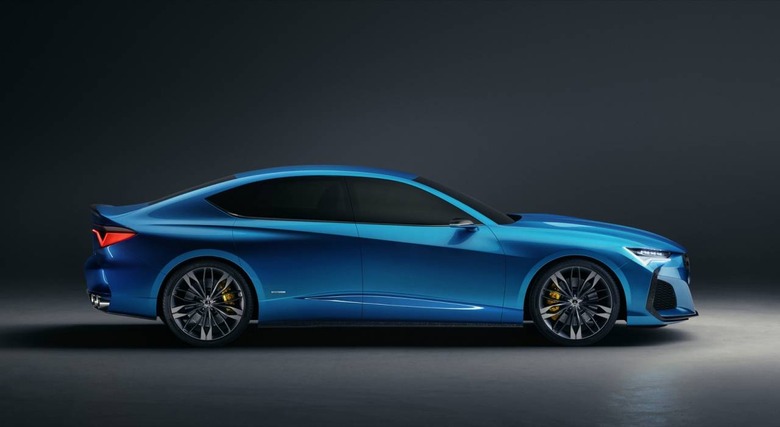 You could almost mistake it for a coupe at first glance, in fact. The revamped NSX shares detailing from its fascia, with sizable air intakes for an unspecified engine, while the headlamps are underscored by a translucent strip of white "Chicane" LEDs that act as both turn signals and daytime running lights. More LEDs appear at the back, alongside a forged carbon spoiler, quad chrome exhaust outlets, and a sizable diffuser.
While it's primarily form and not so much function that Acura has focused on here, the Type S Concept doesn't completely put engineering aside. Forged carbon – where layers of carbon are bonded atop each other, for higher-strength parts – is used in the front and rear splitters, for example, along with the side sills. The 21-inch multi-spoke wheels are also made of the same material.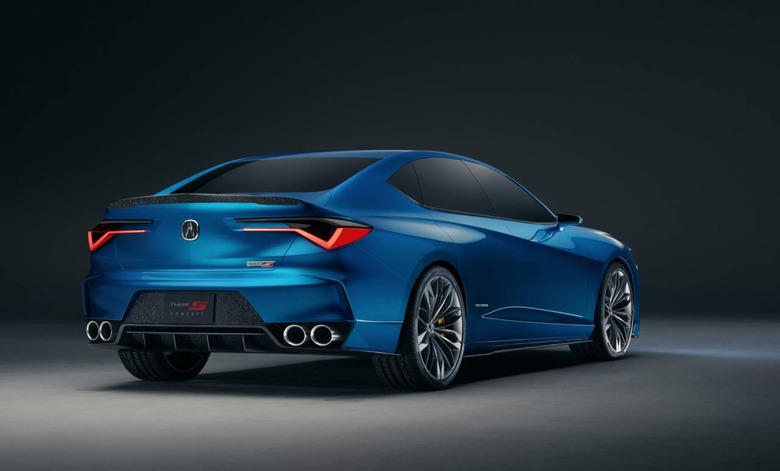 Acura shods them in a 285-series summer tyre setup, and then throws on drilled Brembo high-performance brakes. They use four-piston calipers.
This is no mere design frippery for a high-end car show, never to be seen again, however. For a start, Acura says that the Type S Concept will be instrumental in helping shape the upcoming TLX Type S, the second-generation of its performance sedan. That earned kudos for its driving style, but was felt by some to be too visually restrained for the segment.
Meanwhile, the Pebble Beach concept car will also reboot the Type S badge in general. That hasn't been seen on a new Acura since the Acura TL Type S back in 2008, marking a performance variant of the car.
Acura says it plans to deliver two Type S performance variants over the next two years, the first of which will be the second-gen TLX Type S. It'll feature faster acceleration and nimbler handling, the automaker promises, along with stronger braking. It's unclear what the second Type S car might be, or indeed whether it will be another sedan or one of Acura's SUVs.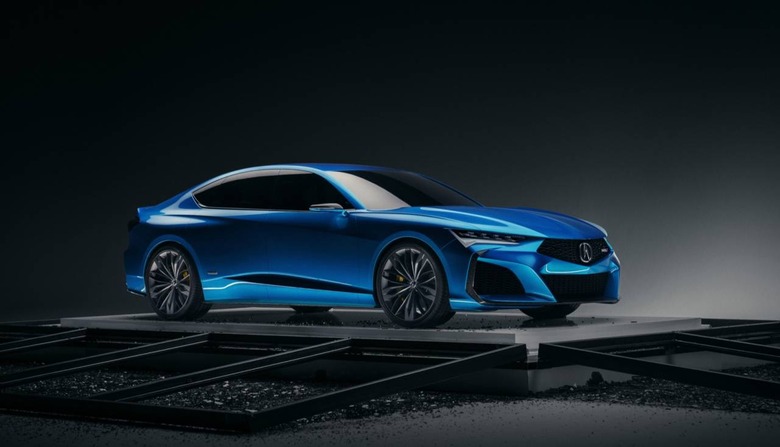 Something we definitely hope Acura also brings with its production Type S vehicles is the "Double Apex Blue Pearl" paint that the Type S Concept is shown in here. That uses nano pigments and a color-infused clear coat, the automaker says, for more luster and brilliance. It should look pretty darn impressive under the summer sun in Monterey, when it makes its first public appearance on Thursday.