Acer Iconia Tab W500 tablet hands-on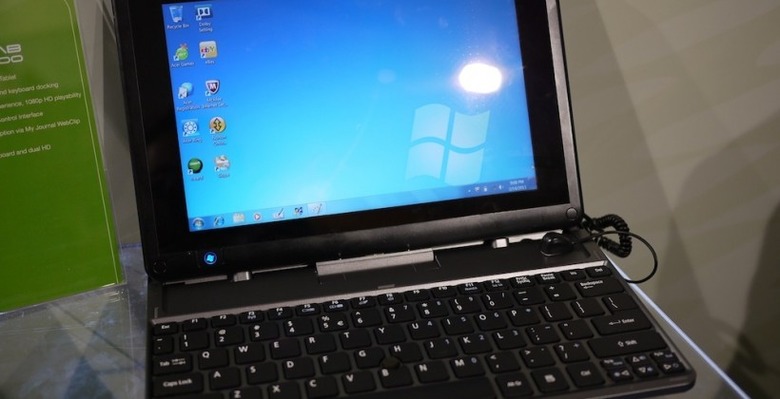 Acer's third tablet departs from the Iconia Tab A100 and A500 by virtue of its OS; rather than running Android 3.0 Honeycomb, the Acer Iconia Tab W500 gets Windows 7 instead. Powered by an AMD C-50 processor and AMD Radeon HD6250 graphics, the 10.1-inch multitouch slate comes with an optional docking keyboard for easier text entry.
We're hoping Acer do a little extra polishing before the production units hit the market in early March 2011, however, since right now the W500 feels a little shaky in its hinge mechanism. The slate docks to the single hinge via a USB connector and two small metal pins, and the whole setup doesn't feel quite as solid as, say, a regular convertible tablet (which, admittedly, wouldn't allow the keyboard and screen section to detach). It's only a swivel hinge away from being the modern day successor to the much-loved HP tc1100.
The keyboard has relatively shallow travel and only has space for a trackpoint, not a trackpad, but it's still faster than Windows 7's (surprisingly accurate) handwriting recognition. Microsoft's OS still isn't anywhere near as finger-friendly as Honeycomb, but if you want to run enterprise apps them it might still be a solid choice.
The Acer Iconia Tab W500 will hit the UK in early March, priced at £449 ($720) without the keyboard or £529 ($848) with it. No word on availability in other markets, however.
Press Release:
Acer's new ICONIA Tab W500

The best from PCs, the best from tablets

Barcelona, February 14th, 2011 – Fun and productivity, entertainment and work. Our lives are made of different sides, that seamlessly blend one into the other. The devices we use should reflect this flexibility and ability to multitask, allowing us to enjoy and share content as well as be productive when there is the need. This is why Acer created the ICONIA TAB W500, with an innovative design that effectively combines the best of two worlds: tablet and PC.

Capable of reconciling the opposites, ICONIA TAB W500 brings together the user-friendliness of the tablet with the familiarity of the PC, letting users enjoy the greatest entertainment or be productive, at home or on the go, according to their needs. The ICONIA TAB W500 effectively creates a bridge between the worlds of entertainment and productivity.

How? Acer ICONIA TAB W500 is a 10.1-inch multi-touch screen tablet that is complemented by a full-size chiclet docking keyboard. Calling the Acer ICONIA TAB W500 simply a tablet would be reductive. While the high-resolution screen, together with Dolby® optimized audio, are synonyms of fabulous entertainment, the handy docking keyboard is perfect for productivity.

The Acer ICONIA TAB is the perfect device for users who want to enjoy a flawless touch experience, but are not ready to retire the keyboard yet. The full-size chiclet keyboard doubles as a docking station providing optimal ergonomics and extended connectivity; plus it features the Acer FineTrack™ pointing device with two buttons for convenient navigation, an Ethernet port for fast Internet connections, and a USB port for external devices.

You can count on the Acer ICONIA TAB W500 to keep you updated on what's going in your social networks, or have the latest news at your fingertips, check your mails or watch a movie on the fly, review a presentation or enjoy fun touch games. This is the beauty of having a multi-touch screen tablet that seamlessly transforms into a PC simply by docking it!

Starting point of the ICONIA TAB W500 touch experience is the Acer Ring. Easy to launch with a simple grab gesture, it offers immediate access to all the special features and touch application pre-loaded on Acer ICONIA TAB W500.

Utilities in the Acer Ring include Clean Disk, to manage and optimize disk space; Snipping Tool, to quickly select, tag and clip screen images; Device Control, to fine tune the tablet settings; Camera, to launch Acer Crystal Eye Webcam; Calculator and Game, to reach the games stored on Acer ICONIA TAB W500 in a breeze.

The Acer Ring also features a series of AppCards to effortlessly browse through and launch useful touch applications:

· TouchBrowser, designed to provide a better user experience, it lets you search, open, resize, select content from the web with the tips of your fingers.

· SocialJogger,

· My Journal, where you can collect web clips that are dynamically updated to keep you posted on any news in the websites you find interesting.

· clear.fi to search, share, and playback favourite music, photo, and video.

Acer clear.fi is Acer media sharing system that lets you enjoy your multimedia content across your home quickly and effortlessly. Thanks to clear.fi and the HDMI port your can stream and appreciate the multimedia stored on Acer ICONIA TAB W500 on any of the devices connected to your home network and clear.fi enabled.

Running on Windows 7 OS, Acer ICONIA TAB is equipped with AMD C-50 processor and AMD Radeon™ HD6250 graphics, for excellent visuals and gaming. Easy communication is a given with the ICONIA TAB W500, thanks to multiple connectivity options including Wi-Fi, 3G (on selected models) or Bluetooth® 3.0. To top it off, the dual, back and front, Acer Crystal Eye 1.3MP webcam, not only allows you to engage in video chats or video calls with your friends, it also enables you to record HD videos and share them on Facebook or YouTube.

Acer ICONIA TAB W500 will be available in the UK early March 2011 with an RRP of £449 inc Vat or £529 inc Vat with chiclet keyboard.