Acer Iconia Tab A200 video promo leaks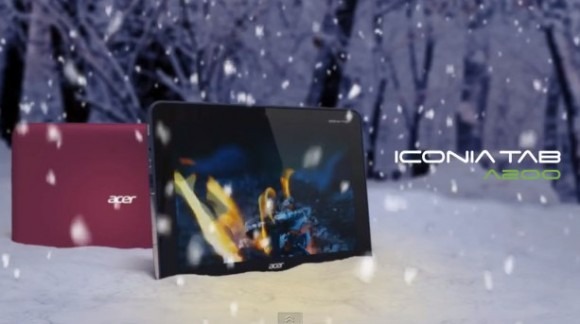 What looks to be the first video promo for Acer's new Iconia Tab A200 tablet has leaked, billing the Android slate as an ideal way to consume and share multimedia. Yet to be officially announced, though spotted in a user-profile among the support data on Acer's site, the A200 is expected to be a budget tablet still running NVIDIA's Tegra 2 rather than the newer quadcore Tegra 3 chipset.
Also among the hardware tipped is a 1280 x 800 display, Bluetooth 2.0 and a microSD card slot, while the video tips a USB port capable of mounting external drives to access media stored on them. There's no record for an Acer Iconia Tab A201, the company's usual nomenclature for 3G-enabled variants, which suggests that WiFi is the only flavor of tablet in this particular series.
Similarly unclear is OS version, with Acer giving no indication of whether the Iconia Tab A200 will run Android 3.x Honeycomb or 4.0 Ice Cream Sandwich. Acer looks to have modified the US itself anyway, with different icon graphics. Earlier this month, the Iconia Tab A500 and Iconia Tab A700 series slates leaked, each running Tegra 3.
[Thanks Manuel!]